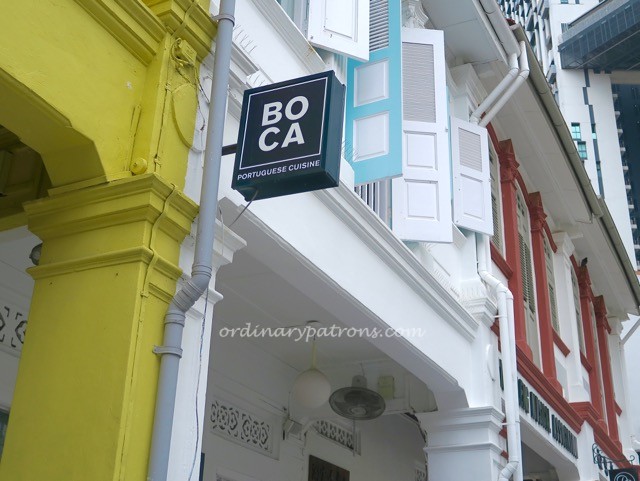 Boca Restaurant Singapore is one of the few (possibly the only) Portuguese restaurant in the country. It has been about a year since it opened along Bukit Pasoh Road, taking over the space formerly occupied by Italian restaurant Oca Grassa. With so many dining options available in this part of Tanjong Pagar, including the neighbouring Keong Saik Road, we finally had the chance to find out what Portuguese food is like.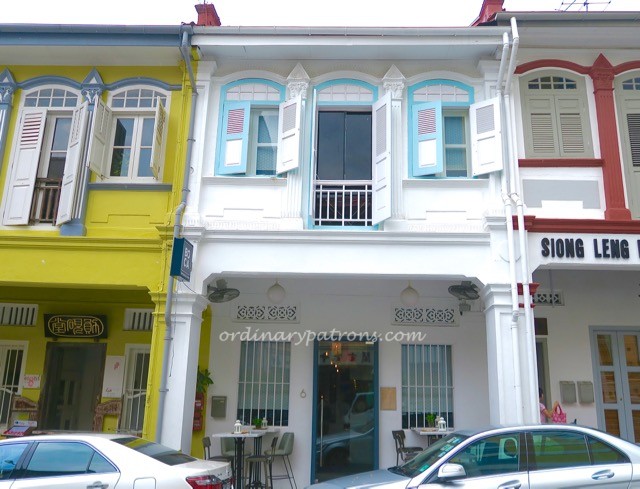 Taking up both floors of a two storey shophouse, Boca Restaurant Singapore has a colourful, charming decor with a bit of quirkiness. There are some small tables and seating along the counter on the ground floor where you can watch some of the cooking action. The colour scheme is blue. Blue walls are everywhere. The bit of quirkiness is contributed by the hundreds of porcelain swallows affixed in wavy patterns on the walls. The best seats are on the second level. There, the circular booth seats provide cosy niches for your dining group. Unfortunately, the upstairs area was closed off for lunch on Saturday and we had to make do with economy class downstairs.
The lunch menu at Boca Restaurant was a one-page, simplified version of their regular menu. Fortunately since we were new to Portuguese cuisine, there were more than enough items to choose from. A couple of the items written on the wooden platters hanging from the wall were also available for lunch.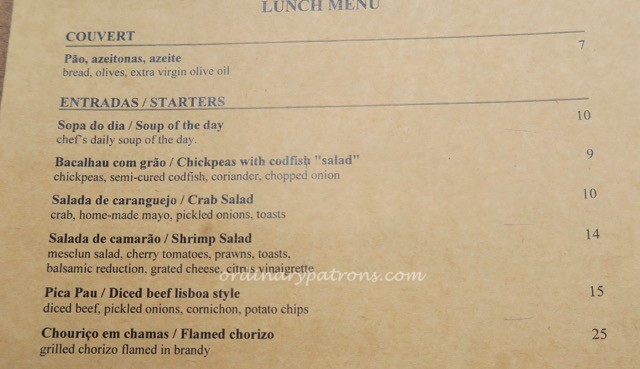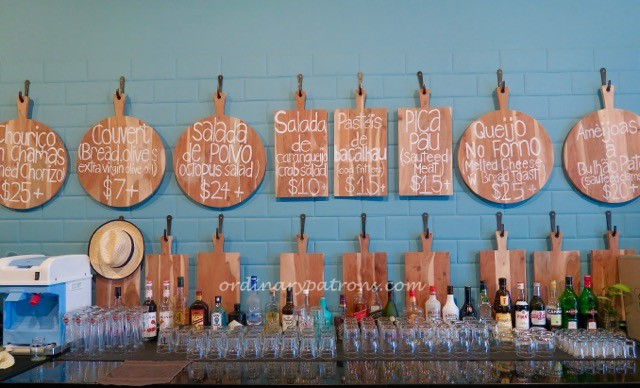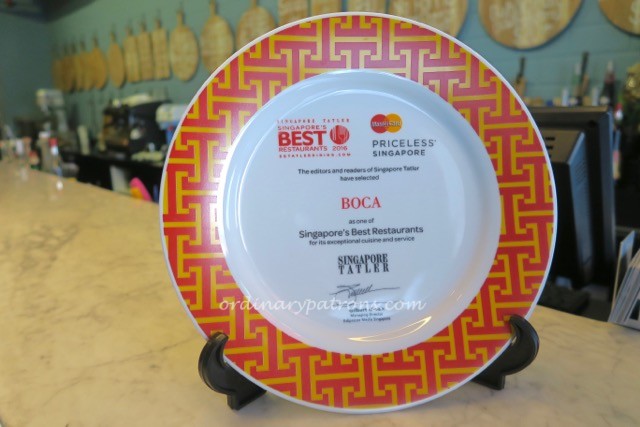 Our first item was a Pasteis Bacalhau ($15). These deep-fried cod fritters were darker than we had anticipated. They did not look very appealing but thankfully, they tasted better than they looked. The bacalhau is apparently dried salted codfish from Portugal.  For preserved fish, they looked and tasted surprisingly fresh.  Only a hint of dryness and slight preserved taste betrayed their origins.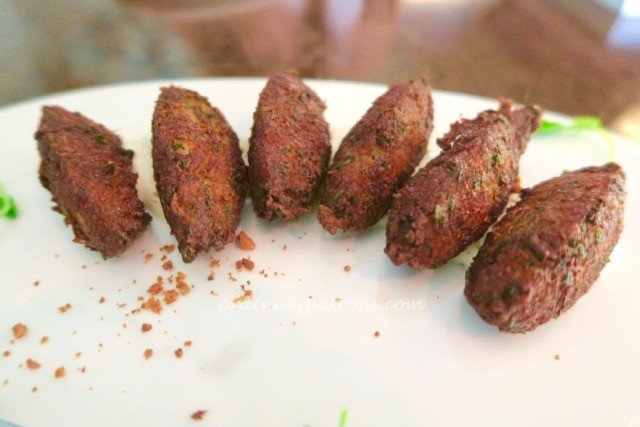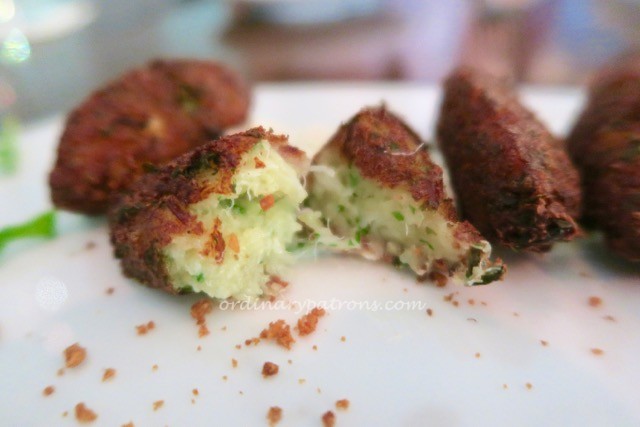 Our next dish was grilled chorizo flamed in brandy ($25). This seemed to be to be the most popular dish as every table was being served this dish in flamboyant fashion. Two chorizo sausages were served on a stoneware grill. The brandy, on and under the sausage, was ignited, creating quite a dramatic entrance for the dish. Taste-wise it was good, as chorizos usually are, but the drama was reason to try this dish, at least on our first visit.
The choizo sausages were served with slices of bread which collectively made it a rather heavy starter.  We were glad to have just ordered a main course – the Bacalhau A Braz ($28).  This time, the bacalhau was shredded and served in a form of a cake with black olives, onions, egg and parsley. The taste and texture reminded us of crab cake. It was a good tasting dish and the combination of all the ingredients made it quite distinctive.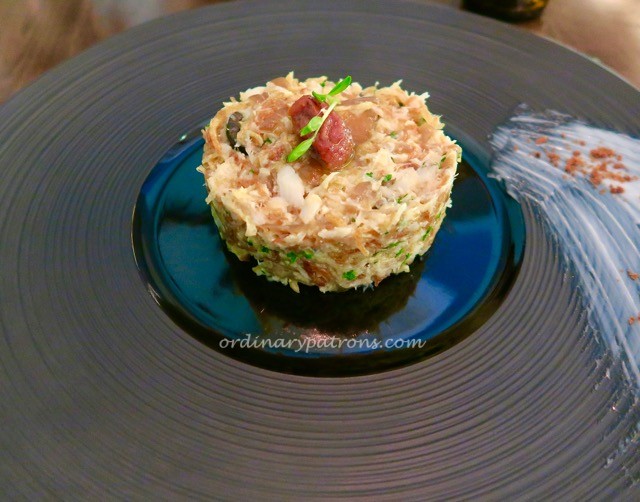 Finally, it was time for dessert and the obvious choice was the Portuguese egg tarts ($6 each). These were freshly prepared and were served piping hot straight out of the oven. They were better than we expected. Quite different from those in Cantonese restaurants, the pastry was more fluffy. The egg-filling was light and not sweet. The sweetness came from the icing sugar sprinkled on top. This dessert rounded up our first taste of a Portuguese meal on a sweet and high note.
Of course, no lesson on Portuguese food would be complete without learning about their wines and beers. We therefore tried one of their house wines and a beer. The Herdade das Servas, "Vinha Da Servas", Branco was described as a rich and ripe white wine ($18 a glass).  Not very complex but with enough body to provide a good pairing with the  bacalhau. We also tried the Super Bock Portuguese beer ($14).  It was fresh and refreshing, with no bitter after taste.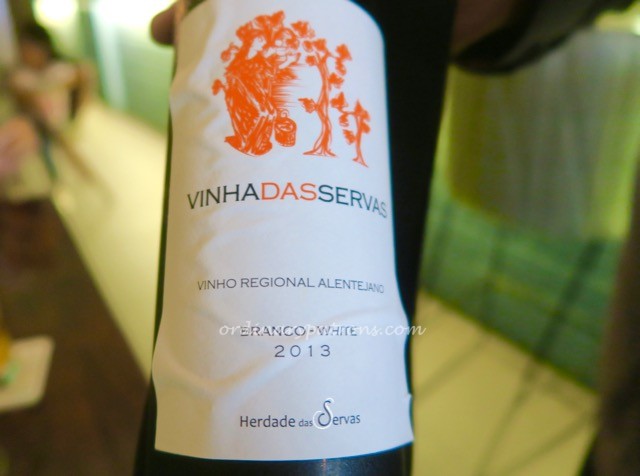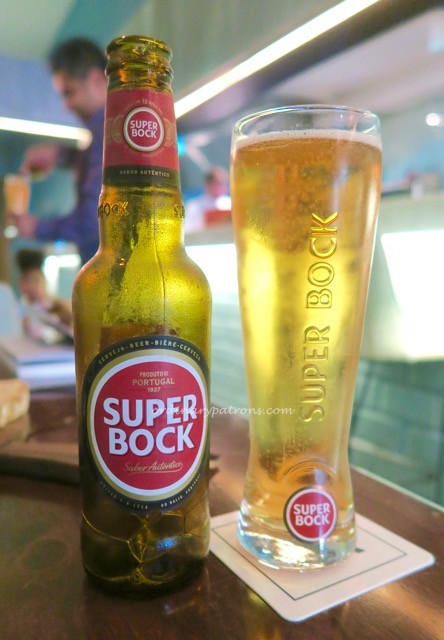 Some complimentary Ginginja shots were served to us at the end. It was a Portuguese liqueur that was supposed to be good for digestion (so we were told). Cheers Boca!
Overall, lunch at Boca Restaurant Singapore was a good introduction to Portuguese food. The food was interesting and good. The staff, especially the bubbly manager and the smiling chef, were friendly and helped make our visit an enjoyable one.
Ratings:
Food: 4
Service: 4
Value: 3
Atmosphere: 3
Overall Rating: 4 TOPs   
Boca Restaurant Singapore
6 Bukit Pasoh Road
Singapore 089820
Tel: +65 6221 0132
Opening Hours: 12pm-2:30pm (Lunch); 6pm-12mn (Dinner)
Nearby Stations: Outram Park
The Ordinary Patrons
a Singapore food blog by ordinary people looking for places to eat