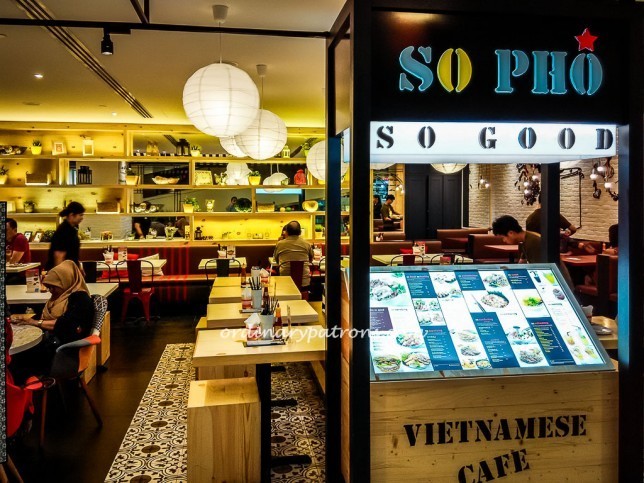 It can be mistaken for an Ikea showroom on the spruced up 3rd level of Parkway Parade but it is actually a new outlet of So Pho Vietnamese Cafe. It has light wood furniture and display helves, lantern lamps and many other items that looked very much like what we might have seen in Ikea. It does not look like a place serving Vietnamese food but it has a fairly extensive menu covering Vietnamese rolls, rice and noodles dishes, beef, chicken, hot pot and, of course, Vietnamese pho.
We were in Parkway Parade recently. Level 3 of this popular mall in the East has been given a cosmetic nip and tuck. Scoopz and So Pho are new food and beverages outlets carved out of space previously occupied by Giant Supermarket.
We were attracted by the brightly lit and nicely decorated So Pho. Its menu also looked quite interesting. So we decided to have dinner there.
We ordered the Grilled Lemongrass Spring Chicken Set ($9.80) and the Fried Glutinous Rice Balls with Sweet and Sour Sauce ($8.80). A glass of cold lemongrass tea was $3.20. GST and service charge would be added to the bill.
The drink was served quite quickly. The chicken set was served soon after but we had to wait quite a while before the glutinous rice balls were served.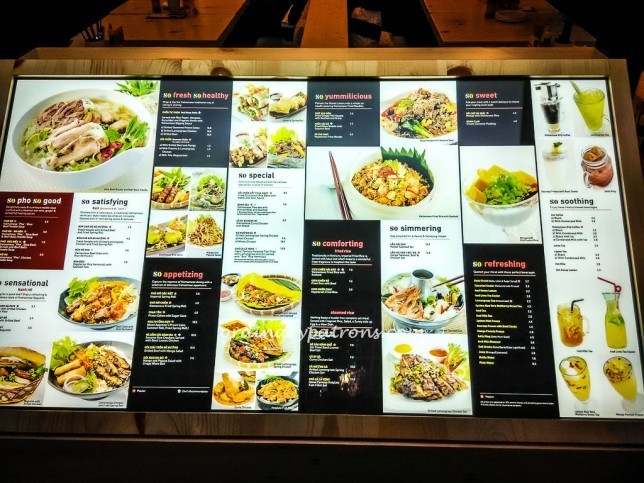 The chicken set meant that Rice, Salad and a Sunny side up Egg came with the Grilled Chicken. The chicken marinated with lemongrass and grilled was quite flavourful. We were however disappointed that the chicken was served luke warm and the steamed rice was a bit hard.

The fried glutinous rice balls was the better dish. The bite size sticky rice balls were deep fried so they that had a nice crispy outside and soft chewy inside. They were drizzled with a sauce similar to the sauce for a sweet and sour fish dish but with a bit of spiciness. The rice balls with sweet and sour sauce was enjoyable. They have too be eaten hot though. Once they cooled down, the crispiness was lost the rice balls became  too chewy.
So Pho Vietnamese Cafe has an online service. You can place your order online and choose to pickup the food from one of their several locations or choose to have it delivered to your doorsteps. The delivery service is free (not applicable during festive periods) if the order is above $80.
On the whole, we thought So Pho is not a bad place for a simple Vietnamese meal. The setting was nice and comfortable. The service staff were cheerful and efficient. The prices were reasonable. The food at So Pho is not gourmet stuff but decent, or in other words so so.
Ratings:
Food: 2
Service: 3
Value: 3
Atmosphere: 3
Overall Rating: 3 TOPs 

So Pho Vietnamese Cafe
Parkway Parade
80 Marine Parade Road #03-30D
Singapore 449269
Tel: +65 6348 9679
Opening Hours : 11:00 am – 10:00 pm
The Ordinary Patrons
a Singapore food blog by ordinary people looking for places to eat