Atmosphere Bistro Bar at ARC (Alexandra Retail Centre) is what the typical office worker in the suburb may want – a decent place for affordable lunch as well as after-office drinks. Atmosphere Bistro Bar at ARC is Atmosphere's third outlet (after Parkland Green and Alexandra Central). The newly opened outlet has various promotions – like one for one pizza on Mondays, 6-9 pm; free flow of draught beers (Asahi and Kronenbourg) on Tuesdays, 6-9 pm ($28 for ladies and $38 for gentlemen); and children dine free with every 2 main courses ordered on weekends. 
Tucked away in a corner on the second level of ARC, the bistro bar has an industrial decor. The furnishing is basic and the bar counter dominates.
A wide variety of drinks is available from the bar and the food menu offers Asian fusion dishes, burgers, pastas, pizzas and the usual fish, poultry and meat. Here are pictures of sections of the menu.
Currently, they have a Set Lunch Menu with prices starting from $12++ where you get to choose a starter, a main course and either a drink or a cake. I opted for the $12 set lunch and selected the lobster bisque as starter and the fennel sausage pasta as the main. They served iced water so I chose to have a cake to complete the lunch set.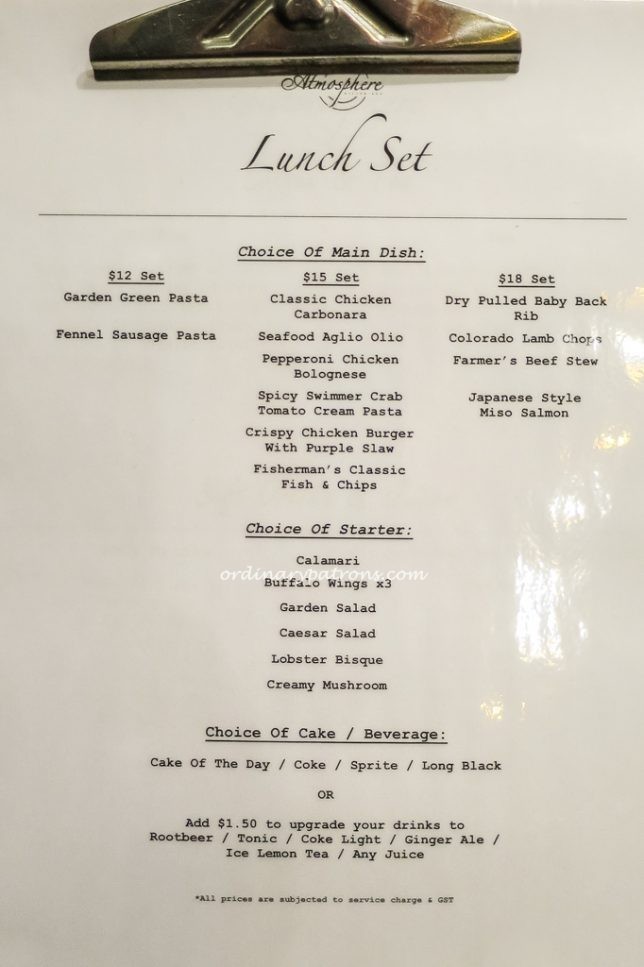 The food was served after a short wait. The presentation was quite visually pleasing.
The lobster bisque is one of their signature dishes. It was not outstanding but good enough. It had a nice flavour and creamy consistency and there were bits of lobster meat (or maybe prawns) in the bisque.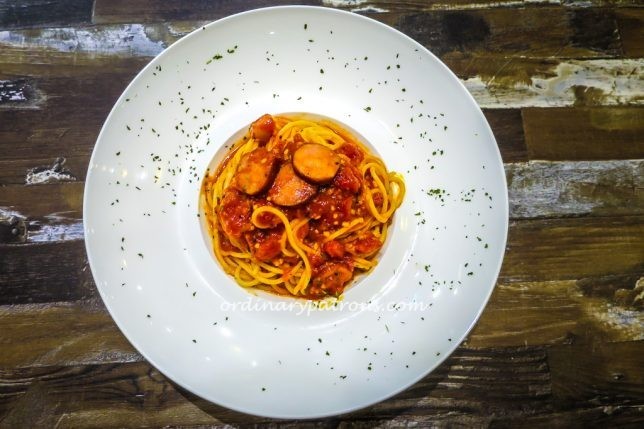 The fennel sausage pasta came in a fairly substantial portion. The spaghetti was nicely done and had a nice bite. The sausages were of acceptable quality and had a good texture. The  fennel-rich tomato based sauce was thick and tasty. On the whole quite a nice pasta dish.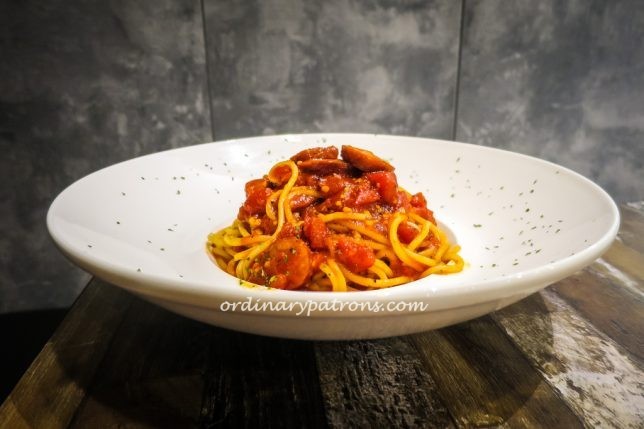 Dessert was a small slice of mango cake. It was the best part of the set lunch at Atmosphere. It was light and luscious; not too sweet. The fresh mango flavour was strong but not overpowering.
The ambience of Atmosphere Bistro Bar at ARC is not comparable to that of their outlets at Parkland Green or Alexandra Central. The range of food available is similar. The food is of decent standard and we think that the set lunch at $12++ is very good value.
Ratings
Food: 3
Service: 3
Value: 4
Atmosphere: 3
Overall Rating: 3 TOPs   
Atmosphere Bistro Bar
321 Alexandra Road
#02-01 Alexandra Central
Singapore 159971
Tel: +65 6250 4863
Nearby MRT Station : Labrador Park
The Ordinary Patrons
Singapore Food Blog by Ordinary People looking for Places to Eat