They are still in the minority but there are many Singaporeans who are catching the ethical eating phenomenon. They should find Brownice Italian Vegan Ice Cream & Kitchen a place where they can indulge without feeling too guilty. Brownice say they believe in being kind to animals as well as our planet. Their ice creams are made from organic brown rice and other plant based ingredients. Posters in the bistro say "No Animal Products, No Soy, No Artificials".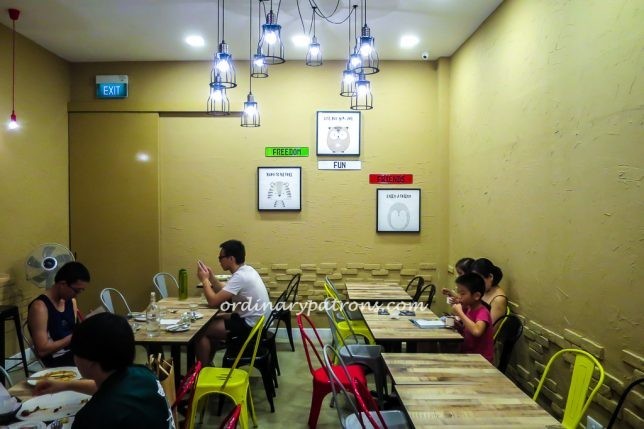 Located along East Coast Road, next to 328 Katong Laksa, Brownice Italian Vegan Ice Cream & Kitchen has quite an attractive shop front. There are 2 bar tables out on the five foot way for those who like non-air conditioned road side dining. The ice cream display counter is at the front of the shop and dining area is at the back. The decor of the dining section is basic and casual. The place felt a bit cramped – maybe it would not be such a bad idea to sit outside by the road after all.
Besides ice cream, Brownice Italian Vegan Ice Cream & Kitchen serve a range of light bites, pizzas, pastas and desserts. A photo of a section of their menu is below.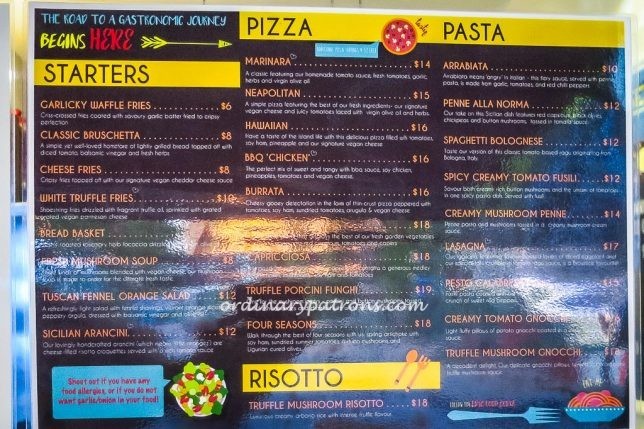 We dropped by Brownice for a quick light meal and ordered the Tuscan Fennel Orange Salad ($12) and Penne Alla Norma ($12). No GST or service charge would be added to the bill. You can help yourself to water from the service counter. The wait for the food was maybe 15 to 20 minutes.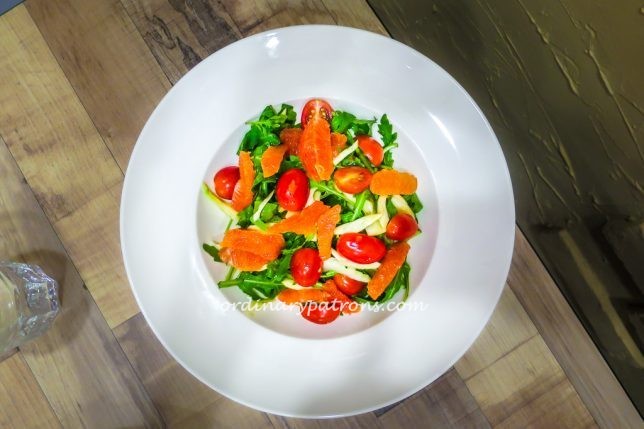 The Tuscan Fennel Orange Salad looked colourful and attractive. The combination of tangy citrus, sweet tomatoes and peppery rocket leaves worked well. The only thing we did not fancy about the salad was the fennel. The thick strips of fennel bulbs were a bit too bitter for our liking.
The Penne Alla Norma did not look too attractive but was tasty and enjoyable. The  traditional Sicilian vegetarian pasta dish was well prepared. The house made tomato sauce was thick and coated the penne, mushroom, peas and other ingredients sufficiently without drowning out their texture and taste. On the whole a delightful pasta dish.
We wanted to try Brownice ice cream after dinner. However, our attempt was thwarted by a few off duty army boys. Like most ice cream parlours, Brownice allows sampling of their ice creams which come in a wide variety of flavours. The boys were trying to order a waffle with ice cream but each of them wanted to sample different flavours of the ice creams on display. They were either terribly indecisive, greedy or just trying to chat up the friendly service staff. The ritual went on for at least 10 minutes and they seemed totally oblivious of other customers waiting behind them. We decided to have our ice cream on another day. After we had paid up and were out of the shop, the boys were still not finished with their sampling of flavours.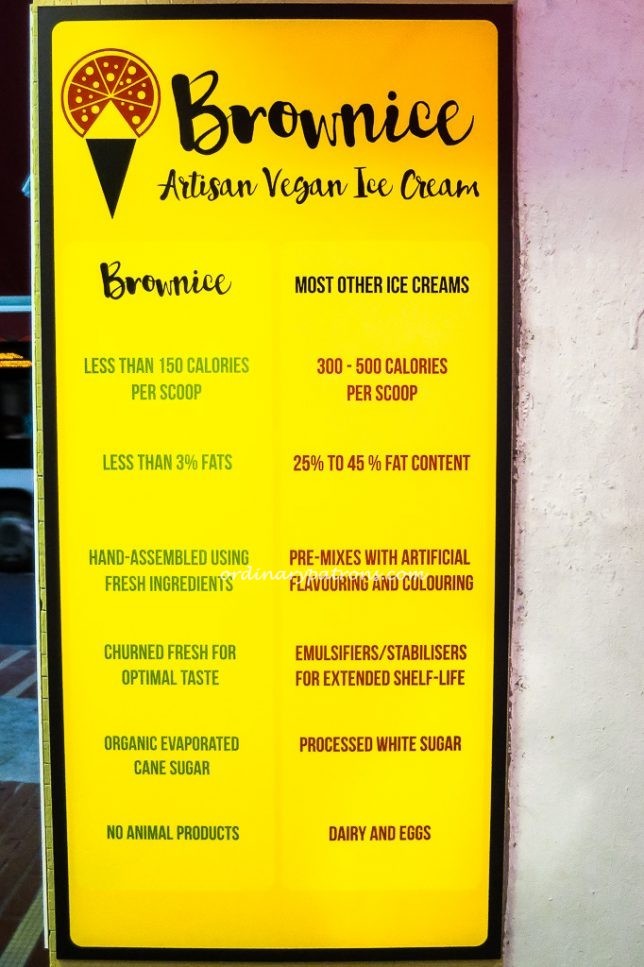 Brownice Italian Vegan Ice Cream & Kitchen with their range of affordable mains, ice creams and desserts should be attractive to all who enjoy food and want to be ethical eaters. We do not know if those off duty army boys are into ethical eating. If they are, we hope that besides "being kind to animals as well as our planet" they would be kind and considerate to humans too.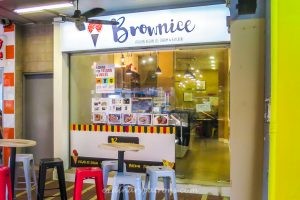 Ratings:
Food: 3
Service: 3
Value: 4
Atmosphere: 2
Overall Rating 3 TOPs  

Brownice Italian Vegan Ice Cream & Kitchen
53 East Coast Road
Singapore 428771
Tel: +65 6348 2295
Opening Hours:
Sun – Thu: 1200 – 2200
Fri – Sat: 1200 – 2230
The Ordinary Patrons
Singapore Food Blog by Ordinary People looking for Places to Eat