Antoinette has always being associated with cakes; and Antoinette at Penhas Road is now also associated with the salted egg yolk craze. Chef-owner Pang Kok Keong's flaky, buttery croissants filled with molten salted egg yolk tossed in brandy have been making waves. The hunt for the much photographed Salted Yolk Lava Croissant has led many to Antoinette at Penhas Road. Antoinette has much more to offer though. It is a nice place for a meal, especially for brunch.
We visited Antoinette at Penhas Road for brunch recently. Located in a shophouse, Antoinette is dressed up like a Parisian style tea salon with ornate furniture. Big beautiful floral arrangements add a sense of luxury to the dining hall. It has sort of an old world charm but the furniture looked a bit worn and tired. With the extra revenue from their Salted Yolk Lava Croissants, perhaps its time for them to spruce up the place a bit.
Antoinette at Penhas Road offers All Day Breakfast, Pancakes, Sandwiches, Pastas and mains like Stuffed Chicken Leg, Ribeye Steak and Braised Wagyu Brisket. There is of course a good range of cakes and pastries.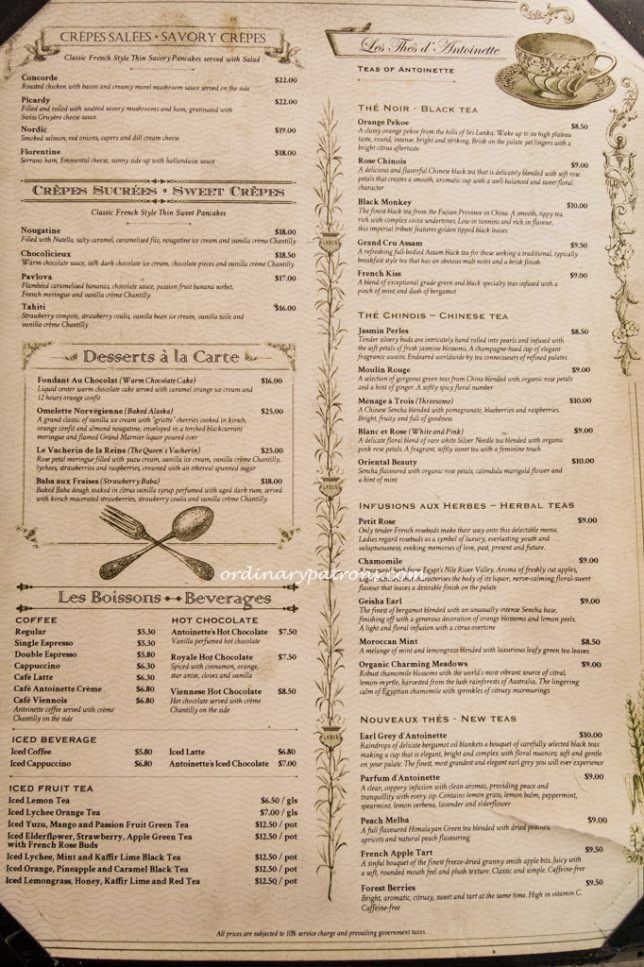 We ordered their Tahiti Crepe ($16) and Smoked Duck Breast with Egg ($15, plus $3 for choosing scrambled egg). GST and Service Charge would be added to the bill. Service was prompt and friendly. Iced water was served.
Smoked Duck Breast with Egg came with a generous portion of salad and tasty croutons. The duck was moist and tender with a light smokey flavour and no gamey taste. The scrambled egg was very nicely done – velvety, fluffy and light. A very enjoyable dish.
The Tahiti Crepe looked interesting. It resembled a modern architecture project with stacked formations. The classic french style crepe formed the base and strawberry compote, Chantilly cream, sugared wafers and a scoop of ice cream decorated the top. Overall, we thought the Tahiti Crepe was fairly ordinary.
We can't go all the way to Antoinette at Penhas and not try something with salted egg yolk. So we ordered a Salted Yolk Cheese Tart ($3) to go along with our coffee ($5.30).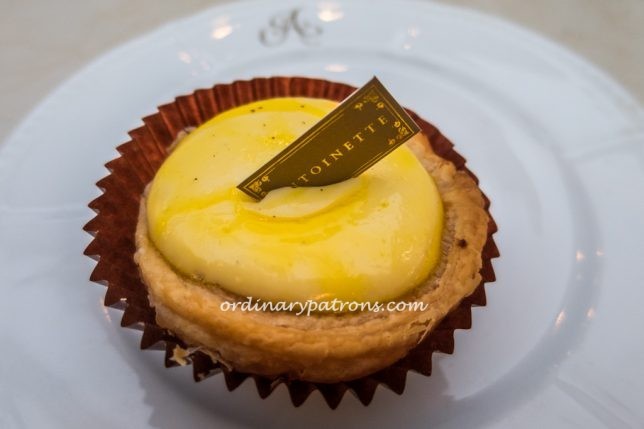 The Salted Yolk Cheese Tart was excellent. The puff pastry of the baked tart was buttery, light and flaky. Inside the crispy shell was the filling of cream and mascarpone cheese. Deep in the centre was the salted egg yolk custard. Yummy. It was hard to stop at one. Antoinette's baked cheese tarts come in other flavours too – such as Vanilla, Matcha and Grand Cru Chocolate.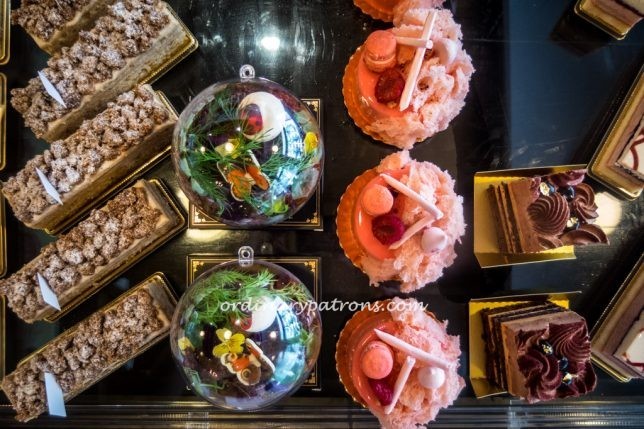 Antoinette at Penhas Road has been around since 2011 and has the versatility to be whatever you need the restaurant to be at any given moment. It has always been a great tea salon with beautiful cakes. With all day breakfast and savoury items on their menu as well as trendy tarts and desserts, Antoinette at Penhas is also good for a complete meal, brunch or lazy afternoon tea.
Ratings:
Food: 3
Service: 4
Value: 3
Atmosphere: 3
Overall Rating 3 TOPs 

Antoinette at Penhas Road
30 Penhas Road
Singapore 208188
Tel: +65 62933121
Operating Hours:
Monday to Thursday – 11am to 10pm
Friday and Eve of Public Holidays – 11am to 11pm
Saturday – 10am to 11pm
Sunday and Public Holidays – 10am to 10pm
Nearby MRT Station : Lavender
The Ordinary Patrons
Singapore Food Blog by Ordinary People looking for Places to Eat