Folklore restaurant at Destination Singapore Beach Road hotel, with local chef Damian D'Silva at its helm, has a menu of Eurasian-Peranakan dishes and other heritage cuisines of Singapore. The food at the multi-cuisine restaurant had received praise and the dishes that we tried at Folklore restaurant did not disappoint.
Folklore restaurant at Destination
Destination Singapore Beach Road is a 300-room hotel under Park Hotel Group's new Destination brand – a mid-scale brand which is intended to offer "quality and affordable accommodation" in "prime, central locations". It is near the CBD but, located between Golden Mile Tower and Golden Mile Complex, whether Destination can be said to be in a prime location is debatable. Folklore restaurant is on the lobby level of the hotel.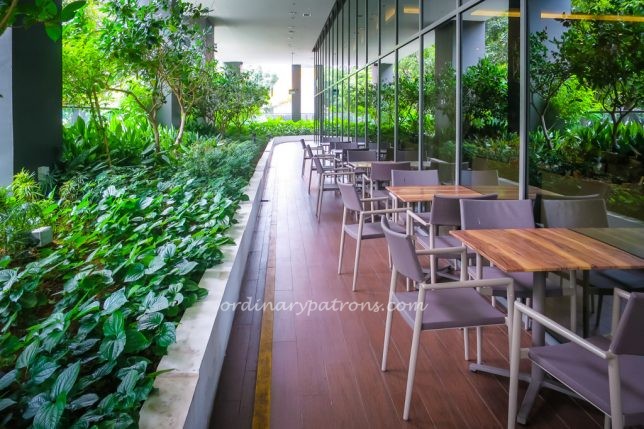 Pre-dining Experience at Folklore
We had read about the "select service, midscale 'Destination' brand" and had in our minds an intimate boutique hotel with an air of sophistication and unique personality. When we arrived at the driveway of Destination, a rather average grey block greeted us. Our immediate impression was that it was only a small step up from a budget hotel. The building has no ramp to the carpark; the use of car elevators would be necessary to get to the carpark. We saw cars having difficulties trying to manoeuvre into the elevators and decided to park instead at the Golden Mile Tower (which was like a dilapidated old mall in a small town).
Folklore restaurant in on the 2nd level of Destination Beach Road. The lift opens up to a small lift lobby which leads to a long narrow hall. The front of the hall is the hotel reception and Folklore restaurant occupies the back portion of the hall with a bar in between. To get to the restaurant, we had to traipse through a maze of luggage, baby strollers and hotel guests milling around the small congested hotel reception area.
Folklore restaurant's interior decor is a tale of 2 sections. In one, everything is befitting of an artisanal restaurant serving Singapore heritage cuisine. There are beautifully decorated flooring and nice inlaid wooden tables. There is another section with plain tables which would not look out of place in a food court.
Service
When we got to the restaurant there was no staff to greet us. We waited for a while and walked into the restaurant to look for one to request for a table. We observed the same scenario repeated with several other guests during our lunch. Folklore restaurant was obviously understaffed when we visited. There were 2 young ladies who were friendly, knowledgeable and efficient. They were the ones doing all the heavy lifting – running from tables to tables and to the cashier's counter and even into the kitchen. Then there were another 2 waiters who were seemed new and not well trained. One of them appeared to have the main task of serving water – and he did not even do that job very well.
Waiting times at Folklore can be long – waiting to get the attention of a staff, waiting to have your order taken, waiting to get your food. We waited for more than 20 minutes for the first dish to arrive after our orders were taken.
Folklore Restaurant Menu
Now that we have gotten the gripes off our chest, we can talk about the good stuff at Folklore restaurant – the food. Its webpage says this about the menu – "Brainchild of Chef Damian D'Silva, the menu constitutes a nostalgic homage to the food he grew up with as a child of Eurasian-Peranakan parentage". The menu is not extensive but does have a good selection of interesting as well as familiar dishes.
Below are photos of sections of the menu.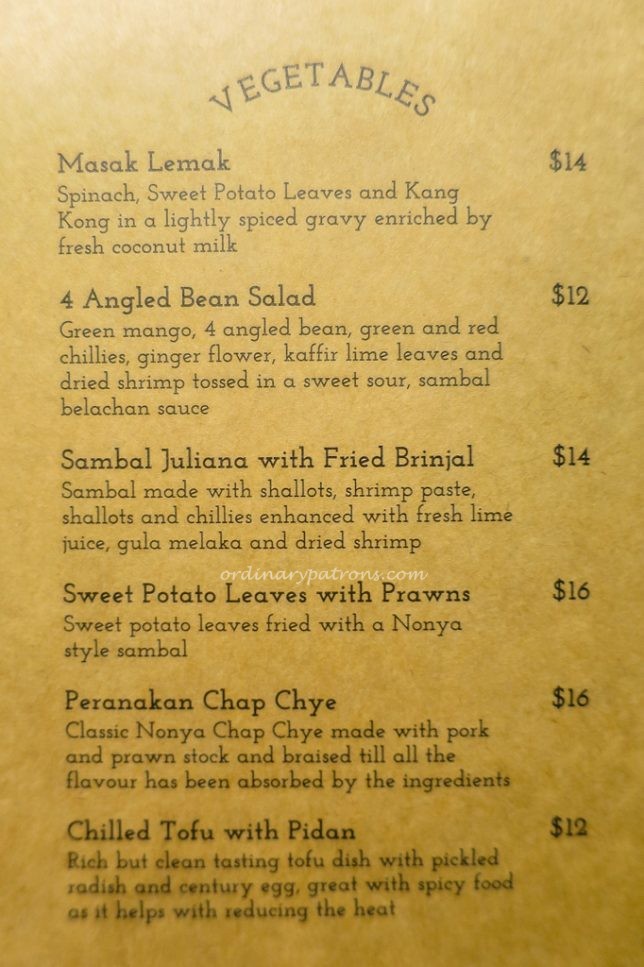 Lunch at Folklore Restaurant
We ordered the Eurasian dish Aberjaw ($24), the Peranakan Ngoh Hiang ($14) and Baked Custard with Gula Melaka ($12). Plain rice was $1.50 per plate. Service charge and GST would be added to the bill.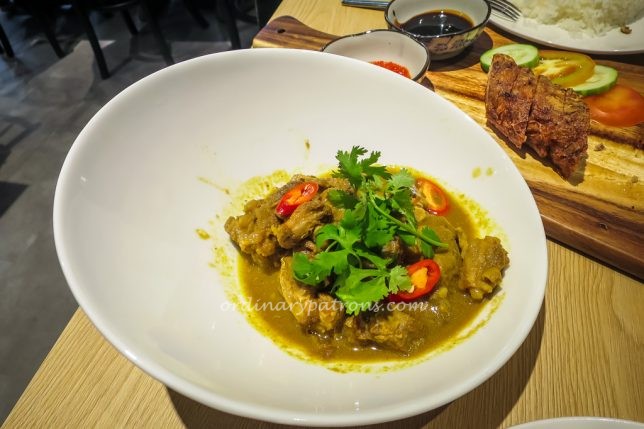 Aberjaw was braised pork ribs cooked with a spice blend that contained fermented bean curd (tau cheo). The meat was very tender and the sauce was rich and flavourful with just a hint of spiciness. The dish was delicious and very enjoyable with plain steamed rice.
The ngoh hiang (five-spice meat roll) was nicely presented on a big cutting board together with saucers containing chilli and thick sweet sauce. The ngoh hiang skin was thin and crispy and the filling had a nice balance of minced pork, prawns and crunchy water chestnut bits. It was not greasy and tasted very good. The chef deserved compliments for the very delectable ngoh hiang.
Folklore's Baked Custard with Gula Melaka was said to be inspired by a Spanish dessert called koka. The coconut pudding with Gula Melaka had excellent smooth texture and great taste. It was an excellent desert. Our dining experience at Folklore restaurant might not have gottten off to the best start but the Baked Custard with Gula Melaka ensured that the ending was a nice sweet one.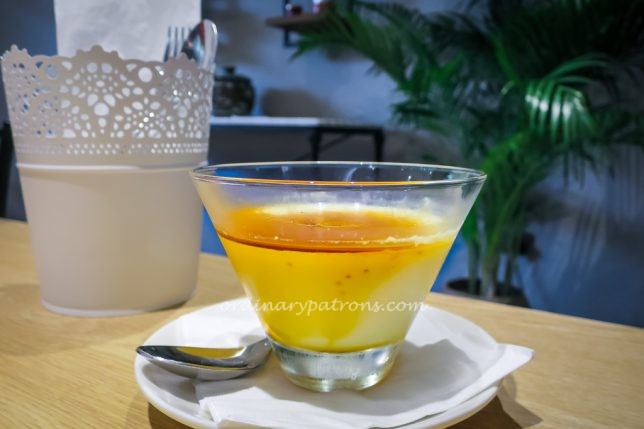 The Folklore experience is described as a celebration of "Singapore heritage food and the role it plays in cultural harmony in our multi-ethnic nation". Based on our one visit, we think perhaps our dining experience at Folklore restaurant has many similarities to life in Singapore – the place still have a few kinks to work out, service standards can be better and prices may be a bit high, but on the whole it is not too bad and the food is great.
Ratings:
Food: 4
Service: 2
Value: 2
Atmosphere: 2
Overall Rating: 2 TOPs  

Folklore
Level 2, Destination
700 Beach Road
Singapore 199598
Tel: 6679 2900 | 9021 9700
Opening Hours:
Lunch: 12pm to 2.30pm
Dinner: 6pm to 9.30pm
Nearest MRT Station: Nicoll Highway
The Ordinary Patrons
Singapore Food Blog by Ordinary People looking for Places to Eat