With National Day on our minds, we thought we should look out for a restaurant with a Singapore National Day themed lunch. We ended up with 'French Ba Kut Teh' of the BarRoque Grill at the Amara Hotel. For National Day 2017, they were offering two special dishes – "French Ba Kut Teh Slow cooked goodness with our special mix of herbs and spices" and "French Chicken Rice Singapore's favourite dish, done with French techniques" – which sounded interesting, plus they also have a Michelin Bib Gourmand award.
The Baroque Grill is located on street level, at the corner of Tanjong Pagar Road and Gopeng Road. The outside looks normal enough. The inside was dark and gloomy. The upper level at least enjoyed some natural lighting. We were led downstairs to a basement level with dark walls and furniture. The only source of illumination was a fancy chandelier and the reflected light from the white tablecloths. Some may like this kind of unusual decor but we were not enamoured by it.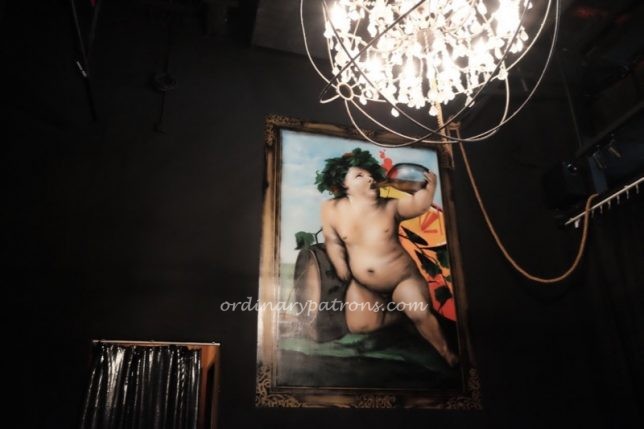 BarRoque Grill Menu – Set Lunch
In addition to the National Day 2017 specials (available from 7 to 12 August 2017), the usual BarRoque Grill $38 set lunch was available. We opted for one of these and the French BKT ($34).
The French Bak Kut Teh did not look like the usual BKT that we were used to. Pushing aside the potatoes and onions that topped the dish, we discovered that it contained cubes of pork.  No pork ribs, although the pieces of pork may well have come from the rib region. The taste of the dish was like a mild French onion soup with pieces of pork. No rice or fried fritters was served. Other than the soy sauce dip and the pork in the soup, this dish did not have anything in common with the bak kut teh that we knew. We were underwhelmed by this interpretation of bak kut teh.
For the set lunch, we opted for the salad, roasted wild snapper and a cherry dessert. This was a more enjoyable part of the meal.  Everything from the regular menu was well prepared. The fish had a tasty gravy to eat with. The cherry dessert was also good.  We can see why Barroque was awarded the Michelin Bib Gourmand restaurant accreditation.
Ratings:
Food: 2 (for the BKT); 4 (for the regular set lunch)
Service: 3
Value: 2
Atmosphere: 2
Overall Rating:  3 TOPs 

BarRoque Grill
165 Tanjong Pagar #01-00
Singapore 088539
Opening Hours:
Mon-Fri: 12pm-2:30pm, 6-10:30pm
Sat: 6pm-10:30pm
Closed Sunday
Nearby MRT Station : Tanjong Pagar
The Ordinary Patrons
Singapore Food Blog by Ordinary People looking for Places to Eat