Forest Restaurant RWS Sentosa is a restaurant in the Equarius Hotel, Resorts World Sentosa. Led by celebrity chef Sam Leong,  Forest is a 2017 Michelin Guide restaurant. They had a one-star award in 2016. According to the Forest 森 website, it "prides itself on contemporary Chinese fine cuisine that goes beyond the familiar". The Equarius Hotel is located in a remote corner of RWS, some distance away from the main activities like the Casino, Universal Studios and the other hotels  – Festive, Crockford and Hard Rock Cafe.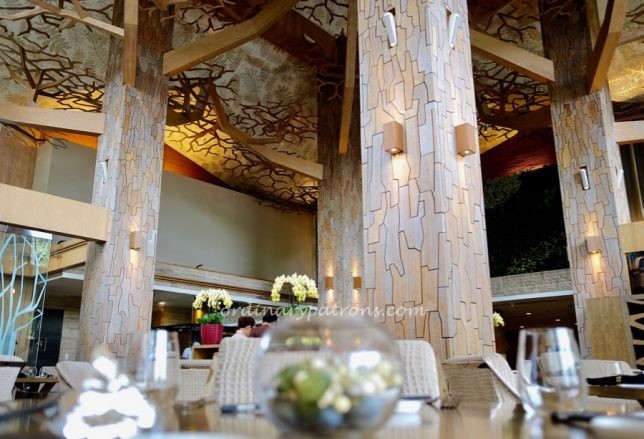 Forest Restaurant 森
Forest Restaurant is located at the lobby level of the Equarius Hotel.  From the outside, it looked like any other modern restaurant. It is only becomes obvious why the restaurant is named "Forest" when one goes right in and look up. The ceiling is the most beautiful part of the place. It is a modern forest canopy. The building columns are the tree trunks.
Forest Restaurant Menu
The Forest Restaurant ala carte menu is rather extensive. The items are offered in individual servings, like in a Western restaurant. That gives flexibility for guests with different dietary preferences to mix and match. Prices are not low but not too high either with main courses ranging from $14 to $38 dollars.
As you may expect in a resort hotel restaurant, lunch was rather quiet. To entice diners, Forest Restaurant has some reasonably priced set menus. The 4 course Winter Set menu ($56 ++) seemed perfect, not too much or too little food. Here are pictures of the set menus and a few pages from the main menu.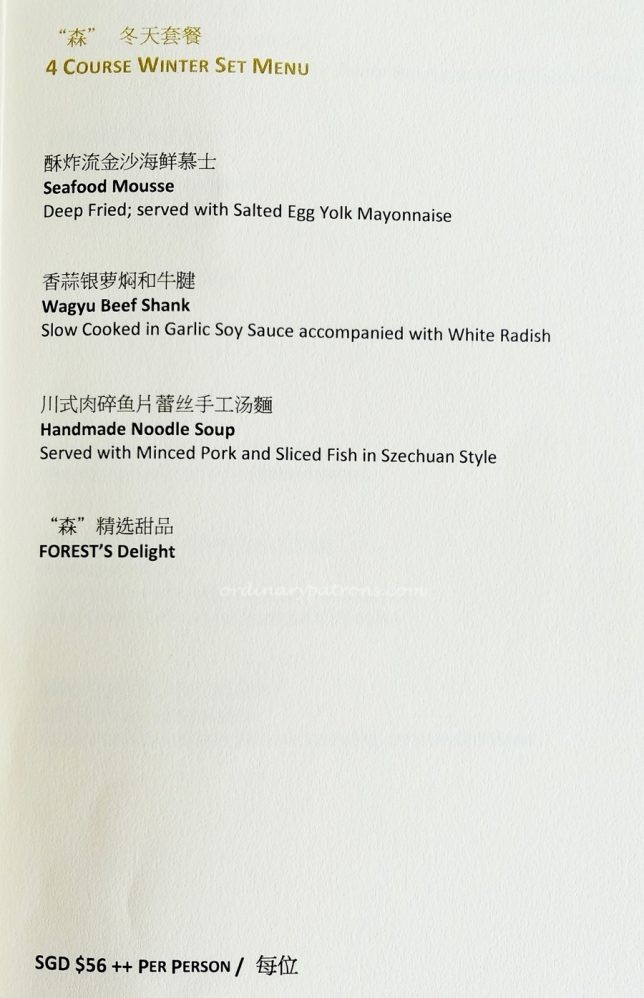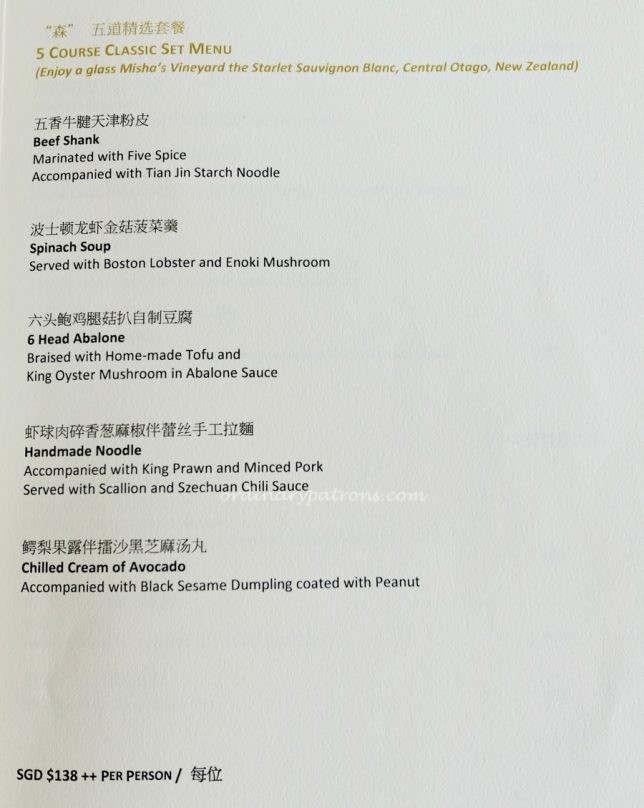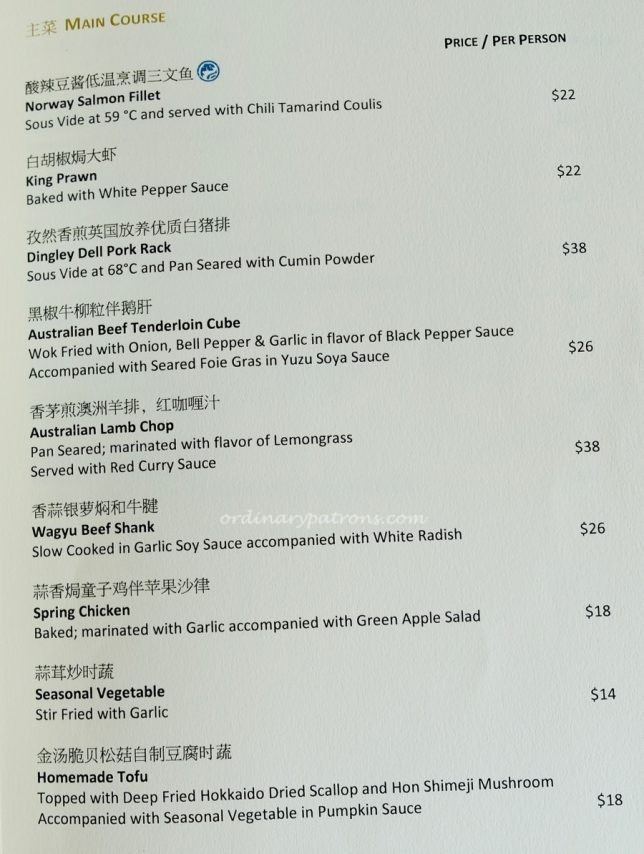 A simple seafood amuse bouche was served.
The first course was "Seafood Mousse". I was expecting a soup or similar type of dish. It turned out to be two pieces of deep-fried fish and seafood cake, garnished with salted egg mayonnaise. The seafood was fresh tasting and had a crisp surface and a chewy interior. An enjoyable dish.
The second course was Wagyu Beef Shank. This was a piece of slow cooked beef with a dark sauce and some small mushrooms. The taste was good but it was not memorable.
Any concerns about the small portions of the preceding dishes disappeared when the next dish appeared. The large bowl of Handmade Noodle Soup alone would have been enough lunch for me. This was the best dish of the day. The noodles were excellent. They have the right texture and looked beautiful with the wavy edges. The Szechuan style soup was at a level of spiciness that was just right with me. The vegetables and fish slices were cooked to the right level. This dish is available from the ala carte menu for $16. This is what I will go for the next time I am in the neighbourhood.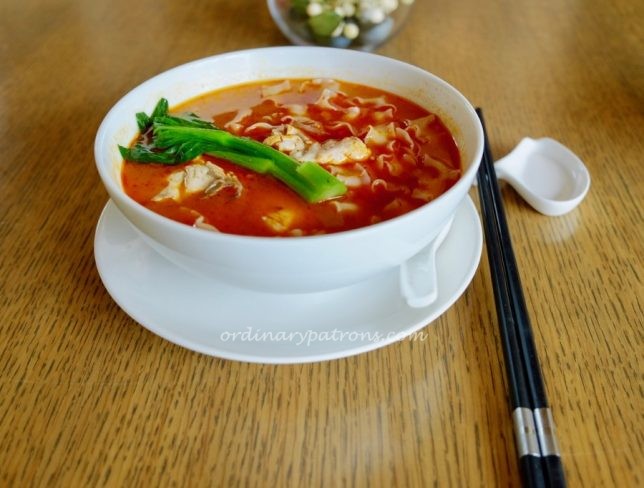 The lunch at Forest Restaurant ended with a small dessert called "FOREST'S Delight". It was a light and simple dessert.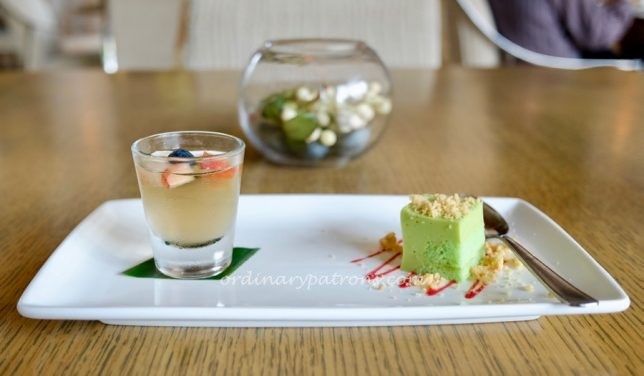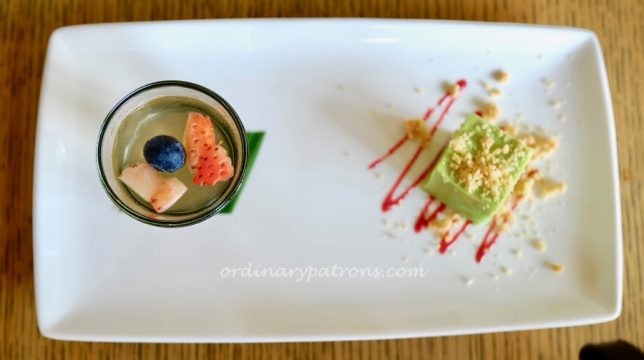 Ratings:
Food: 4
Service: 3
Value: 3
Atmosphere: 4
Overall Rating: 4 TOPs 
Forest Restaurant RWS
Equarius Hotel, Lobby
Resorts World Sentosa
8 Sentosa Gateway
Singapore 098269
Operating Hours
Breakfast: 7.30am – 10.30am
(Daily, walk-ins only)
Lunch: 12pm – 2.30pm (Mon – Sat)
(Last order at 2.15pm)
Dinner: 6pm – 10.30pm (Daily)
(Last order at 10pm)
Sunday Lunch: 12pm – 3pm
(Last order 2.30pm)