In an article on 7 July 2017 in Channel News Asia A&W, it was reported that A&W will return to Singapore sometime in the second half of 2018. Those of our readers who grew up with Debbie Gibson will remember the heydays of A&W in Singapore. We just can't have enough of root beer floats and coney dogs.  Be Frank is a stall in the basement of Paragon Orchard Singapore. They serve not just hot dogs but "gourmet dogs" and coney dog is one of the items on their menu.
We must have walked past Be Frank before during our visits to Orchard Road but hitherto had not tried their hotdogs. The main reason is the lack of seating space. There is a tight corner space available for customers to eat, but there are no tables or chairs. Just narrow ledges to place your food. A signboard informed us that Be Frank hotdogs were celebrating their first anniversary. A special foie gras hotdog is available for this occasion. We decided it was time for a coney dog. Here is a picture of their menu of hot dogs.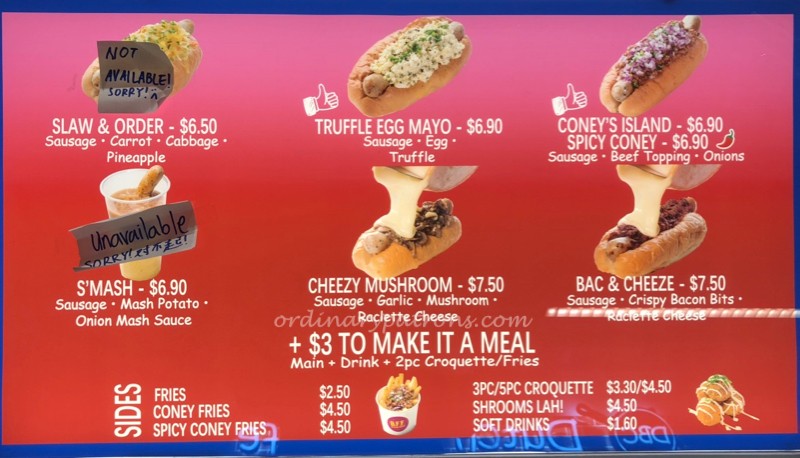 We decided on a Truffle Egg Mayo and a Spicy Coney ($6.90 each).  We were asked to indicate our choice of sausage – pork or chicken.  We opted for chicken for the Coney and pork for the Egg Mayo hotdog.
Our preferred hotdog was the Coney dog. The chopped onions with minced beef is the classic coney taste, except that in this case we had opted for a spicy version. The level of spiciness was low but with hindsight perhaps the pure classic taste might have been better. It was a nice tasting hotdog. The only negative about it was the thick skin of the sausage.
The pork sausage that came with the truffle egg mayo did not have the thick skin issue, but it was a shorter sausage.  The egg mayo topping was quite plain.  We would try something else if we try Be Frank hotdogs again.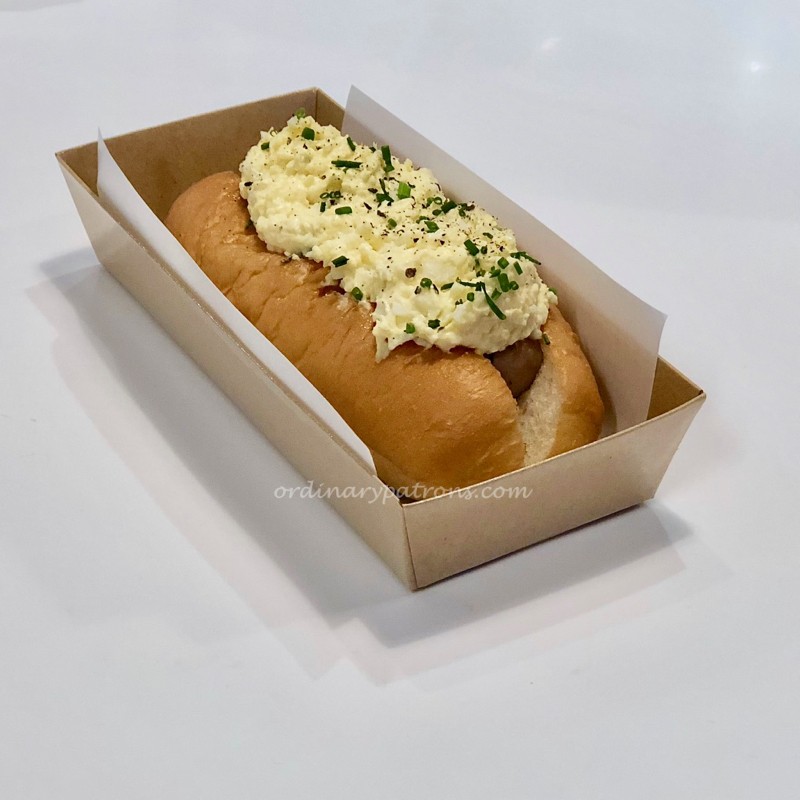 Overall, we thought that $6.90 for a hotdog was rather pricey considering we had to eat it on the go. But until A&W returns, we can't think of another place to have a Coney dog in Orchard Road than at Be Frank.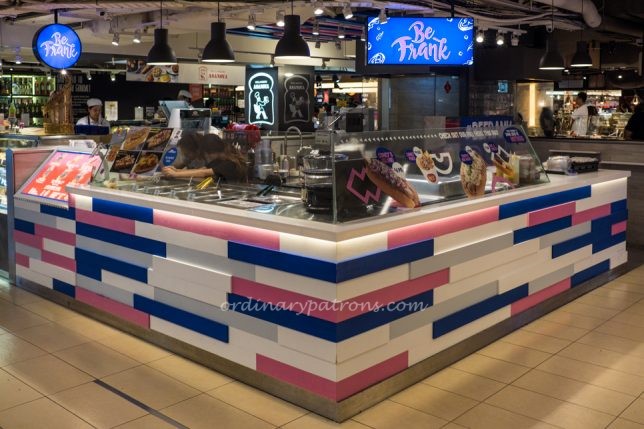 Be Frank 
Paragon Orchard
290 Orchard Road #B1-K26
Singapore 238859
Tel:  +65 9765 2509
Opening Hours: 10am — 9.30pm
Nearby MRT Stations: Somerset, Orchard
---
The Ordinary Patrons | Real Dining Experience of Ordinary People
an independent Singapore food blog