Artichoke Restaurant by Bjorn Shen needs no introduction.  It became even more well-known during the recently concluded cooking contest, Masterchef Singapore 2018, where chef owner Bjorn was one of the judges.  Artichoke is located on the grounds of the yellow building that used to be a church, but is now used as an arts space dedicated to photography, known as Objectifs.  The restaurant is in the small single storey building that is hardly visible from the road. It is a good idea to use the bright yellow building as a navigational landmark if you are not familiar with this area.
Some restaurants have fancy entranced and signboards. Artichoke restaurant does not have a conventional sign (or at least we did not see one). Instead, you will have to be quite close to see their name written on a wooden pallet propped up by some plastic crates.   Which is a welcome signal for visitors like us to expect a relaxed place which does not take itself too seriously. Which is always a good thing.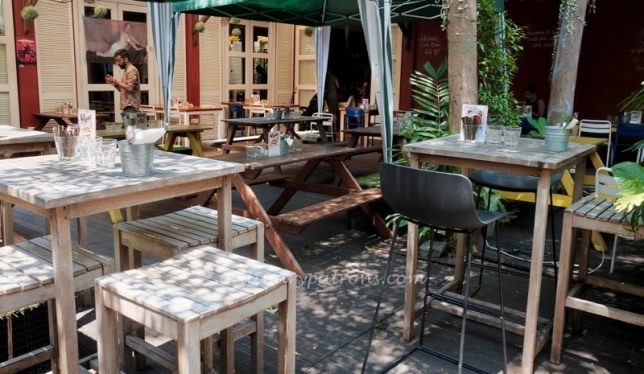 The outdoor area was too hot for us in the afternoon, although we liked how the light leaks in through the foliage, casting speckled shadows on the furniture.  Air conditioned and simply laid out, the indoor area was much better for us.  The indoor space is not large so it is advisable to make reservations in advance.
Artichoke Restaurant Menu
Here are pictures of the Artichoke Restaurant Menus for weekend brunch and for dinner. We were there for brunch and the choices were quite limited. The dinner menu looks more interesting.  We decided on a Lebanese fried chicken ($25) and Cheeseburger Lahmacun pizza ($26)/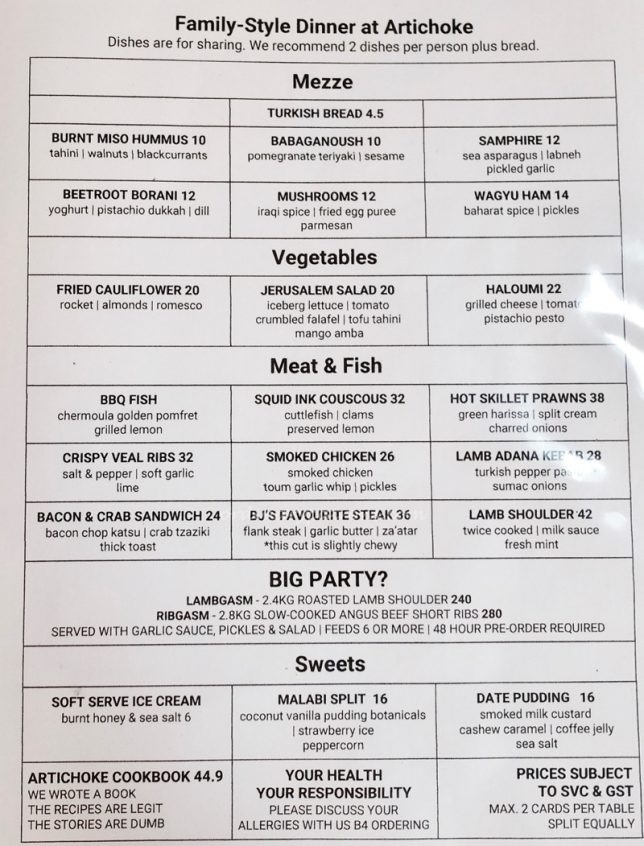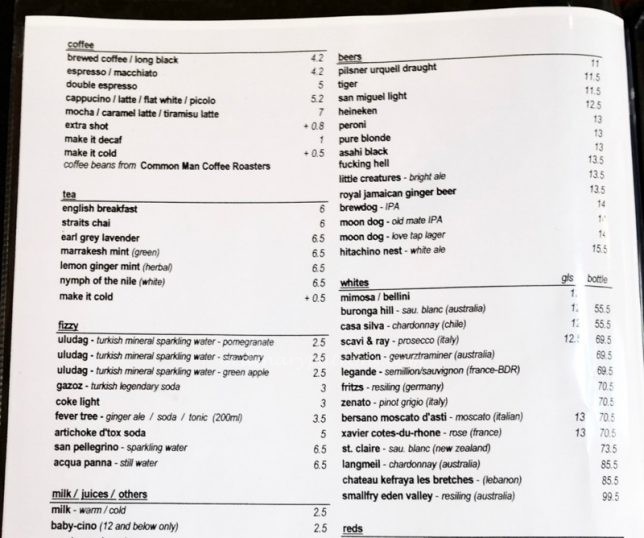 The Lebanese fried chicken was a plate of 4 large drumsticks, French fries and dish of garlic toum (dip).   The chicken was well cooked and juicy. The batter was darker than most types of fried chicken, not because they were overcooked but because of the seasoning.  The taste was a soft level of spices and a fair amount of sweetness.    The garlic dip had barely any garlic taste.
The Cheeseburger Lahmacun pizza was like a deconstructed burger (without buns) served on a pizza crust.  The topping of the pizza were what we would find on a burger – minced meat, lettuce, onions, pickles, sesame seeds and cheese.  The pizza crust was very good. It was like eating a pizza with the buns being substituted for a pizza crust.
Overall, we thought the food was innovative. We seldom eat Middle Eastern food and so did not know what to expect. Our intention was to try some exotic Middle Eastern flavours. We found a mild form of that in the chicken but not the pizza. Perhaps we should have ordered something else. Or maybe try dinner which has more serious dishes. The saving grace was that fried chicken and pizza were great to go with a cold beer ($11) on a hot day.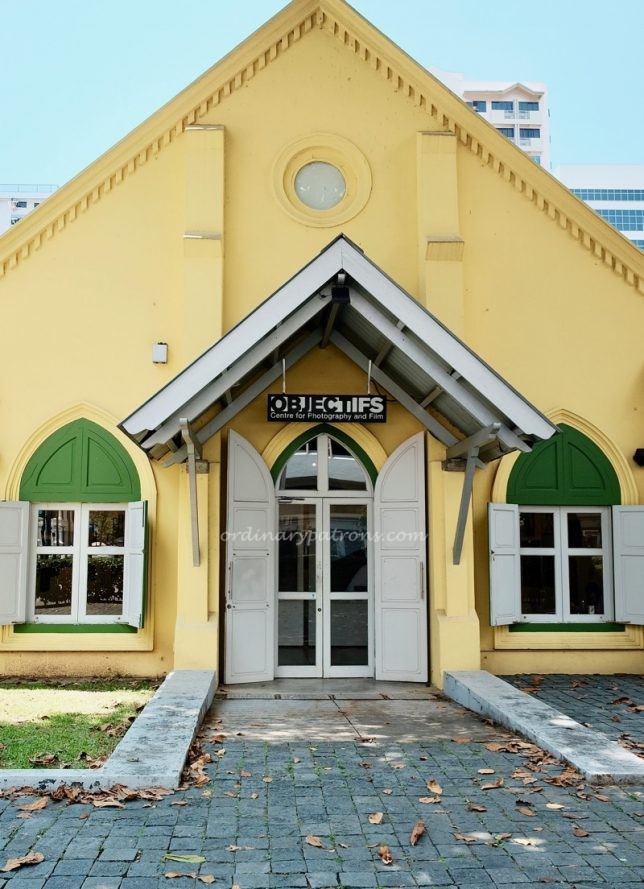 Ratings
Food: 3
Service: 3
Value: 3
Atmosphere: 4
Overall Rating: 3 TOPs 

Artichoke
161 Middle Road
Singapore 188978
Opening Hours
Tuesdays – Sundays
Hang Time  1600 – 1900
Dinner         1800 – 2145
​Weekends
Brunch         1130 – 1445