Update
東寶之東方明珠 East Treasure Chinese Restaurant now has an outlet in Clarke Quay (Block B, #01-16). The Joo Chiat outlet has become 東寶特製蝦麵 East Treasure Speciality Prawn Noodle.
---
Astons began life in a kopitiam along East Coast Road offering reasonably priced steaks and other Western dishes. Its simple formula of providing quality and value-for-money food hits the spot and its success and popularity are evident by the many Astons outlets all over Singapore. Astons has branched out to Japanese cuisine under the brand AJI ICHI and to hotpot restaurants under the MANLE and Sedap Mania banners. 東寶 East Treasure Chinese Restaurant by Astons is a new concept. It is a full service Chinese restaurant with a good variety of dishes at affordable prices.
East Treasure Chinese Restaurant
東寶 East Treasure Chinese Restaurant occupies a shophouse along Joo Chiat Road. The premises were previously occupied by the first outlet of ANDES by Astons (the Halal steakhouse which now has outlets in places like Viva Business Park and Changi Airport T4). If you are really bored you can play spot the difference by comparing the photos in this post to our earlier post about ANDES by Astons.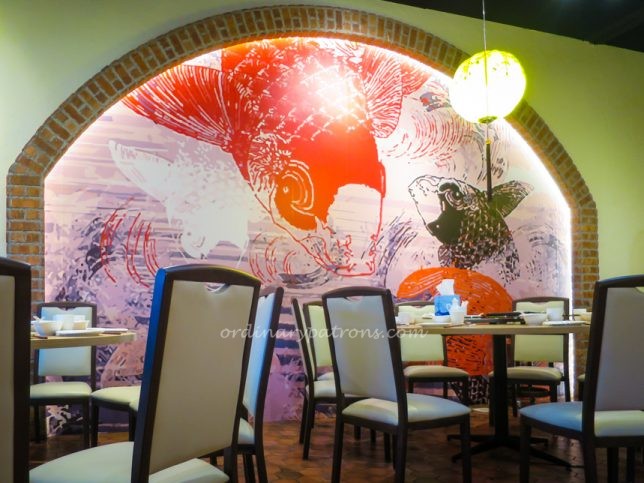 ANDES' wild wild west theme decor had been given a Chinese makeover and befitting a proper Chinese restaurant, East Treasure has mainly big round tables. The Chinese Restaurant by Astons in Joo Chiat is quite small – with only about 4 big tables and 3 small tables. It will probably be a good idea to make a reservation if you are going there.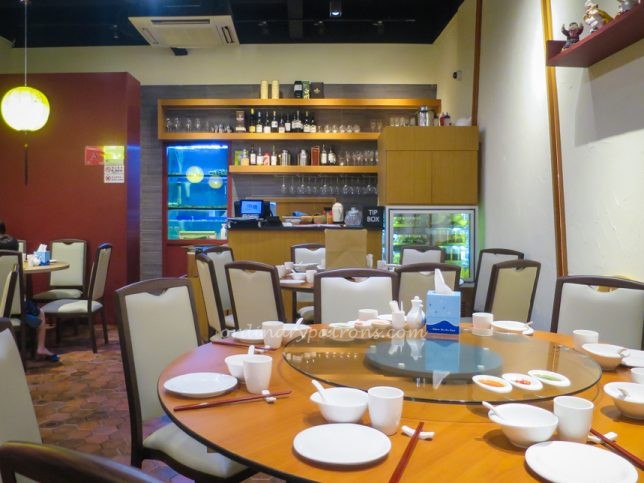 East Treasure Menu
The menu of East Treasure Chinese Restaurant by Astons is not extensive but it has all the main categories covered – soup, poultry, meat, seafood and vegetables. There are a few interesting items like Crocodile Tonic Soup, Stir-fried Aubergine with Salted Egg and KL Hokkien Mee. There are also off menu Chef's Specials of the Day. Below are photos of a few pages of the menu. An online menu is available on the restaurant's website (link below).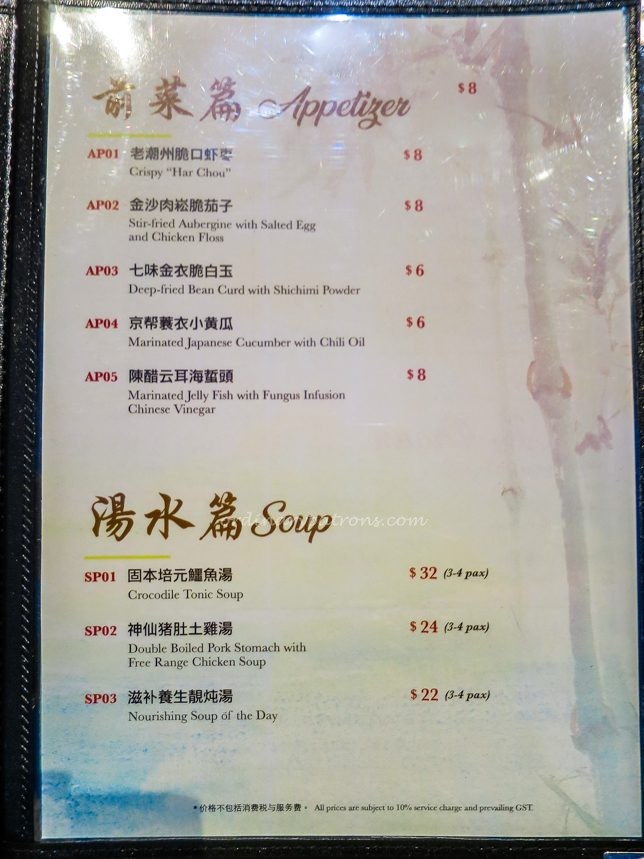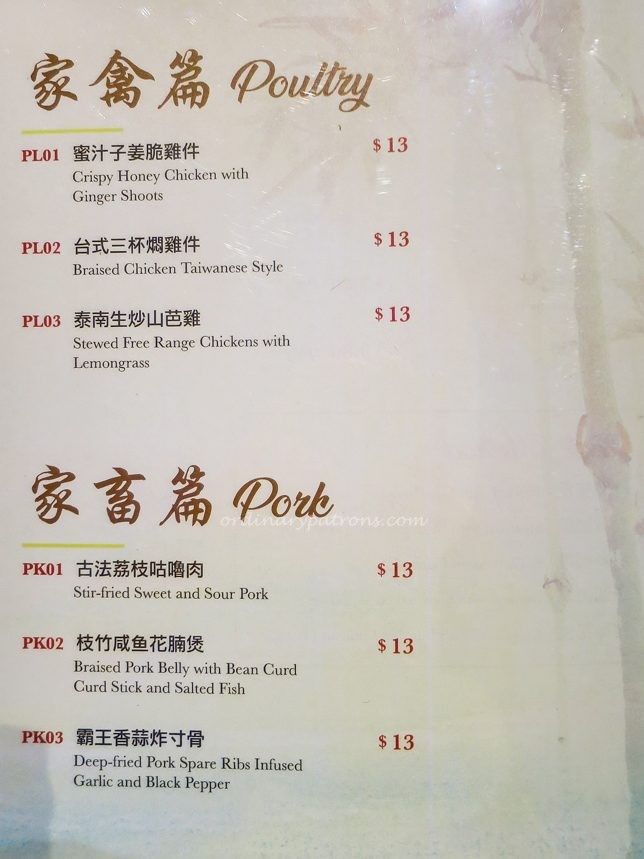 Dinner at Chinese Restaurant by Astons
Two of us visited Eat Treasure in Joo Chiat for a light dinner. We were recommended the Chef's Special Soup ($8 per bowl). We ordered Crispy Honey Chicken with Ginger Shoots ($13) and Wok-fried Kai Lan with Preserved Vegetables and Minced Pork ($10). Steamed rice was $1 per bowl and Chinese tea was $1.50 per person. GST and service would be added to the bill.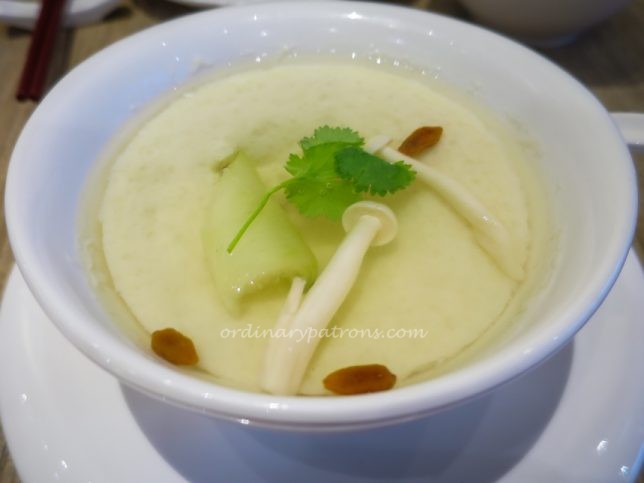 The Chef's Special Soup was really special. It looked like a clear broth with tofu. The white custard was in fact made from egg and chicken soup. It was soft, creamy and rich with flavours. It was something unusual and was delicious.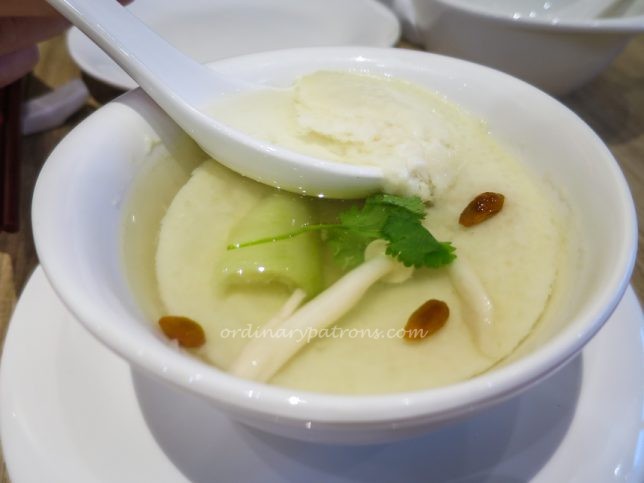 The Crispy Honey Chicken with Ginger Shoots was also a very good dish. There was a thin crispy outer layer and the meat inside was moist and tender. The natural sweetness of honey and the zing provided by the ginger bits was a good combination which made the chicken dish even more delectable. The portion was quite substantial but we happily finished up the dish.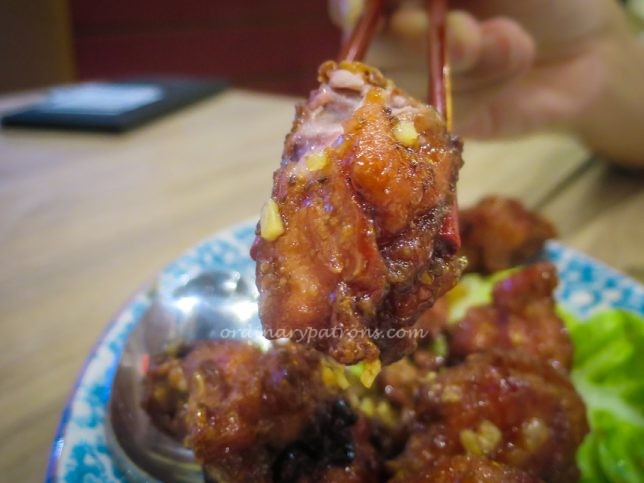 The vegetable dish did not disappoint. The Kai Lan was cooked in two different ways. The stems were stir-fried so that they were still juicy and crunchy. The leaves were shredded and deep-fried so that they were crispy. The minced pork and chai poh added layers of taste to the dish.
Affordable dishes pleasing on the palate
We did not have high expectation when we were going to a Chinese restaurant by Astons. We were pleasantly surprised. The dishes we tried at East Treasure were all very good – food that was well prepared and very pleasing on the palate.
East Treasure in Joo Chiat has a pleasant casual atmosphere. The service is friendly and the prices are reasonable. It has several big round tables, making it an ideal venue for a big family meal or an office lunch. It is also good for a simple meal for two. 東寶 East Treasure Chinese Restaurant by Astons is a great new addition to the Katong-Joo Chiat food paradise.
Ratings:
Food: 4
Service: 4
Value: 4
Atmosphere: 3
Overall Rating: 4 TOPs
東寶之卧虎藏龙 East Treasure
328 Joo Chiat Road
#01-01
Singapore 427585
Tel: +65 6247 7545
Opening Hours:
Lunch: 11.30am to 2.30pm
Dinner: 5.30pm to 10.15pm
---
The Ordinary Patrons | Real Dining Experience of Ordinary People
an independent Singapore food blog