The culinary culture of Hokkaido is renowned and fresh high quality seafood caught in its cold waters is especially popular. However, Hokkaido has some much more to offer – from hot pots to ice cream – and soup curry is one of the highly recommended dishes to try in the northern prefecture of Japan. Suage, a casual eatery in Capitol Piazza, brings the Hokkaido Soup Curry to Singapore.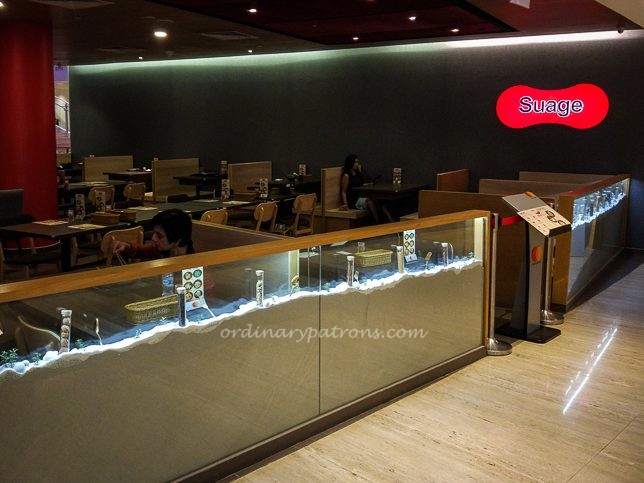 Suage from Hokkaido
Soup Curry is a light and watery curry flavoured soup prepared with spices and vegetables which became popular in Sapporo, Hokkaido. Suage Hokkaido Soup Curry is reputed to be "Hokkaido's No.1 Soup Curry". Suage has 3 outlets in Sapporo and opened its first outlet in Singapore in the basement of Capitol Piazza. The casual diner is spacious and the decor is simple but pleasant.
Menu of Suage
The Menu of Suage Hokkaido Soup Curry is straightforward. Essentially, a set consists of a bowl of soup curry with assorted vegetables served with rice. You have a choice of meats and you can specify the level of spiciness for the soup. There are a few side dishes available. Suage has also introduced vegetarian options for the soup curry. Below are pictures of pages of the menu and menu cards of Suage.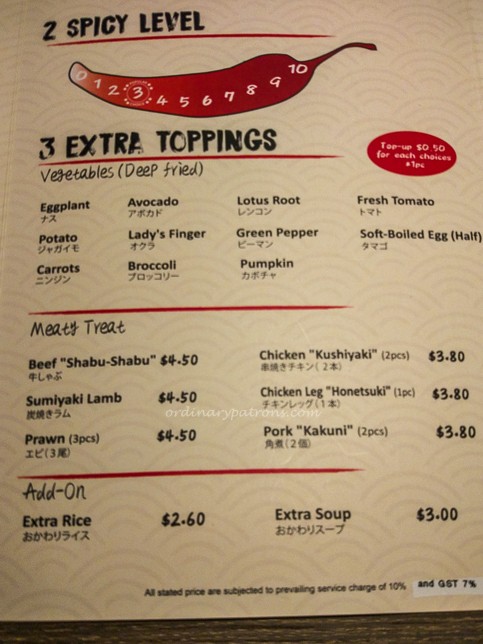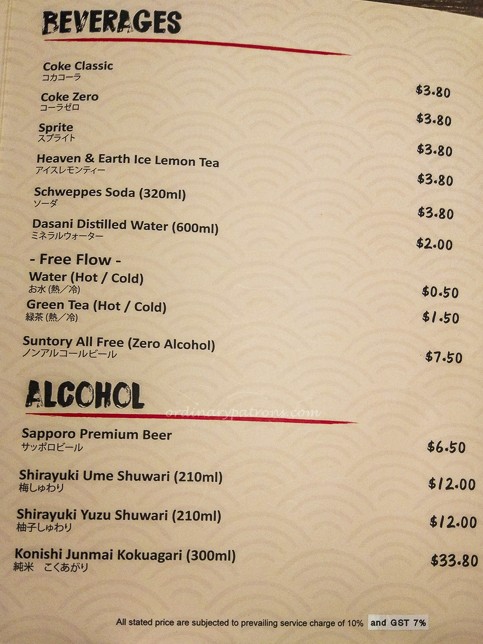 Lunch at Suage, Capitol Piazza
We had lunch at Suage Hokkaido Soup Curry in Capitol Piazza recently. Some of us were not big fans of Japanese curry and did not know what to expect. A young friendly male Japanese server made a good impression taking our orders.
We ordered the Pork Kakuni ($13.80), Chicken Leg Honetsuki ($13.80) and Beef Shabu Shabu ($14.50). We added a side dish of Breaded Crab Claw ($3.80). Suage was one of those eateries that would charge you for plain water (at $0.50 per glass). Due in no small part to the affability of the young server, we agreed to pay for the plain water.
Hokkaido Soup Curry
We were not sure how spicy the curry would be so we took the safe option of selecting spice levels 1 and 3 for our curries. Level one was not spicy at all and level 3 was just very mildly spicy. Thus, for the average Singaporean who likes spicy food, level 4 should probably be the minimum.
The "curry" gravy was more of a soup than a sauce. All the 3 mains we ordered came with essentially the same assorted vegetables, like broccoli, pumpkin and young corn. The vegetables were well simmered and flavourful and gave the soup natural sweetness.
The Pork Kakuni was probably the best dish of the day. The stewed pork belly which came in big pieces like "sio bak" was chewy in a good way and was delicious.
The Shabu Shabu Beef Soup Curry topped with thinly sliced boiled beef was also a good choice. The Chicken Leg Honetsuki Soup Curry was not bad too. The large piece of deep fried chicken had crispy skin and was delectable. Both the chicken and the beef combined well with the flavourful curry soup.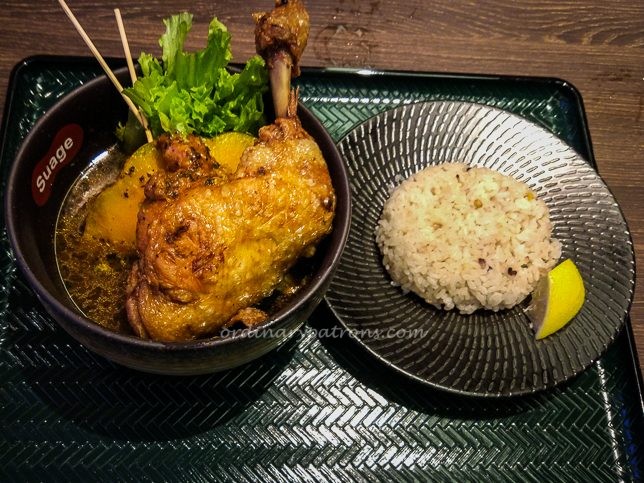 The side dish of crab claws was a welcome variation to the similar curry dishes. The breaded crab claws were tasty and not greasy. On the whole, we quite enjoyed the meal.
Dish of Changing Flavours.
Suage shows us that not all Japanese curry is of the sweet variety. Although Suage's menu may seem limited, the varied meats and vegetables and the different levels of spiciness will combine to produce different flavours, making the basic bowl of curry soup a dish of ever-changing flavours.  We would be happy to eat at Suage again if we are in the vicinity; in fact more than happy if they don't charge for plain water.
Ratings:
Food: 3
Service: 3
Value: 4
Atmosphere: 3
Overall Rating: 3 TOPs 

Suage
13 Stamford Road
#B2-53 Capitol Piazza
Singapore 178905
Tel: +65 68846884
Opening Hours: 11:30 am-3 pm; 5:30 pm -10 pm
Nearby MRT station: City Hall
---
The Ordinary Patrons | Real Dining Experience of Ordinary People
an independent Singapore food blog