They say that curiosity killed the cat. Luckily for me, curiosity only makes me fat. That happened at Ikea (Alexandra location) the other day. The flat screen display was displaying the various food being served at the Ikea cafe. There were the usual fried chicken wings, salmon fillets and Swedish meatballs etc. And then this item came up on the display – Lotus leaf rice $6.80.  What does a Swedish furniture store know about lor mai kai? The picture looked enticing enough. Curiosity got the better of me and I joined the food queue even though I did not really have to eat.
The Ikea restaurant seems to be always crowded.  It was not that bad that day. I was in the queue for only ten minutes. Some people needed some time to make up their minds when they reached the head of the queue. But I knew exactly what I wanted.
I got my Ikea lotus leaf rice at the counter and paid $6.80 for it. I picked up an empty mug to fill up with coffee at the machine. Coffee was free for those that hold an Ikea member card but otherwise costs 50 cents and can be refilled as many times as you like. It was very diluted. If I did not have an Ikea card I would probably not pay for it. This was what my unscheduled meal looked like.
The Ikea lotus leaf rice is a ball of rice crudely wrapped in two layers of lotus leaves. It is much larger than the lor mai kai served at Chinese restaurants.  When unwrapped, it looked nothing like the beautiful object on the tv screen. If this picture was on the display I would not have bothered. Perhaps they should use the cigarette packaging rules for food to reduce obesity.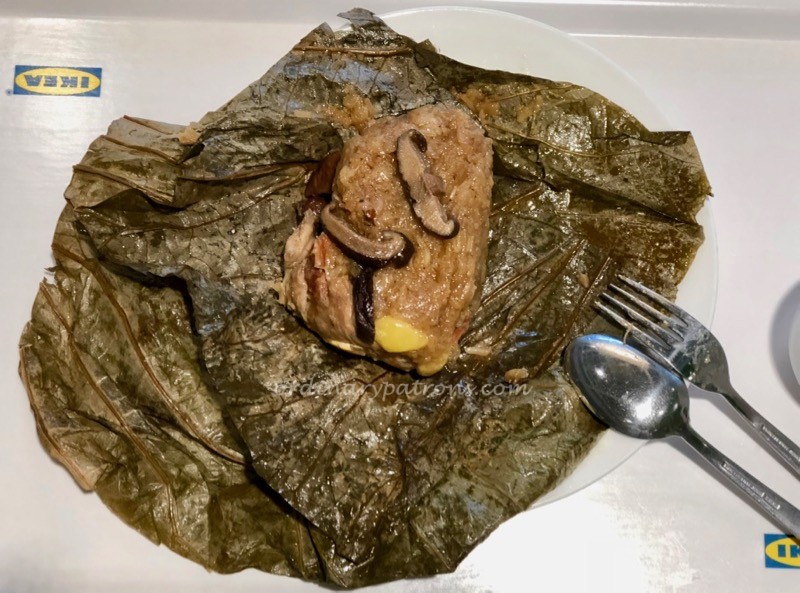 Although it was nowhere as beautiful as the photograph, it was a tasty pack of lotus leaf rice. It contained a lot of ingredients such as salted egg yolk, mushrooms, chicken and chestnuts. The lotus leaf fragrance also permeated through the rice. It was comparable or even better than those served at some Chinese restaurants.  I ended up eating the whole thing.
There is a website which calculates calories for lor mai kai. My Ikea lotus leaf rice felt as heavy as a canned drink – possibly 350g. Which meant an extra 700 calories or so  for the day.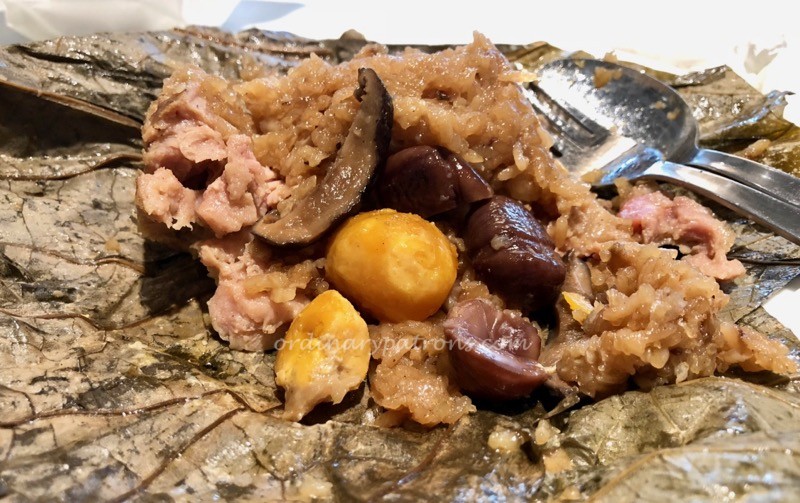 IKEA Alexandra
Sunday – Thursday: 10am – 10pm
Friday and Saturday: 10am – 11pm
Day prior to Public Holiday: 10am – 11pm
Restaurant Hours
Breakfast is available from 9am – 10.30am daily
Sunday – Thursday: 9am – 10pm
(Last order: 9.30pm)
Friday and Saturday: 9am – 10.30pm
(Last order: 10pm)
Day prior to Public Holiday: 9am – 10:30pm
(Last order at 10pm)