The popularity of K-Pop and K-drama has meant that many Korean restaurants and Korean-style cafes have found success all over the world. Yet, it may be a little surprising that the Korean wave has brought to our shores a chain restaurant not known for Korean cuisine but for its pizza and Western food. Pizza Maru, a popular restaurant chain in South Korea with more than 600 stores internationally, has opened restaurants in Bugis+ and in Northpoint City. Besides the famous Korean-style pizza, Pizza Maru also offers a range of pasta and fried chicken as well as snacks and beverages.
Located on the 4th level of Bugis+, Pizza Maru is a casual dining restaurant that is colourful and welcoming. It looks like a fast food place but it has full table service, except that you go to pay at the cashier's counter after your meal.
Pizza Maru Menu
Pizza Maru is famous for its premium nutritious pizza dough made with green tea, chlorella and different kinds of cereals (such as rye, black rice, barley and oats). It has classic pizzas, Korean style pizzas and a selection of rather special black rice long edge pizzas. It also offers an interesting range of pasta and fried chicken as well as mocktails and floats. Below are pictures of sections of the menu of Pizza Maru Restaurant in Bugis+.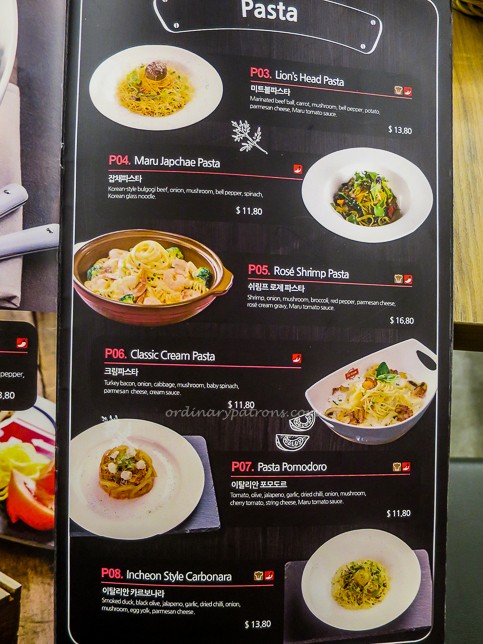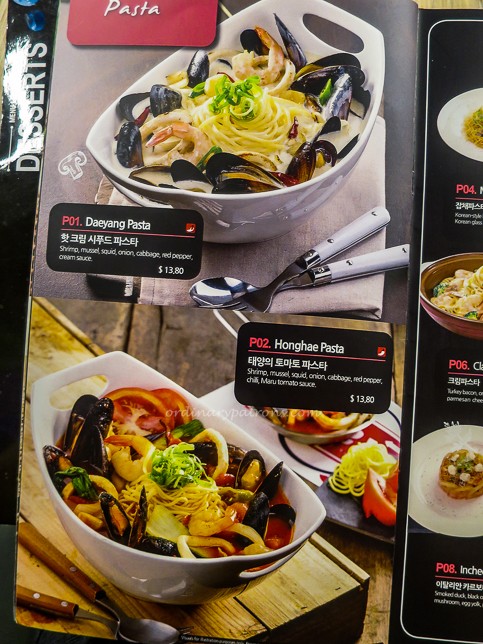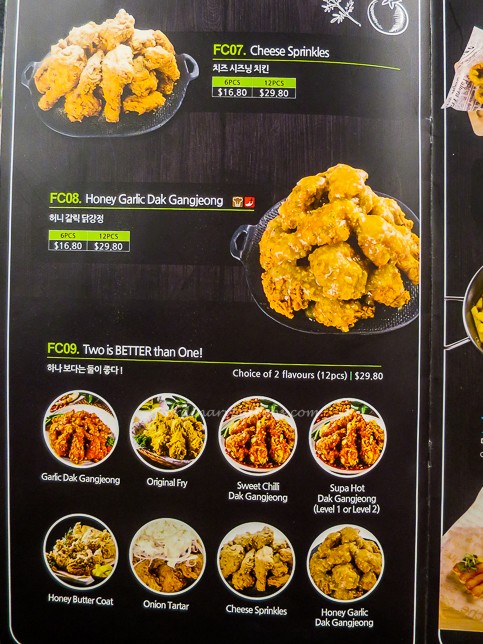 Pizza Maru Lunch
Pizza Maru has various lunch sets. There is a 3 course set lunch with the choice of a pasta/risotto, soup of the day & ice lemon tea. There is also a chicken wing set and a bepeu lunch for 2. Below are pictures of the promotion posters we saw at Pizza Maru Restaurant in Bugis+.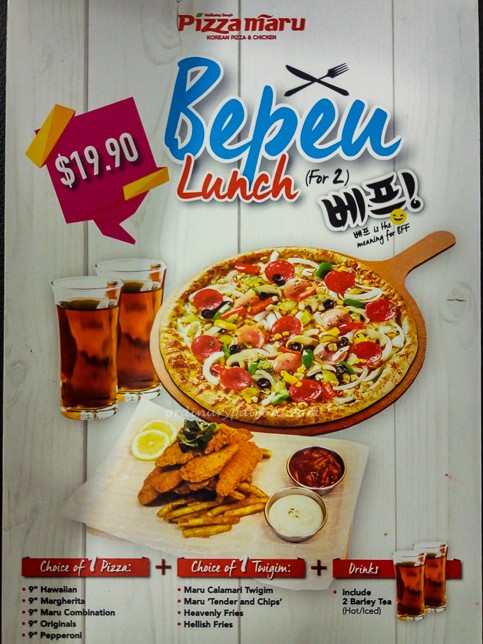 We visited Pizza Maru in Bugis+ during lunctime recently but did not try their pizza. We had a 2 piece chicken wing set ($8.90++) and the 3 course set lunch ($15.90++). Both sets included mushroom soup & ice lemon tea.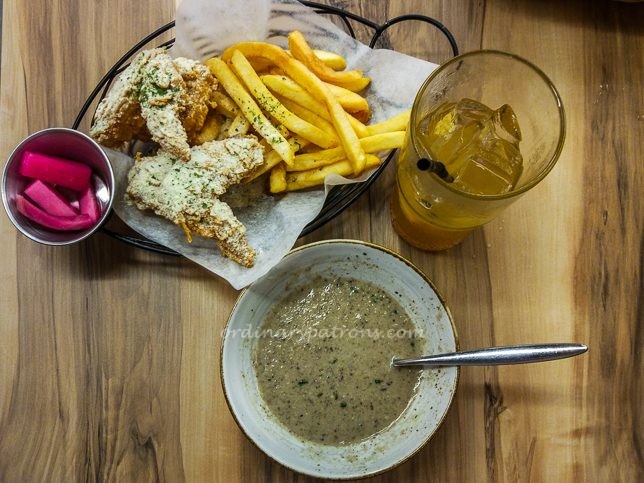 The mushroom soup made fresh on the premises was nice but tasted not much different from something out of a can. Perhaps that just means that the standard of canned soup is quite good nowadays. Pizza Maru's ice lemon tea was delicious and refreshing – definitely much better than something out of a can.
Fried Chicken
We could choose the flavour of the chicken wings for the set. We opted for honey butter. The 2 large pieces of fried chicken were served with fries and pickles. The chicken wings were very good. The skin, coated with honey butter powder, was crunchy crispy and tasty. The meat inside was smooth and succulent. There was nothing greasy. We really liked the fried chicken wings.
Honghae Pasta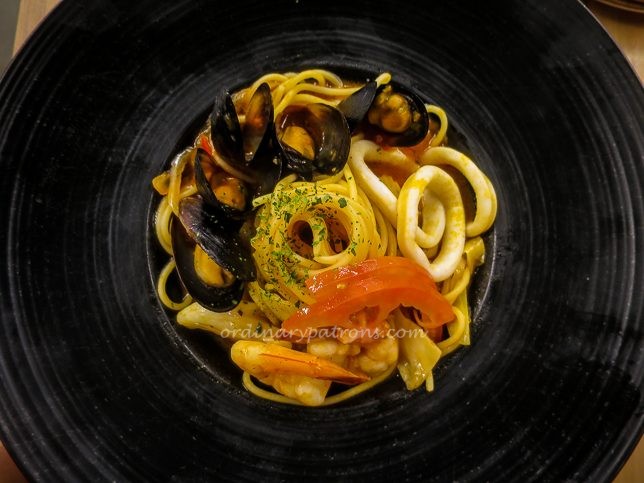 We choose the Honghae Pasta for the main course of our 3 course set lunch. The pasta, with mussels, prawns and squid, looked quite pretty. It had a tomato based sauce which was slightly spicy. The dish was nice but not exceptional.
Attractive Lunch Deals
On the whole, we thought the food at Pizza Maru was not bad. The fried chicken was delicious and very enjoyable. Service was friendly. The lunch deals are attractively priced. Their pizzas look tempting and there are other versions of fried chicken to try. We would be happy to have lunch again at Pizza Maru Restaurant in Bugis+.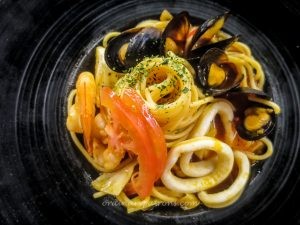 Ratings:
Food: 3
Service: 3
Value: 4
Atmosphere: 3
Overall Ratings: 3 TOPs 

Pizza Maru Bugis
201 Victoria Street
#04-03/04 Bugis+
Singapore 188067
Tel: +65 6634 0930
Opening Hours: 11:30 am -10 pm
Nearby MRT Station: Bugis
---
The Ordinary Patrons | Real Dining Experience of Ordinary People
an independent Singapore food blog