Notwithstanding the occasional Malaysia-Singapore food fights, the latest rounds triggered by Singapore's bid to seek Unesco recognition for its hawker culture and CNN's praise of Singapore chendol, there can be no denying that Singaporeans have a soft spot for Malaysian street food. The long running Penang Hawker's Fair at York Hotel, Malaysian Chiak and Malaysian Food Street in RWS are popular with Singaporeans. PappaRich is another good place for Malaysian food and the restaurant chain from Malaysia has many outlets all over Singapore.
PappaRich has an international network with outlets in places like Auckland, Jakarta, Melbourne, New York, Shenzhen and Taipei. There are many PappaRich restaurants in Singapore, in prime city malls like Plaza Singapura and Suntec City as well in suburban malls like Parkway Parade and Waterway Point.
We have visited various outlets of PappaRich over the years, such as PappaRich Westgate. Recently we paid another visit to PappaRich in KINEX (formerly known as One KM).
PappaRich in KINEX is nicely decorated, with various seating configurations, although the furnishing is beginning to show its age.
PappaRich's Menu is extensive – covering Malay, Chinese and Indian dishes from Malaysia. Take a look at the menu on PappaRich's website to get an idea of the scope and variety of food offered.
We ordered Roti Telur ($3.90), Chicken Satay ($8.90), Hor Fun ($10.90) and Fried Kway Teow ($9.90). We also had Coffee and Hot Lemon Tea ($2.90 each). Service charge and GST would be added to the bill.
The food was served after a short wait. We liked all the items we tried. The satay was nicely grilled and flavourful. The standout dish was the simple Roti Telur, or roti prata with egg as we called it in Singapore. The thin tossed and fried dough had a light, soft and fluffy finish with a crispy crust. We would be happy to eat this for brekafast, lunch and supper.
The seafood hor fun was not bad but we liked the fried kway teow better. The wok-fried flat rice noodles with cockles, prawns, bean sprouts and sambal had a nice smokey flavour and was a very satisfying dish. We thought PappaRich's fried kway teow was a very good version of one of the most popular street food of Malaysia.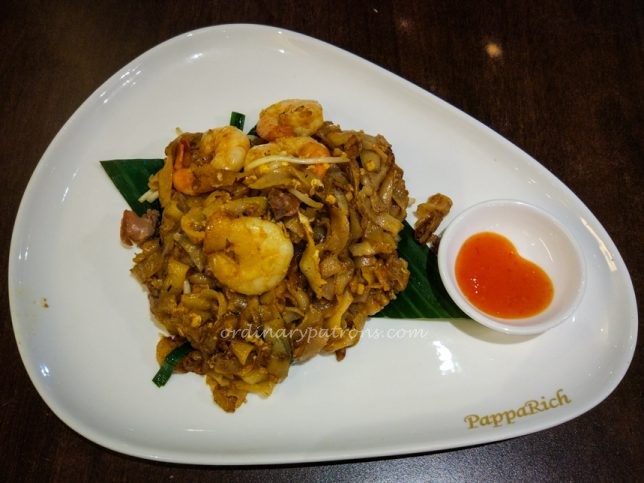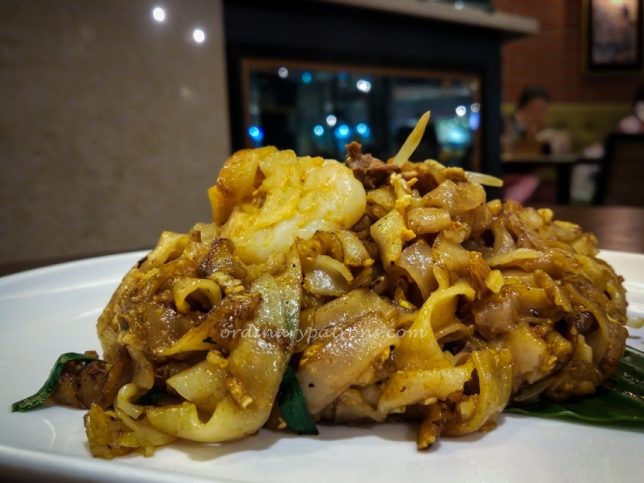 Overall, we enjoyed our meal at PappaRich KINEX. The place was nice and comfortable, the quality of food was generally good and the service was friendly and efficient. With the trafiic jams at the Tuas and Woodlands crossings deterring food runs to Johore, PappaRich outlets in Singapore could be the next best option when there is a craving for Malaysian hawker food.
PappaRich
01-60/61/62 KINEX Mall
11 Tanjong Katong Road
Singapore 43715

Tel: +65 6384 2232

Opening Hours: 10am – 10pm

Nearby MRT Station: Paya Lebar
The Ordinary Patrons | Real Dining Experience of Ordinary People
an independent Singapore food blog
Ilmu padi, makin berisi makin rendah
The fuller the ear is of rice-grain, the lower it bends

– Malay Proverb