Class 95's Foodie's Choice for "Best Chilli Crab" (as voted by the radio station's listeners) has just been announced. The winner by a wide margin is the Chilli Crab of Roland Restaurant.
Class 95's Foodie's Choice – Best Chilli Crab
Class 95's Foodie's Choice is back. The radio station created a poll on its Facebook page and asked its followers to vote in the battle of the Chilli Crabs. Voting ended 19 March 2019 2359 hours. The winner of Class 95's Foodie's Choice for Best Chilli Crab goes to…. Roland Restaurant.
Roland Restaurant
It is generally accepted that the creator of chilli crab is a Mdm Cher Yam Tian, although her version did not have eggs and sambal in the recipe. Roland Restaurant, operated by the son of Mdm Cher, says it is the Founder of Chilli Crab. According to its website Mr. Lim Choon Ngee & Mdm Cher Yam Tian started their seafood restaurant along the Kallang River and later relocated to Bedok Beach (before the reclamation of land, now the ECP) along Upper East Coast Road. Their specialities included their own creation, the Chilli Crab accompanied by crusty French loaf for dipping into the sauce. Dr Leslie Tay gives an excellent account of the history of chilli crab and Roland Restaurant in his article Roland Restaurant: History of Chilli Crabs, this is as Singaporean as it gets!
Roland Restaurant is located on the top level of a public multi-storey carpark in Marine Parade. It looks like a typical Singapore seafood restaurant, complete with fish tanks. It is huge and can accommodate up to 1,100, which makes it a suitable venue for big wedding dinners and grassroots organisation events.
Menu of Roland Restaurant
Roland Restaurants sells more than just chilli crab and seafood. Cantonese dishes and dim sum are also on its menu. On weekends, push cart dim sum is available. Various set menus and menus for special occasions can be found on their website. Here are photos of a few random pages of the a la carte menu of Roland Restaurant.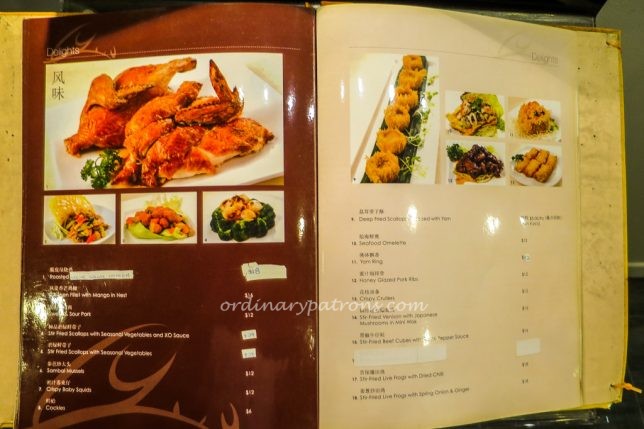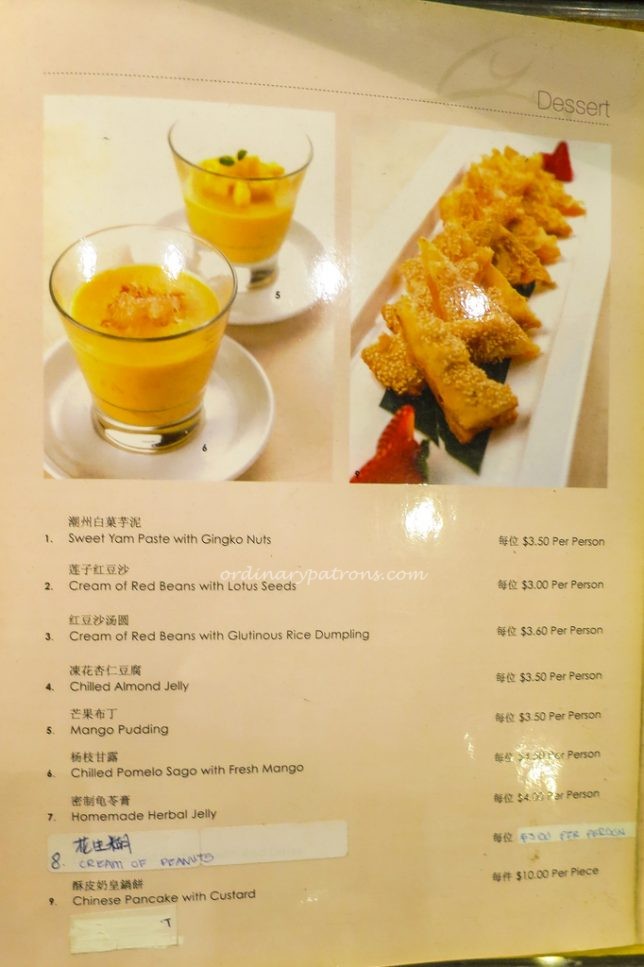 Dinner at Roland Restaurant
We had dinner at Roland Restaurant sometime ago and ordered a variety of seafood and meat dishes.
The pork ribs and deep fried crispy prawns with salad were excellent. The pork was nicely glazed and tender. The prawns salad had a good combination of textures and the dish was appetizing and refreshing.
The fried fish looked impressive but it was a case of the taste not matching the look. The bean curd dish had a good balance of flavours and was palatable.
Roland Restaurant's chilli crab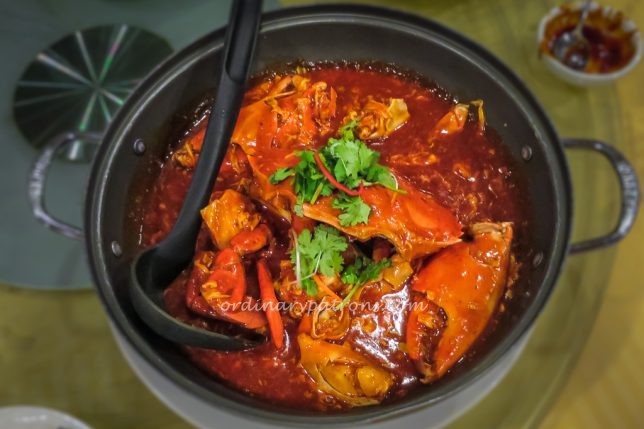 The main event was of course the chilli crab. The sauce looked a little different from the chilli crab sauce usually found in most other Singapore seafood restaurants. It was more red than orangey. The taste of the sauce was mild, a little spicy and just slightly sweet yet savoury. The sauce complemented the sweetness of the crab meat rather than overpowering it. Roland Restaurant's chilli crab was one of the best chilli crab we had tried in Singapore.
Roland Restaurant is a good place for a nice meal with family and friends and especially suitable for big group gatherings. Moderate your expectations with regard to ambience and service and it would be easy to enjoy the food there.
Roland Restaurant's chilli crab is good. Of course we know that the same food even prepared with the same recipe can be loved by one person and disliked by another – so Roland's version may not be better than the version in your current favourite seafood restaurant. However, if you are chilli crab fan, you should try Roland Restaurant's chilli crab – after all, it is the version of the creator of chilli crab and has been voted winner of Class 95's Foodie's Choice for Best Chilli Crab in Singapore.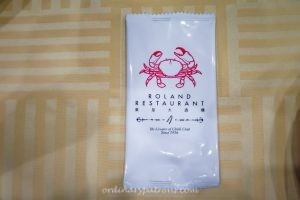 Roland Restaurant
Block 89, Marine Parade Central, # 06 – 750
Singapore 440089
Tel: +65 6440 8205
Opening Hours :
Weekdays – Monday to Saturday
Lunch : 11:30 am to 2:30 pm (Last order at 2:15pm)
Dinner : 6:00 pm to 10:30 pm (Last order at 10:15pm)
Sundays & Public Holidays :
Lunch : 11:00 am to 2:30 pm (Last order at 2:15pm)
Dinner : 6:00 pm to 10:30 pm (Last order at 10:15pm)
The Ordinary Patrons | Real Dining Experience of Ordinary People
an independent Singapore food blog
---