Osaka is said to be the "nation's kitchen". It is famed for many types of Japanese food. We were told that the "must-try" food in Osaka is the okonomiyaki. The plan was to go to Mizuno Okonomiyaki – which our friends say is the best okonomiyaki in Osaka. But there was a long queue of about 2 hours! We decided on Plan B – Chibo Okonomiyaki at Dotonbori Osaka – also highly rated but with a much shorter queue, it was the better place to have okonomiyaki in Osaka on that day. Being ranked #47 of 34,040 Restaurants in Osaka in TripAdvisor it is certainly a popular restaurant in Osaka and not too shabby.
According to Wikipedia, Okonomiyaki is a Japanese savory pancake containing a variety of ingredients. Derived from the word okonomi, it means "how you like" or "what you like". Okonomiyaki is widely as available as a type of street food in Osaka. It is also served in restaurants. Some restaurants like Chibo Okonomiyaki, specialise in serving this dish in many styles.
Chibo Okonomiyaki has 70 outlets in Japan, 23 of them in the Osaka area. They have several outlets overseas, including Hawaii and Bangkok. They have helpfully provided details of the outlets and respective menus on their website.
Chibo Okonomiyaki Dotonbori Osaka Outlet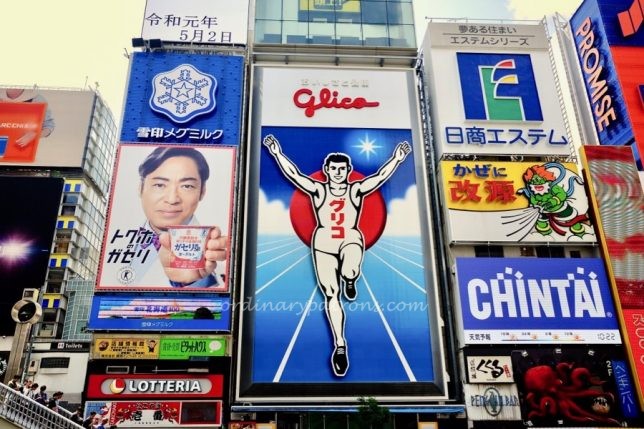 You can find a full copy of the Chibo Okonomiyaki Dotonbori menu here. Most of the okonomiyaki cost around 1,600 Yen. They are the size of an average pizza but denser and thicker. We decided to share a Green Onion Mix Okonomiyaki (1,580 Yen) with an extra egg (+100 yen). It was adequate for two of us.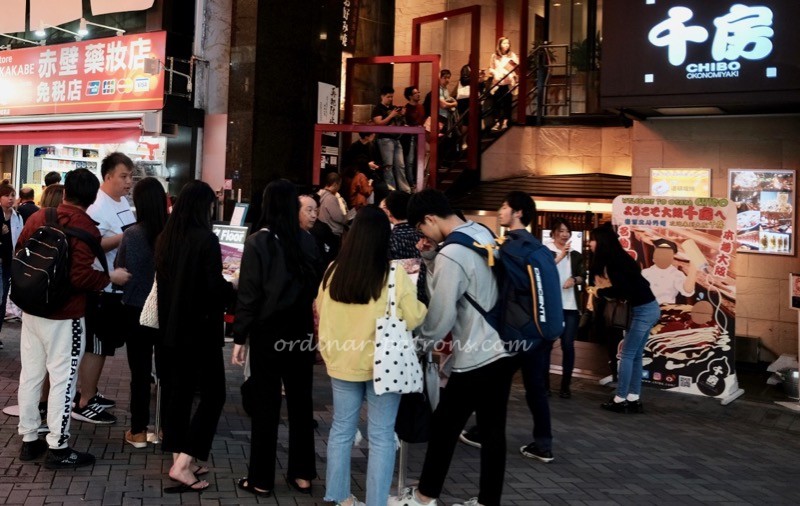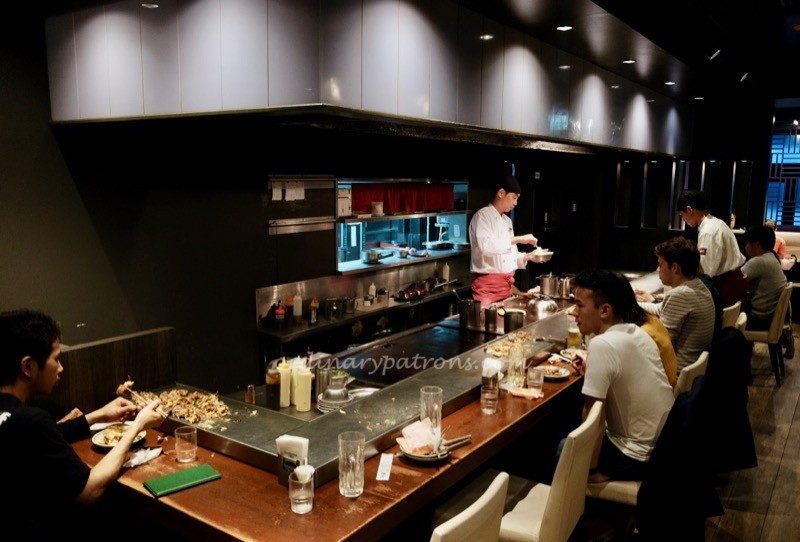 Chibo Okonomiyaki occupies the whole building along the Dotonburi – the riverside pedestrian mall that has the famous Glico man and giant crab signs. I think there are 4 or 5 levels. Each level is small and seating is either at the counter seating or at regular tables. I would recommend the former as it is more entertaining, but be prepared to smell like the food at the end of the meal.
Green Onion Mix Okonomiyaki
The cooking of okomoiyaki was more elaborate than I had thought. Various layers of ingredients were progressively added. The amount of vegetables, particularly green onions was generous. A far amount of squid was then added, followed by another portion of vegetables. Finally a large amount of batter was added on top. Once the egg has firmed up, a metal disc was used to compress the lot, reducing the bulky pancake to a thickness of around one inch.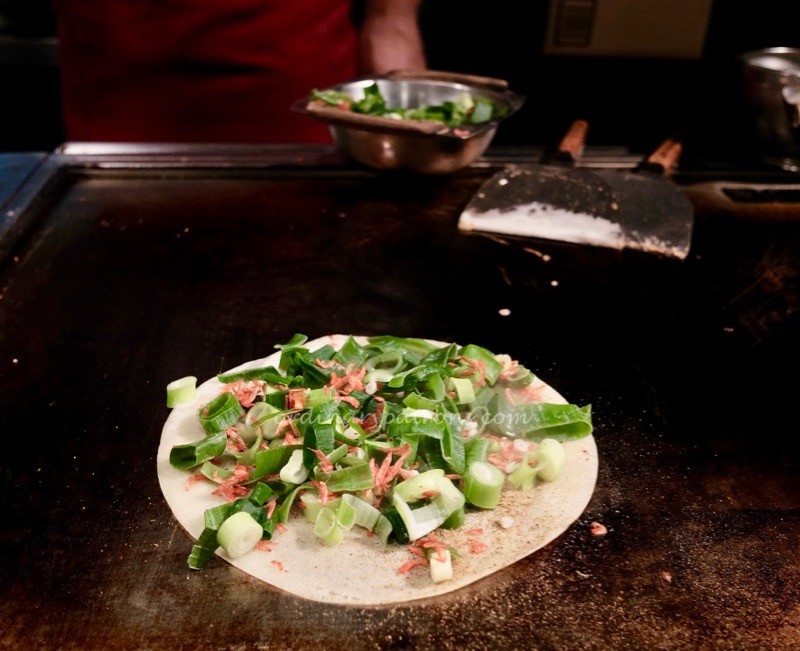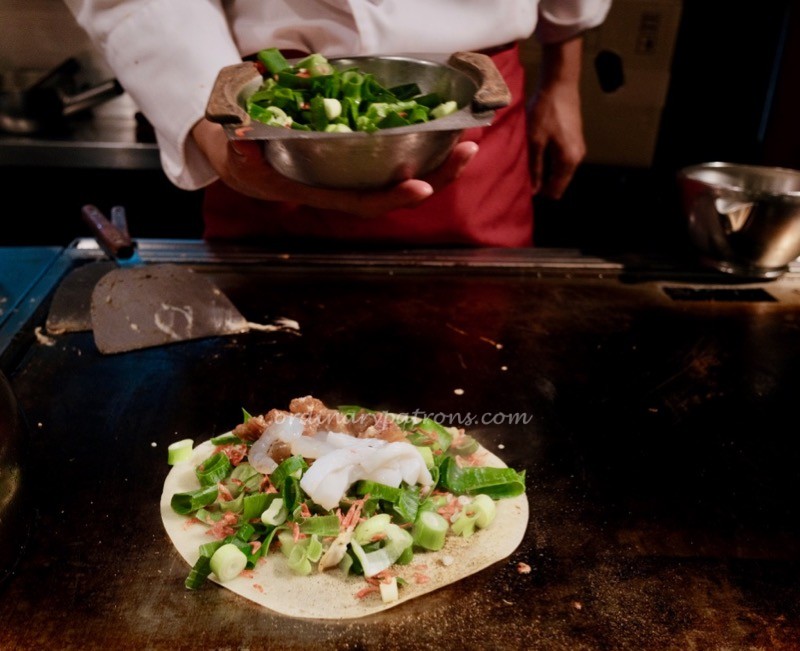 This is the final standard green onion mix okonomiyaki at Chibo (above picture) with a topping of bonito flakes. We asked for less mayo on ours. With the added fried egg, we had our final product (picture below) after about 20 minutes.
The stainless steel surface around the grill functioned as the serving plate. The cooked items were placed there in front of the respective diners.
With the spatula provided, we helped ourselves to the food when it was piping hot, fresh from the grill. I must say, it was much better than I had expected it to be. Perhaps it was the huge amount of ingredients that went into it. And also the expert cooking. The squids were not too soft or overcooked. The texture and balance in taste of the whole pancake was just right. The perfect drink to go with okonomiyaki – an ice cold draft beer – Japanese of course!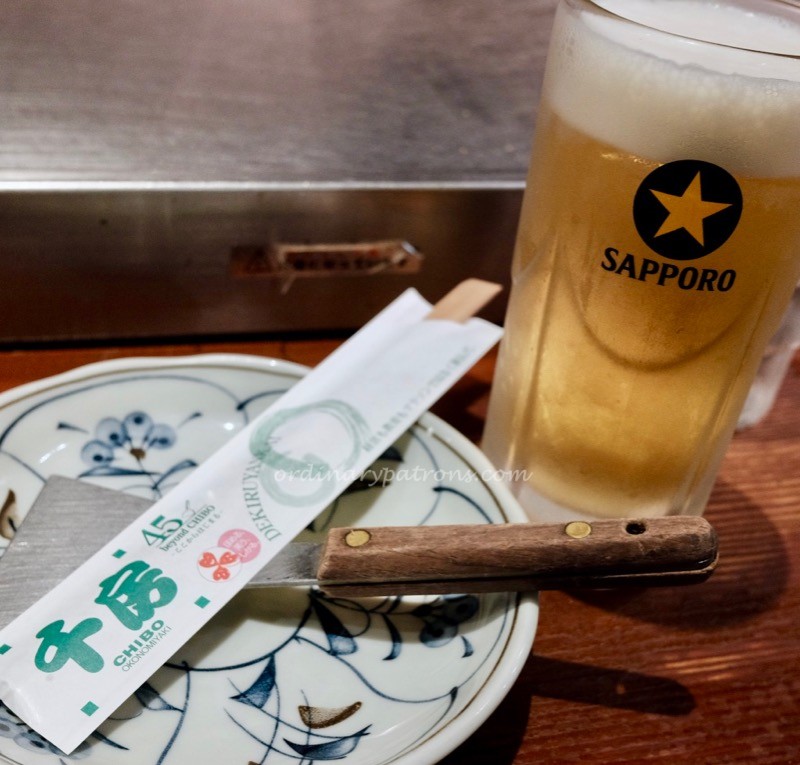 Ratings:
Food: 4
Service: 3
Value: 4
Atmosphere: 3
Overall Rating: 4 TOPs
Chibo Dotonbori Building 1F 2F 3F 4F, 1-5-5 Dotonbori, Chuo-ku
Osaka 542-0071, Osaka Prefecture
Japan
Tel: +81 6-6212-2211
Opening Hours: 11:00 AM – 12:00 AM
Chibo Okonomiyaki Dotonbori Osaka Website
The Ordinary Patrons | Real Dining Experience of Ordinary People
an independent Singapore food blog
---