Ann Siang Hill is a little hill in Chinatown that can symbolise the mutli-racial roots of Singapore and the multiculturalism of the city. According to Singapore Infopedia, Ann Siang Hill was originally known as Scott's Hill and was later christened Gemmill's Hill; and the historic building of the Pondok Peranakan Gelam Club, a home to a Bawean-Malay community, was located on the hill. Today the restored shophouses at Ann Siang Road and Ang Sinag Hill are occupied by cosmopolitan restaurants and bars. Belimbing Superstar, a new restaurant for Peranakan food by Chef Ben & The Coconut Club, joins the array of hip and cool bars and restaurants on the hill.
Belimbing Superstar in Ann Siang Hill
It is perhaps appropriate for a Peranakan restaurant to find a home in Ann Siang Hill. Peranakan generally refers to people of mixed Chinese and Malay/Indonesian heritage and the standout feature of Peranakan culture in Singapore is Nyonya food. On the little hill where you can find British pub food, French cuisine, Japanese grills and even Peruvian dishes, it is good to also have Belimbing Superstar, a Peranakan restaurant aiming to introduce the quality, accessibility and authenticity of the Peranakan food to a wider audience.
The new restaurant for Peranakan food at Ann Siang Hill occupies 2 shophouses. The main entrance leads to hall where the food display counter takes up about half of the space. There are only 3 small tables and a small bar counter for diners. The main dining area is in the other shophouse, where there a few small round tables and well as tables for communal dining. There are also a few tables out in the five foot way. The decor is simple – modern industrial design with Peranakan motifs.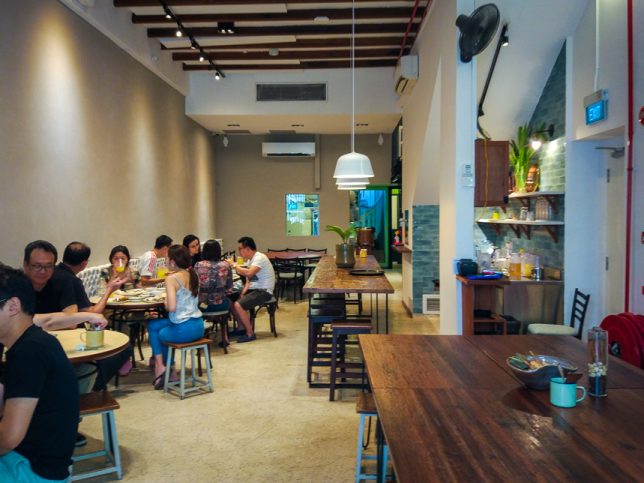 New Restaurant for Peranakan Food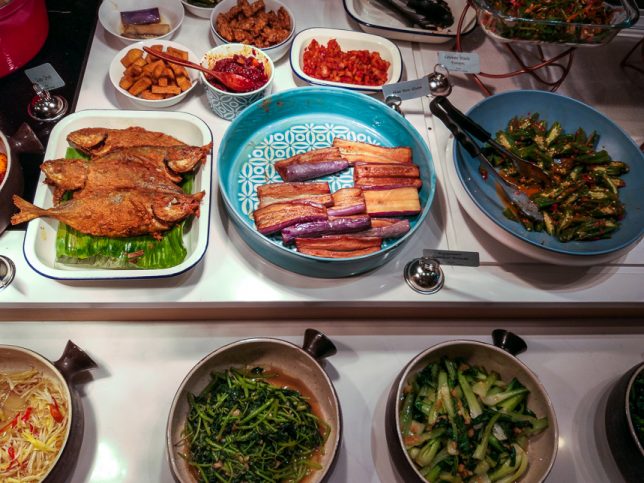 Belimbing Superstar in Ann Siang Hill opened in late August 2019. We visited the new restaurant for Peranakan food during the first few days of its opening. It would seem that they operate without a menu. You choose your food like you would at the nasi padang stalls or economic rice stalls, by going up to the food display counter to pick your dishes. However, instead of just pointing out the dishes, a service staff will take your order with a digital pad. You then proceed to your table and the food will be served to you. It is sort of like the system in heritage nasi Padang Restaurant Rendezvous.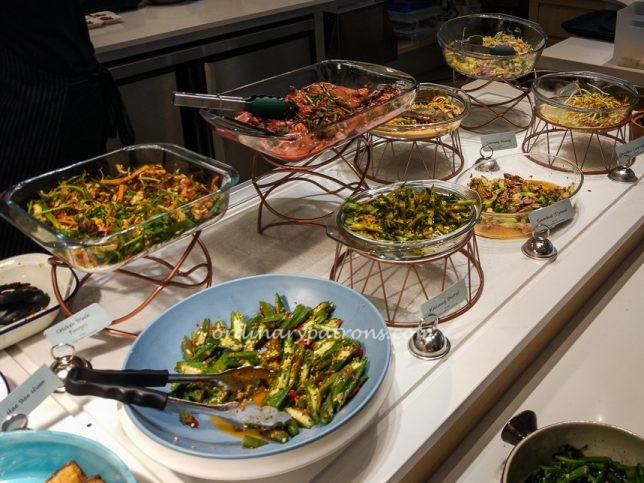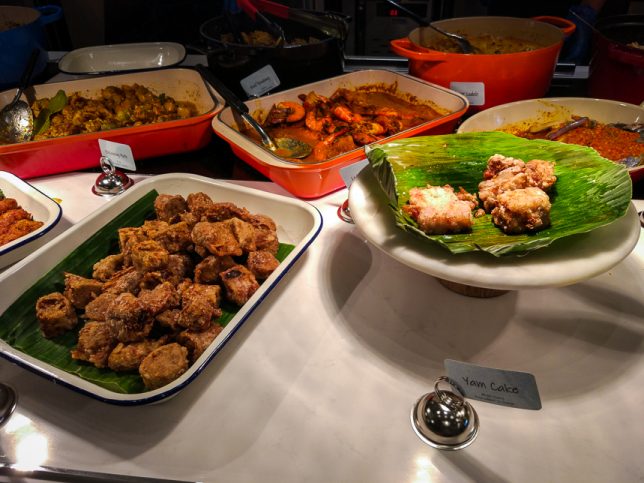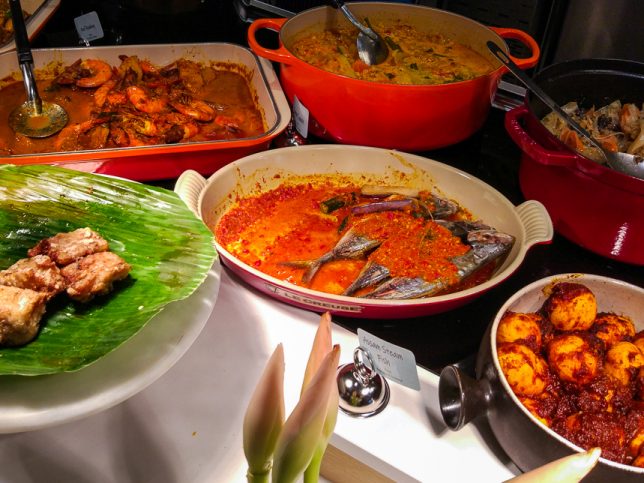 Lunch at Belimbing Superstar
We selected a variety of dishes including the signature Pork Belimbing ($7.50), Chap Chye ($5), Hae Cho ($5 for 2 pieces), Tofu Bomb ($3.80 for 2 pieces), and Oyster Bomb ($4 per piece). Steam Rice was $1 per plate and cold drinks of chrysanthemum tea and calamansi juice drink were $3.50 each. As part of the opening promotion, a salad dish and a piece of yam cake were complimentary.
Belimbing Superstar is one of the few new restaurants not going the pretty food route. The food were served in small dishes, sort of like in Teochew porridge stalls. The presentation was definitely not designed for the Instagram set. However, like old fashioned homecooked family meal, the dishes need not look good to be comfort food devoured with relish.
The best item we had at Belimbing Superstar was the complimentary yam cake. It had great texture and flavour. The Pork Belimbing and Chap Chye were also very enjoyable. The braised pork belly with a good fat to lean meat ratio was very tasty with just the right amount of sourness. The chap chye had lots of different ingredients which added layers of flavours to the dish. The vegetables were well braised so that they were soft but still retain a nice texture. With a bit of sambal chilli added, the chap chye tasted even better.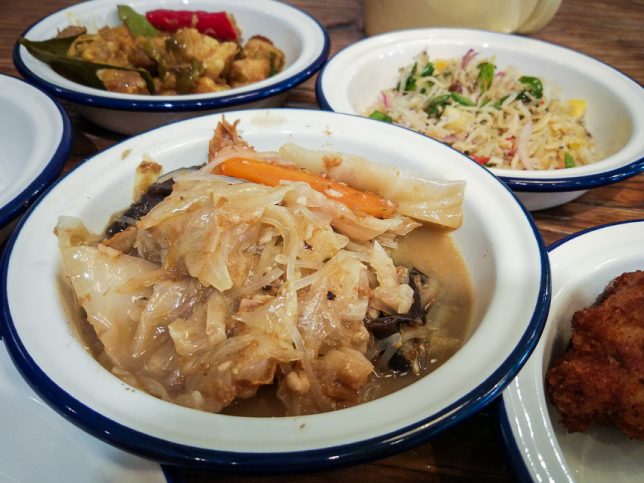 The eggs and tofu items were fine but the Oyster Bomb was a little disappointing. It was not a dish we were familiar with but the solitary piece of oyster croquette on a plate looked quite sad and on the palate it created no excitement.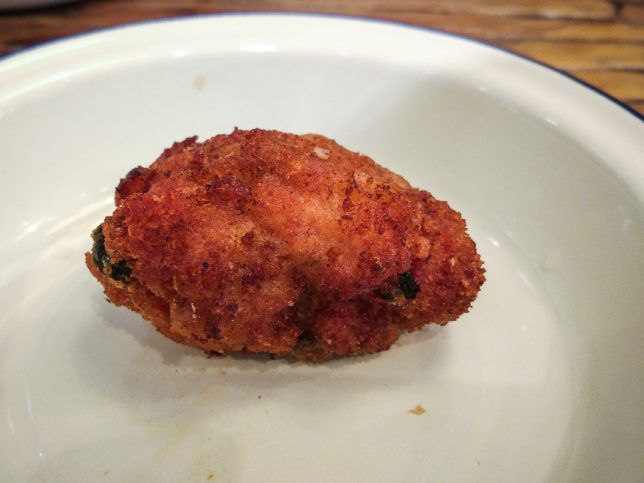 Drinks & Desserts
The drinks we had at Belimbing Superstar were nice and refreshing. We liked the fact that they were not too sweet. We really liked their cheng tng dessert. It was complimentary for all diners at the new Peranakan restaurant. It had all the traditional ingredients of cheng tng, including barley, lotus seed, gink nuts, red dates and dried logan. It was delicious comfort food.
Good Peranakan Food
Overall, the food was good ar Beleimbing Superstar. Lots of ingredients could be found in the dishes and the natural flavours from the quality ingredients were evident. Some might find the food a tad bland but there would be nothing some sambal chilli could not fix for those who like food with more punchy flavours. The economic rice or cai png style of serving the dishes is not a bad idea. It allows us to try a variety of dishes in small portions. Their prices are affordable prices and the staff were friendly and helpful. We will happy to eat at Belimbing Superstar again.
Ratings:
Food: 4
Service: 4
Value: 3
Atmosphere: 3
Overall Rating: 3 TOPs

Belimbing Superstar
8 Ann Siang Hill,
Singapore 069788.
Tel: +65 6974-0998
Opening Hours: 11 am to 3 pm
Closed on Monday
The Ordinary Patrons | Real Dining Experience of Ordinary People
an independent Singapore food blog