The recent spells of hot weather in Singapore may be the perfect excuse to indulge in some ice cream. Thankfully, there are many great places for ice cream in Singapore. We list the current favourite ice cream parlours The Ordinary Patrons (TOP) have visited.
Birds of Paradise Gelato Boutique
The Birds of Paradise Gelato Boutique at The Red House Katong is a lovely picturesque ice cream parlour. It looks more like a designer fashion boutique than an eatery selling just gelato. It sells good quality delicious gelato made on site – offering interesting flavours inspired by the plant kingdom like Strawberry Basil Thyme, White Chrysanthemum and and Lychee Raspberry.There is no place to sit down at The Birds of Paradise Gelato Boutique but we love going there to buy their ice cream, and so does a lot of other people. Read more.
Birds of Paradise Gelato Boutique
63 East Coast Road
#01-05 The Red House Katong
Singapore 428776
Tel: +65 9678 6092
Opening Hours
Tues-Fri: 16:30 – 22:00
Sat-Sun: 12:00 – 22:00
Birds of Paradise has a new outlet in Jewel Changi
01-214/215/216, Jewel Changi Airport
78 Airport Boulevard
Singapore 819666
Opening Hours: 12 noon – 11 pm
---
Butterknife Folk Gelato
Butterknife Folk is a modest ice cream cafe offering handcrafted gelato and sorbets made in small batches. It has a good range of interesting gelato and sorbets – from Baileys, Sesame Praline and Tiramisu to Kaya Toast, Mango Lassi and Kelapa. It creates new flavours from time to time so there is always something different to look forward to. Read Butterknife Folk Gelato Cafe – almost heaven.
Butterknife Folk in River Valley is temporarily closed.
Butterknife Folk in Funan
107 North Bridge Road
#02-02 Funan
Singapore 179105

Opening Hours: 10 am – 10 pm
---
Creamier
Creamier is a charming ice cream cafe with outlets in the leafy Gillman Barracks and the Bohemian Tiong Bahru Estate. It has a wide repertoire of ice cream flavours, including Earl Grey Lavender and Sea Salt Gula Melaka, with offerings changing throughout the year – see Creamier Menu of Flavours for the current flavours available. As Creamier ice creams are handcrafted in small batches everyday onsite, not all the outlets carry all the flavours available; which may add to the excitement of discovering what you can have each time you visit Creamier. Read about our visits to Creamier Gillman Barracks and Creamier Tiong Bahru.
Creamier Gillman Barracks
Block 5A Lock Road
Gillman Barracks
Singapore 108927
Tel: +65 6262 1087
Opening Hours:
Tuesdays to Thursdays – 12pm to 10pm
Fridays and Saturdays – 12pm to 11pm
Sundays – 12pm to 10pm
Mondays – Closed
Creamier Tiong Bahru
78 Yong Siak Street
01-18
Singapore 163078
Tel: +65 6221 1076
Opening Hours
Tue – Thu : 12:00 pm – 10:00 pm
Fri : 12:00 pm – 11:00 pm
Sat : 11:00 am – 11:00 pm
Sun : 11:00 am – 10:00 pm
Closed on Mondays
---
KOOKS Creamery
Kooks Creamery offers handcrafted ice cream of various flavours in a cup or on a cone but is probably best known for the signature Lava Cookie – a molten lava baked cookie with a gooey centre topped by a scoop of ice-cream – and its Mermaid Spirulina ice cream. Interesting flavours include Blue Chai Hokkaido Milk, Onded Ondeh and Fresh Coconut. Read about our visit to Kooks Creamery @ The Cathay.
KOOKS Creamery @ Serangoon
Serangoon Ave 4 #01-02
Singapore 550211
Opening Hours:
Tue-Thu, Sun: 12:00 noon – 10:00 pm
Fri & Sat: 12:00 noon – 11:00 pm
KOOKS Creamery @ The Cathay
2 Handy Road
#01-06 The Cathay
Singapore 229233
Tel: +65 90068748
Opening Hours: 12:00 noon – 10:00 pm
---
The Humble Scoop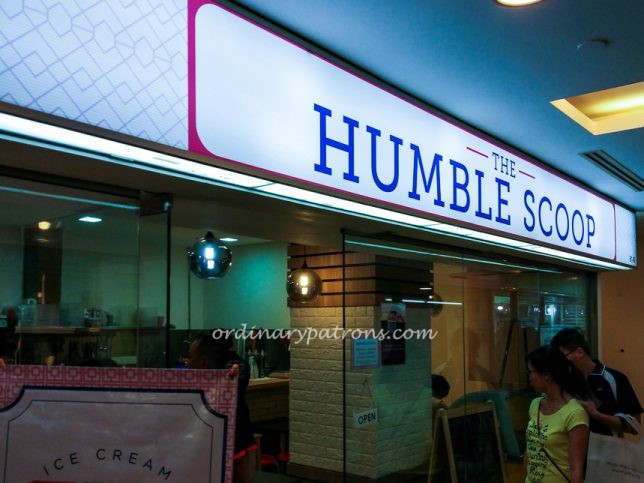 The Humble Scoop explained their underlying philosophy as "recreating flavours that we grew up with into scoops of ice cream!". That translates into interesting flavours such as Kopi C, Salted Coconut & Gula Melaka, Pulut Hitam and Sugar Cane. The friendly and humble people running don't seem to take themselves too seriously but there is no mistaking that they are dedicated to concocting good ice cream with interesting local flavours. They deliver delightfully treats. Read more.
The Humble Scoop
#B1-92 Katong Shopping Centre
865 Mountbatten Road
Singapore 437844
Opening Hours:
Tues-Sun: 12 noon to 9.30 pm
Closed on Monday
---
The Dark Gallery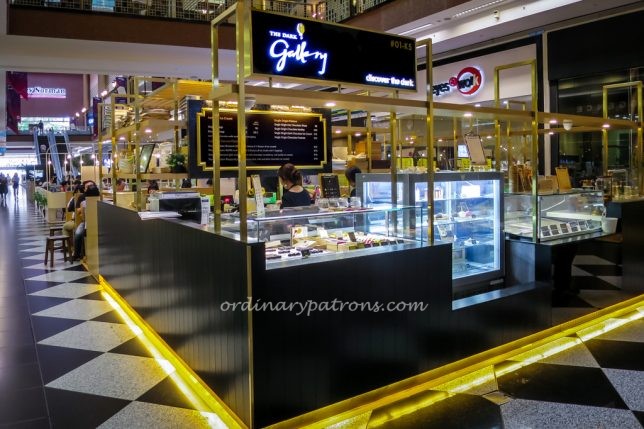 The Dark Gallery is a coffee and dessert cafe that showcases the beauty and taste of chocolates. Suffice it to say that their chocolate ice creams are worth the calories. Read The Dark Gallery Chocolates and Ice Cream – sweet dreams are made of these.
The Dark Gallery Millenia
Millenia Walk #01-K5
9 Raffles Boulevard
Singapore 039596
Tel: +65 6255 0368
Opening Hours: 11.00 am to 9.30 pm
The Dark Gallery Orchard
391 Orchard Road
Takashimaya Shopping Centre B2-29 Ngee Ann City
Singapore 238873
Tel: +65 6935 2603

Opening Hours: 11.00 am to 10.00 pm
---
The Daily Scoop
The Daily Scoop Ice Cream Cafe is known for its unique flavours and hand-churned ice cream. Interesting flavours include Cha Earl Grey, Cashew Caramel, Pur-Pearl Rice, Lychee Martini and Whisky Walnut. The Daily Scoop has outlets in the suburbs of Sunset Way, Chip Bee Garden and Sembawang. The city outlet is located at SOTA.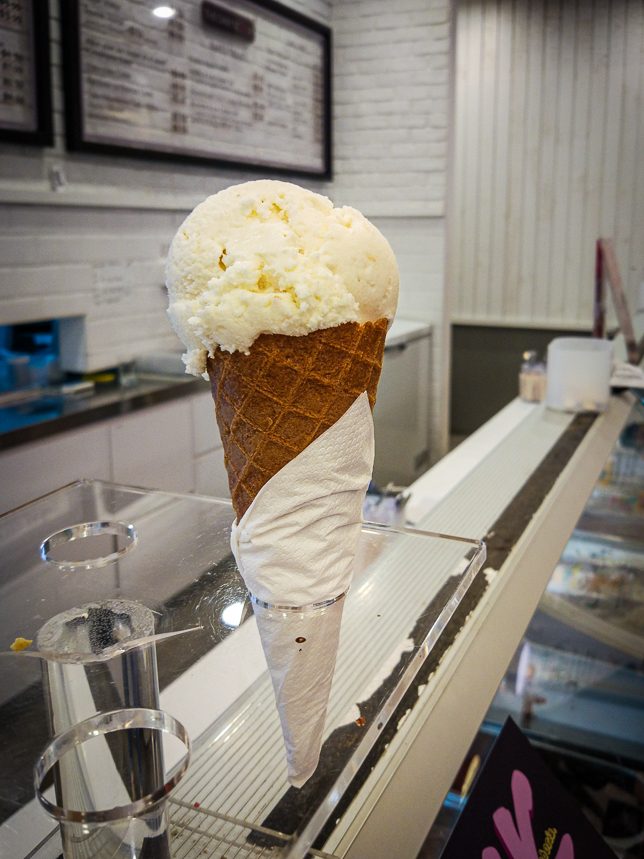 41 Sunset Way #01-04 Clementi Arcade, Singapore 597071
Tel: +65 6463 3365
43 Jalan Merah Saga #01-78 Chip Bee Gardens, Singapore 278115
Tel: +65 6475 3128
369 Sembawang Road #01-05 Sembawang Cottage, Singapore 758382
Tel: +65 6754 1233
1 Zubir Said Drive #01-03 School Of The Arts Singapore (SOTA), Singapore 227968
Tel: +65 6509 4875
---
Udders
Udders is a local success story. A Singaporean couple has built a thriving chain of ice-cream parlours, popular for its Mao Shan Wang Durian ice cream and its range of liqueur flavours like Bailey's & Bourbon, Wineberries and Rum Rum Raisin. It has outlets in several locations including Bukit Timah, Novena and Kovan.
17 Lorong Kilat, #01-09 Kilat Court, Singapore 598139
Tel: +65 6466 1055
246D Upper Thomson Road, Singapore 574370
Tel: +65 6452 0803
155 Thomson Road, Singapore 307608
Tel: +65 6254 6629
212 Hougang St 21, #01-345, Singapore 530212
Tel: +65 6448 8732
---
The Ordinary Patrons | Real Dining Experience of Ordinary People
an independent Singapore food blog