The famous Sembawang White Bee Hoon 白米粉 is one of those local dishes where people are prepared to travel North to Sembawang from all parts of Singapore just to have a plate of white rice vermicelli fried with seafood. The Original Sembawang White Beehoon has rebranded itself as White Restaurant and their seafood white bee hoon is now more accessible. Besides the restaurant at Jalan Tampang in Sembawang, White Restaurant has several outlets including a new one in Jewel Changi Airport, with another outlet to be opened soon in Suntec City.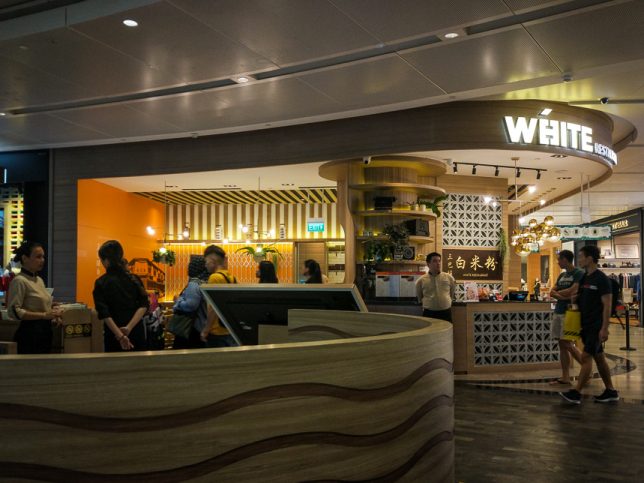 Sembawang White Bee Hoon in Changi
White Restaurant @ Jewel Changi Airport is located in Basement 1 of the new entertainment and retail complex of Changi Airport. The restaurant has 2 dining areas – one in a regular shop space and one out in the open atrium area. The contemporary decor is pleasant. The place is casual and comfortable and has a vibrant atmosphere.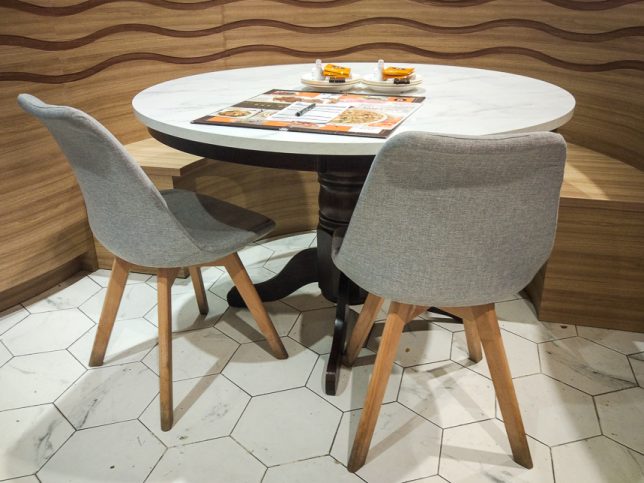 White Restaurant Menu
The menu of White Restaurant is fairly extensive. Besides the signature white bee hoon, there is a good range of rice and noodles zhi char dishes. Below are photos of the menu of White Restaurant @ Jewel Changi Airport.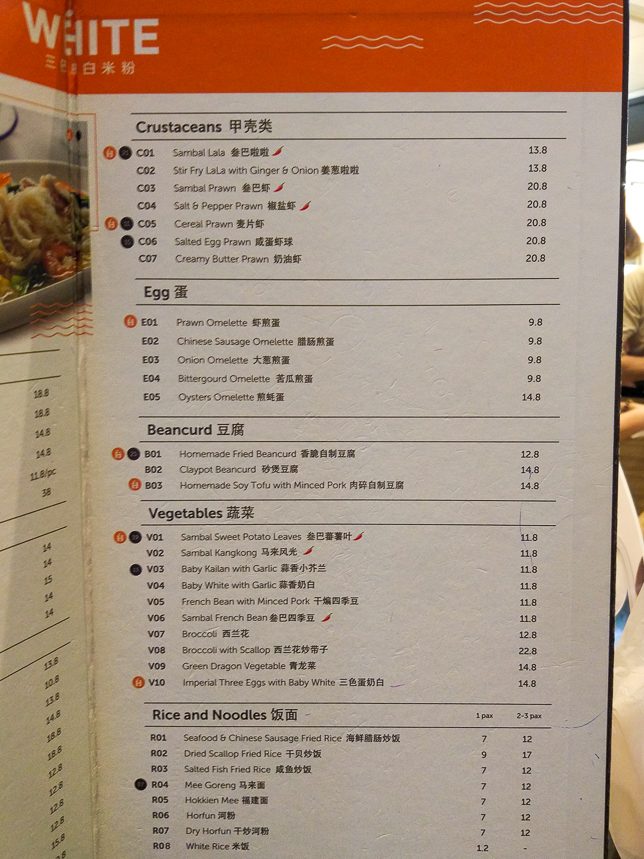 Dinner at White Restaurant @ Jewel Changi
When we had dinner at Changi Airport recently, we ordered the original white bee hoon ($7 for a small plate) and stir-fried pork with ginger and onion ($12.80). The food was served after a short wait.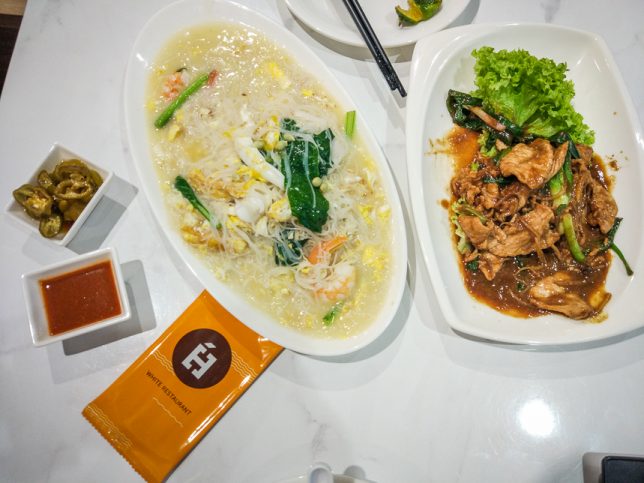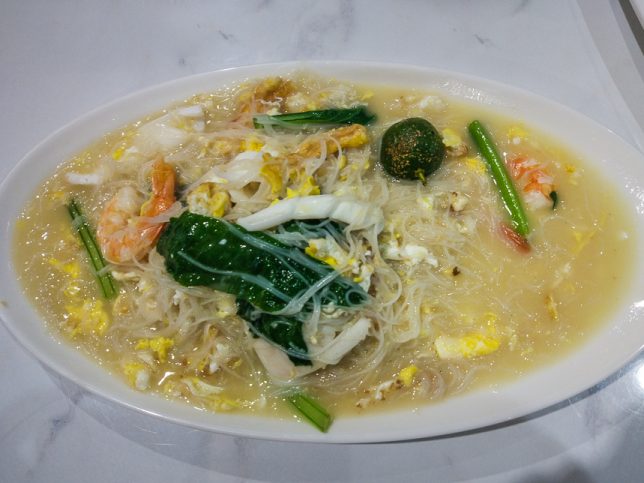 The seafood white bee hoon is a simple homely dish. They were quite generous with the seafood ingredients. The bee hoon had a nice texture. We thought the light broth was a tad bland. Squeezing some lime onto the broth made a marked difference, making the dish more enjoyable. It was good comfort food. Something we would happily eat again.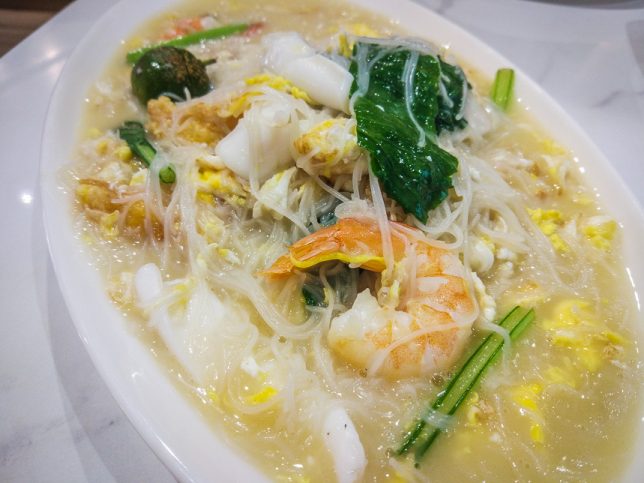 The stir-fried pork with ginger and onion was also a nice homely dish. It used to be considered a "confinement dish" meant to nourish women after giving birth. Nowadays, you don't have to give birth to enjoy the dish. White Restaurant's version was tasty. In fact we enjoyed the pork more than the bee hoon. We might order pork with ginger and onion and have it with rice the next time we visit White Restaurant.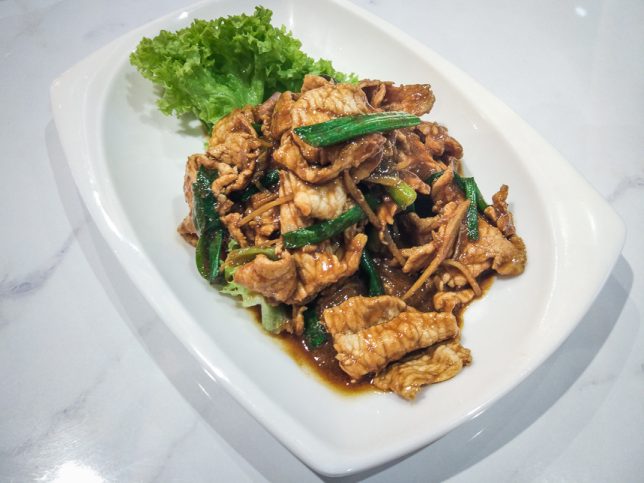 White Bee Hoon More Accessible
We are happy that there is now no need to travel all the way to Sembawang to enjoy the original Sembawang white bee hoon. Being able to enjoy a good range of dishes besides bee hoon in air-conditioned comfort is even better. We look forward to the opening of White Restaurant's new outlet in Suntec City. Then we do not even have to get out of the city when we want to eat Sembawang white bee hoon.
Ratings:
Food: 4
Service: 3
Value: 3
Atmosphere: 3
Overall Rating: 3 TOPs

White Restaurant @Jewel Changi Airport
78 Airport Boulevard #B1-245-246
Singapore 819666
Tel: +65 6904 2202
Opening Hours: 11 am to 10 pm

Nearest MRT Station: Changi Airport
The Ordinary Patrons | Real Dining Experience of Ordinary People
an independent Singapore food blog