Hong Kong modern Chinese restaurant chain Social Place has opened in Singapore with an outlet in Forum The Shopping Mall. Social Place Singapore should appeal to the old and young alike; it has a casual retro cafe look that can evoke nostalgia and yet appear contemporary and cool and it serves good traditional Hong Kong dim sum with a creative twist.
Social Place at Forum
Social Place described itself as a "blast from the past with a tantalising taste of modernity" and "retro-chic 60s-style Hong Kong with a touch of luxe". The new restaurant on level 1 of Forum The Shopping Mall has a casual ambience. The brightly lit interior has a grey and blue theme with vintage tiled flooring. There is a wall decoration made out of mahjong tiles.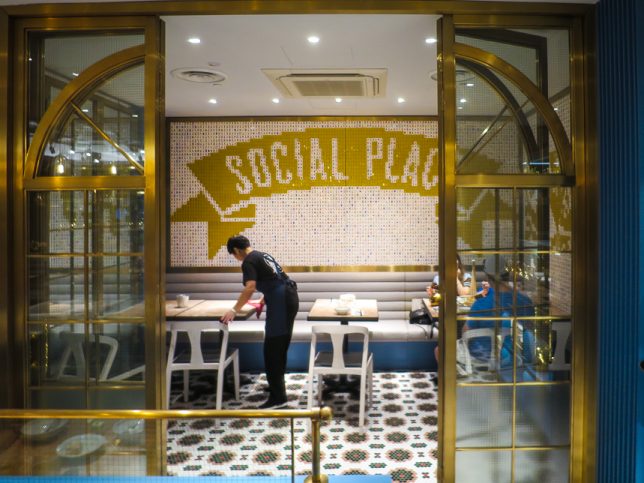 The open kitchen takes up a large portion of one side of the restaurant. The rest of the elongated space is divided into different seating sections each with slightly different decor. Most of the tables can be re-arranged to accommodate dining parties of different sizes. The tables are placed quite close together, Hong Kong style perhaps. The place does not feel congested but still it is probably not a place for whispered conversation.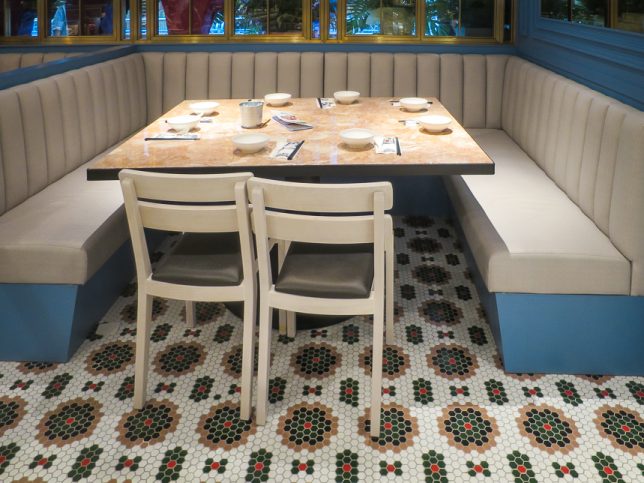 Menu of Social Place Singapore
The menu of Social Place Singapore is not extensive but offers sufficient variety. There are creative attractive items like shiitake mushroom shaped bao, beef in flaming pineapple, berry shaped lobster glutinous puff and puddings in the forms of cute piglet or goldfish. The repertoire of Chinese restaurant staples include shrimps in Chinese wine, drunken chicken, fish fillet in mala pot, salted egg yolk bitter gourd and sauteed crab.
Below are pictures of the menu of the new Social Place, which also serves as the order chit.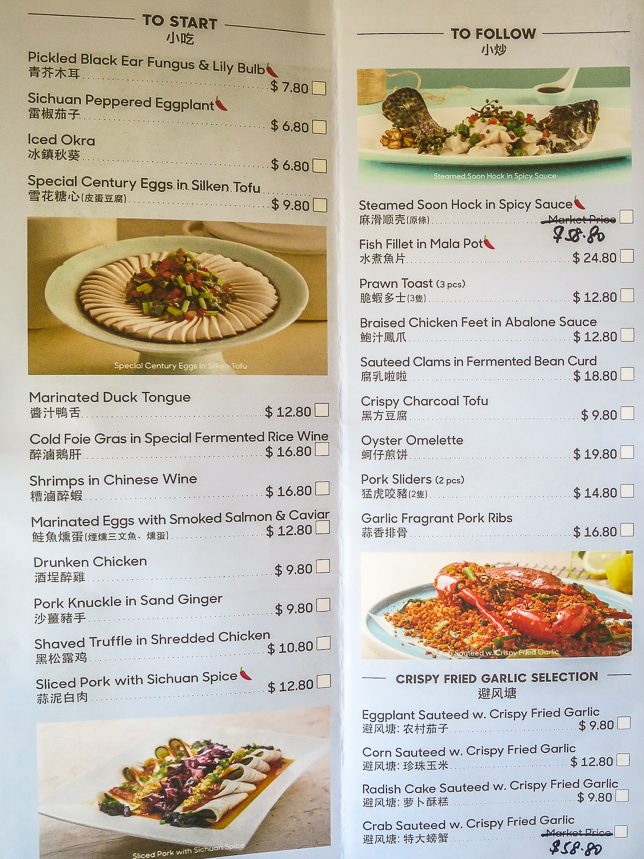 Nice Little Touches
A restaurant may have nice interior decor, attractive plating and even good food but still not provide a great dining expereince if customer service is below par. Social Place Singapore provides commendable service. The staff were polite and made us feel welcome. There were dry and wet napkins on the table. Disposable gloves were provided for when eating certain items without utensils might be preferable. A pot of hot tea was served (chargeable at $1.80 per person) as soon as we were settled.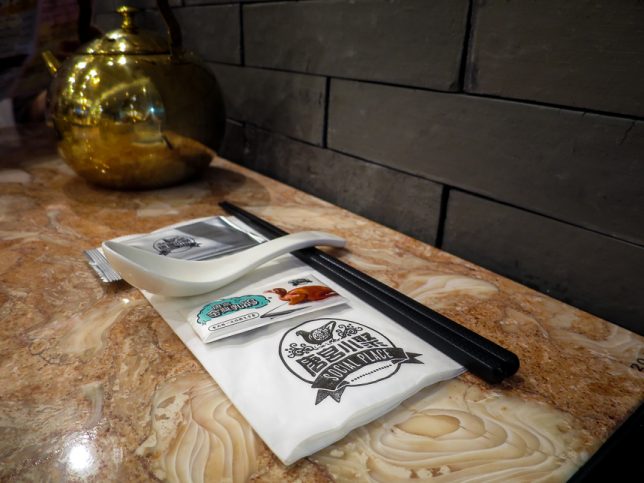 A playful element was introduced with bowls with little insects on them – not real insects but painted on ones. A nice little touch that helped make for a more interesting and social dining experience.
Delightful Social Place Lunch
We had a light lunch at the new Social Place Singapore. We ordered a Braised Rice with Abalone ($13.80), Crispy Charcoal Tofu ($9.80) and Rose Floret Bun ($1.80 per piece). GST and service charge would be added to the bill.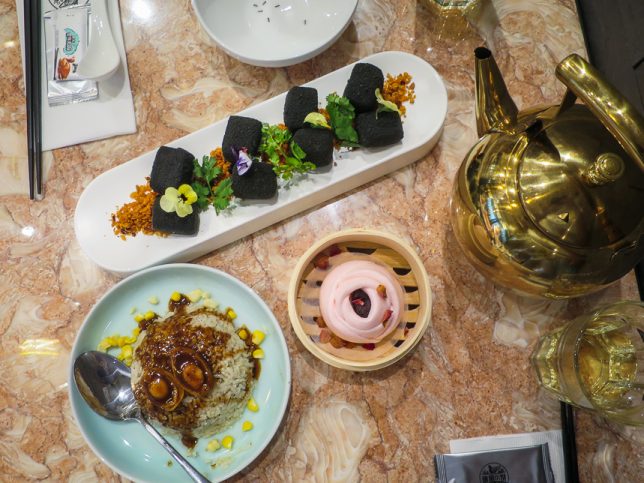 The Crispy Charcoal Tofu was beautifully presented on a bed of golden brown fried garlic and topped with small flowers. It tasted as good as li looked. The black outer layer was crispy and slightly salty and the white tofu inside was smooth and silky.
The rather ordinary looking Braised Rice with Abalone & Black Truffle was the most enjoyable dish of our lunch. The portion was quite substantial. The dish had flavours that were light but complex and it was very delicious.
The Steamed Rose Floret Bun looked pretty. The bun was soft and fluffy and the sweet red bean paste filling was smooth and nice. It was like a good tau sar pau dressed for prom night – certainly quite photogenic.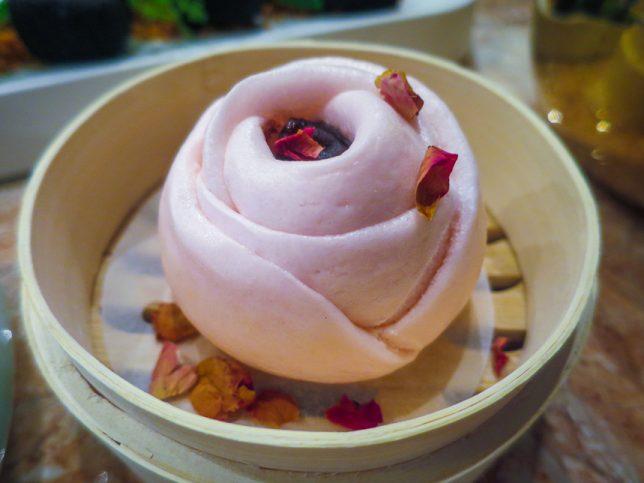 Dessert
There was a tempting array of attractive desserts on the menu. The Mahjong Jelly and Small Pig Pudding were especially popular, especially with "camera eats first" people (which should include The Ordinary Patrons). On that particular day went with the simple clean and elegant look and selected the Double Boiled Pear with Aged Mandarin Peel and we were not disappointed. The pear was a delightful dessert with a delicate texture and natural sweetness made all the more palatable by the tangy fragrance and bittersweet flavours of dried mandarin orange peel.
Great New Place
It is easy to understand why Social Place is popular with people of all ages in Hong Kong. We think Social Place Singapore is certainly a welcome entrant to our local F&B scene. The new casual restaurant has a menu that is interesting and reasonably priced. It has a pleasant space and nice little touches to create a fun atmosphere. The food presentation is trendy and attractive and the quality and taste of the food are on par with those of good Chinese restaurants in Singapore. Social Place Singapore is a great new place to socialise over delectable affordable contemporary Chinese food.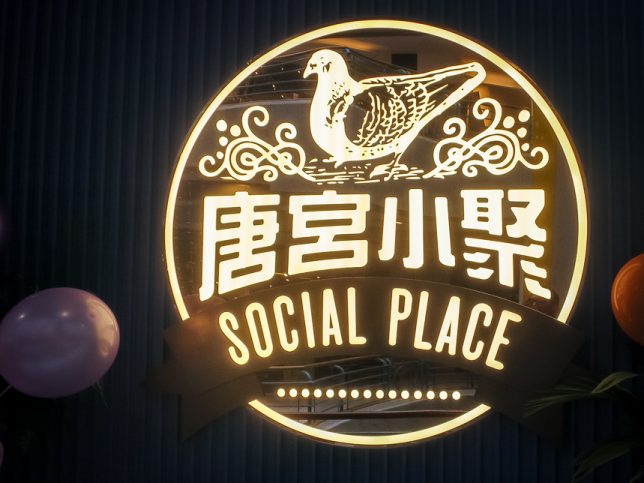 Ratings:
Food: 4
Service: 3
Value: 4
Atmosphere: 3
Overall Rating: 4 TOPs
Social Place Singapore
583 Orchard Road
Forum the Shopping Mall #01-22
Singapore 238884
Tel: +65 8870 2288
Opening Hours:
11:30 – 14:30
18:00- 22:00
Nearby MRT Station: Orchard
The Ordinary Patrons | Real Dining Experience of Ordinary People
an independent Singapore food blog