You may not realise it, but Chinese New Year is less than a month away. The lunar new year decorations in Chinatown are up and Lim Chee Guan bak kwa outlets are doing roaring business once again. Lim Chee Guan has stopped doing delivery and you should soon see the familiar long lines of people waiting patiently to buy the prized bak kwa. The Signature Sliced Pork Bak Kwa was $58.00 per kg as at 29 December 2019 ($66 as at 14 Janaury 2020); and the price may increase further as CNY gets closer.
Lim Chee Guan opened a new outlet in ION Orchard last year. This year there is another place to get Lim Chee Guan Bak Kwa – in Jewel Changi Airport.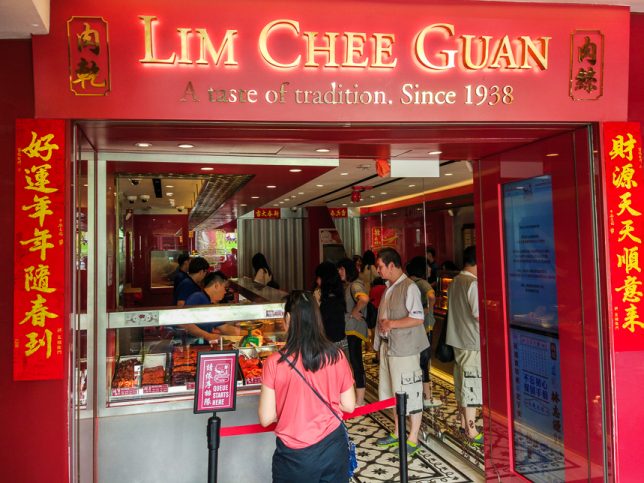 Lim Chee Guan has stopped their delivery service during CNY season and they warned that they "do not engage nor commission any 3rd party Delivery Vendor or any other related services".
Their outlets will be open till 23 January They will be closed during the CNY period from 24 January 2020 to 26 January 2020. On 27 January 2020, the bak kwa will only be available after 3 pm.
Lim Chee Guan Price
The pictures below show the prices of various items available when we visited the New Bridge Road outlet on 28 December 2019.
The minimum purchase currently is 300 g.
The usual prices (i.e. not the current CNY prices) are as follows:
Signature Sliced Pork: S$52/kg
BBQ Chilli Pork: S$54/kg
BBQ Beef: S$52/kg
BBQ Fish: S$48/kg
BBQ Prawn: S$50/kg
Gold Coin Pork: S$48/kg.
The price list as at 14 January 2020 is below.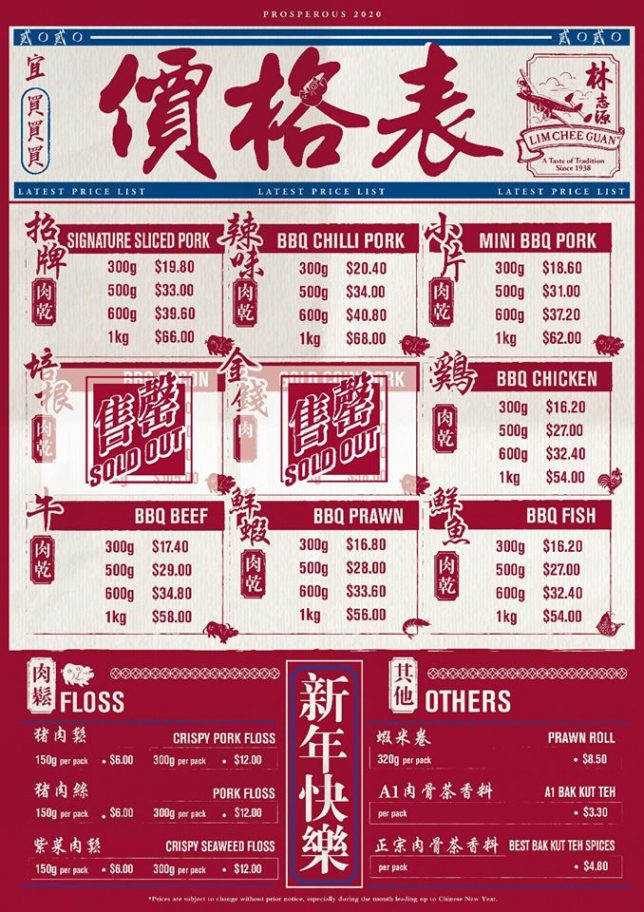 Lim Chee Guan Bak Kwa
Lim Chee Guan Bak Kwa comes in a very nice packaging. The Bak Kwa Pack in auspicious red would make a very presentable gift.
Lim Chee Guan Bak Kwa is soft and tender with a delightful balance of savouriness and sweetness. It has a nice aroma and a smokey BBQ taste. Every bite is enjoyable. If you are buying the bak kwa for your own consumption, now may be a good time to go buy some before the crazy long queues start.
If you want to try other brands of bak kwa or check out other available lunar new year goodies, you may wish to visit the Takashimaya CNY Fair at Ngee Ann City.
Lim Chee Guan
203 New Bridge Road
Singapore 059429
Tel: +65 6933 7230
Opening Hours: 9 am – 10 pm
Nearby MRT Station: Chinatown
People's Park Complex #01-25
Singapore 059108
Opening Hours: 10am – 10 pm
Nearby MRT Station: Chinatown
ION Orchard #B4-37
Singapore 238801
Opening Hours:10 am – 10 pm
Nearby MRT Station: Orchard
Jewel Changi Airport #B2-222
Singapore 819666
Opening Hours: 10 am – 10 pm
Nearby MRT Station: Changi Airport
The Ordinary Patrons | Real Dining Experience of Ordinary People
an independent Singapore food blog