Looking for an affordable Michelin-Star Restaurant, Singapore for lunch is quite tricky. That is because Michelin Stars are awarded based on the quality of food. Other important considerations such as restaurant atmosphere and service are secondary. According to the Michelin Guide website "Restaurant inspectors do not look at the interior decor, table setting, or service quality when awarding stars – these are instead indicated by the number of 'covers' it receives …". We get into some disagreements when deciding which are the affordable Michelin restaurants in Singapore. But we usually have agreement that Alma By Juan Amador at Goodwood Park Hotel along Scotts Road is probably one of them.
It is not often that we find "value for money" in the same sentence as Singapore Michelin Star restaurant, but Alma Goodwood would be a worthy contender for the title of being an affordable Michelin-Star Restaurant, Singapore. There are three lunch options at Alma Singapore – 3, 4 and 5 course menus priced at $39++, $55++ and $88++ respectively. We had previously tried their most affordable lunch set menu. This time we were there to try their $88++ five course set lunch.
The atmosphere at Alma is quiet and relaxed. Service is friendly and not pushy. For those throwing a party, the private dining room that also houses a whisky collection is an ideal location. For more pictures of the restaurant you can refer to the post of our previous visit.
Alma Lunch Menu and Wines List
Here are pictures of the Alma lunch menu and the wines by the glass menu. There is another more comprehensive wine list. We tried the 5 course menu ($88++).
The Starters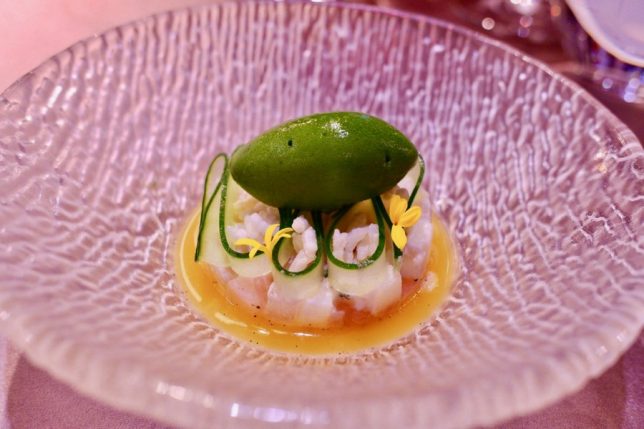 The starter part of the meal was the most interesting. There were three starters and they were all interesting and delightful. The first was Kanpachi with daikon, Toki apple and garden sorrel (picture above). The fish topped with fruits and vegetables was a delicate, refreshing start to the meal.
The second starter, Crispy Tofu, was more substantial and serious. A piece of homemade tofu, fried so that the skin was crispy provided a blank canvas. The wild mushrooms and foie gras emulsion provided the flavours to paint this dish with earthy and deep flavours.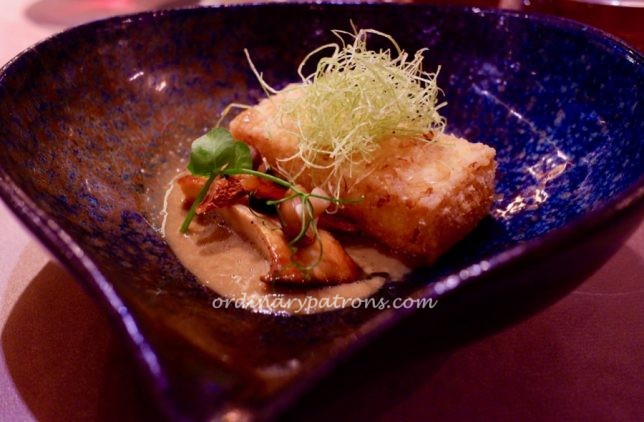 The last starter was Japanese horsehair crab (picture below). This was a luxurious dish. The natural taste of crab was lifted with a mild lemongrass flavoured broth.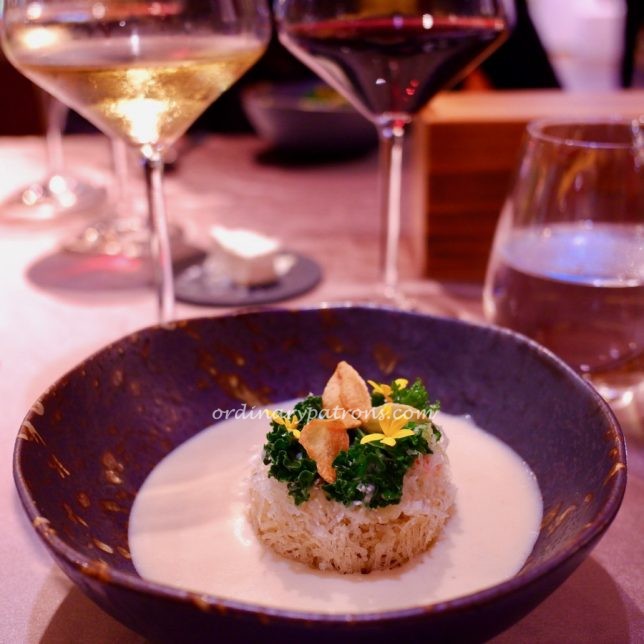 Main Course and Dessert
The main course options were less exciting. There was a choice of Duck, Barramundi or Ribs. We opted for the duck and ribs.
The Challand Duck (above picture) was a straightforward piece of duck breast. It was prepared medium rare with quite a bit of pink. It was nice piece of duck but not a very adventurous dish.
The Tajima Shortrib was a better choice. I believe Tajima is a type of Wagyu cattle. The size of the beef shortrib was small but packed a wonderful taste. It was served with king oyster, Ratte potato and Perigord jus that complemented the taste of beef. This is the main course to pick if we dine here again.
The dessert was the least interesting part of the meal. Called the "Amaou Strawberry" it looked like a bowl of longan beancurd jelly served at Chinese restaurants. In fact I can't recall what it tastes like, other than sweet and cold. It was a quiet end to a lunch which started with a bang. Coffee was also served as part of the lunch. Other than our disappointment with the dessert, the 5 course lunch was certainly enjoyable overall.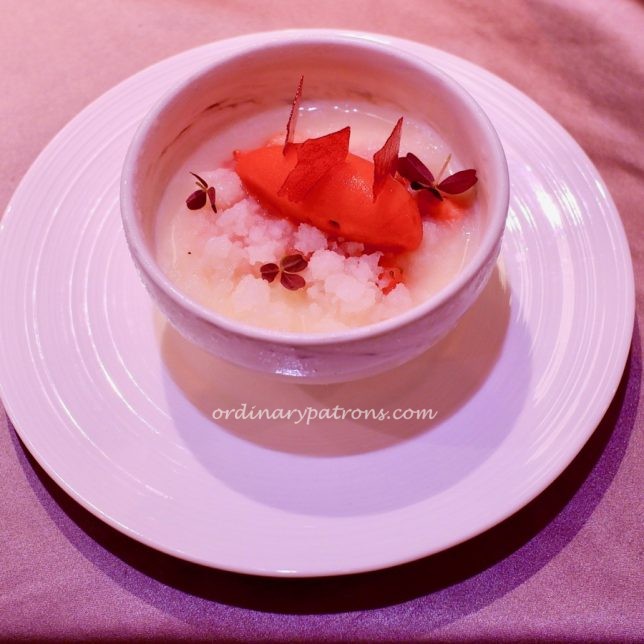 Ratings:
Food: 4
Service: 5
Value: 4
Atmosphere: 4
Overall Rating: 4 TOPs
Alma by Juan Amador
Goodwood Park Hotel
22 Scotts Road
Singapore 228221
Tel: +65 6735 9937
Opening Hours:
Bar
Monday to Thursday: 6.00 p.m. to 11.00 p.m.
Friday to Saturday: 6.00 p.m. to 12.00 a.m.
Restaurant
Monday to Friday: 12.00 p.m. to 2.30 p.m.
Monday to Saturday: 6.00 p.m. to 10.00 p.m.
Closed on Sunday
Nearby MRT Station : Orchard
---
The Ordinary Patrons | Real Dining Experience of Ordinary People
an independent Singapore food blog