Many nice F&B outlets that were once only located in prime Orchard Road shopping malls could now be found in Jurong East. Beauty in a Pot, Coffeesmith, Ippudo Ramen and Lady M are examples of popular eateries that are in Westgate. Honolulu Cafe, which attracted very long queues when it opened in The Centrepoint, is another one. We had breakfast at Honolulu Café in Westgate recently. It was almost like actually having breakfast in a cha chaan teng in Hong Kong.
Honolulu Café in Westgate looks and feels like one of the typical cafes found in malls and MTR stations in Hong Kong. Its decor is unpretentious. The front section has shelves for take away items. Quite a number of tables are squeezed into the compact dining area – providing an authentic Hong Kong cafe experience.
Menu of Honolulu Café Westgate
Although famous for its Egg Tarts and Hong Kong Milk Tea, Honolulu Café has many other items on its menu. We had visited Honolulu Café Centrepoint for lunch. When we wanted to have breakfast at Honolulu Café Westgate, we were glad to see that there were interesting and affordable breakfast sets.
The a la carte menu also has a fair range of breakfast items – like instant noodles, English breakfast and French Toast.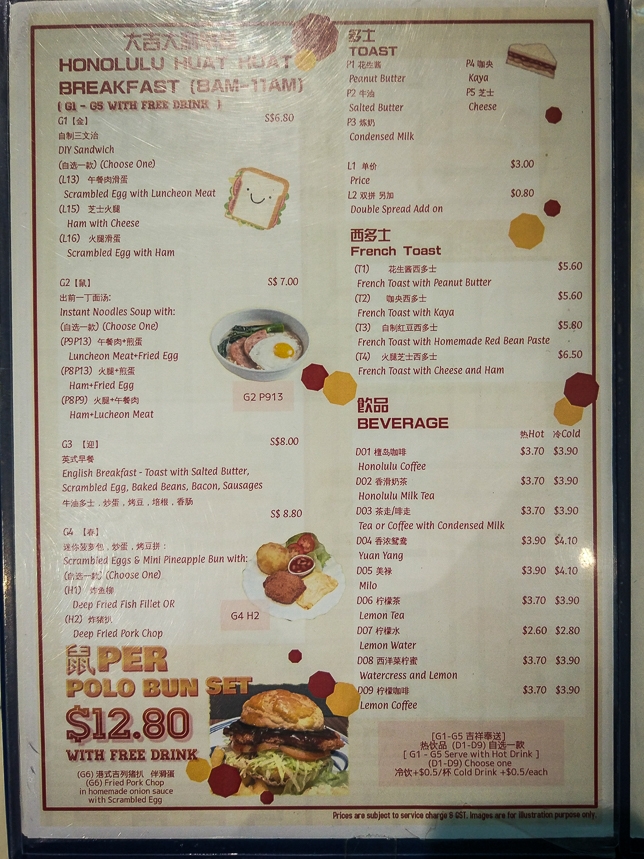 Those that are too busy to have a leisurely breakfast are not forgotten. There are Grab & Go sets, pre-packed sandwiches, buns and pastries for take-away.
Breakfast at Honolulu Café
We ordered one of the Breakfast Sets – Pineapple Bun with Eggs and Pock Chop ($8.20) – and a French Toast with Kaya ($5.60). The set came with a hot beverage.
The Breakfast Set E was really a good value meal. For the price of a large coffee elsewhere, we got a mini Pineapple Bun, Scrambled Eggs, Pork Chop, Baked Beans and Salad plus a cup of coffee. The Pineapple Bun bolo bao was sweet and slightly sticky. It had a slightly crispy outer layer and soft inside. It is quite good though not the best bolo bao we had tried. The other items of the breakfast set were nice enough and about what you would expect at that price point.
The French Toast came with a slab of butter on top and kaya inside. The thick slices of bread were coated with a beaten egg mixture and deep fried to a golden brown colour. The outside was crisp and the inside soft and fluffy. It was delicious. Another way to enjoy kaya toast with eggs.
Almost like breakfast in HK
A visit to Honolulu Café in the morning may well be worth it whether you are reminiscing about breakfast in Hong Kong or you just want to have a nice affordable breakfast. Honolulu Café has reasonably priced breakfast sets from 8 am to 11 am. The popular egg tarts and other pastries are also available. At Honolulu Café in Westgate the atmosphere makes it easy to imagine that you are actually in Hong Kong, especially when the friendly staff starts speaking in Cantonese.
Ratings:
Food: 3
Service: 4
Value: 4
Atmosphere: 3
Overall Rating: 4 TOPs
Honolulu Café in Westgate
3 Gateway Drive
#02-06 Westgate
Singapore 608532
Tel: +65 6250 3858
Opening Hours: 8 am – 10 pm
Nearby MRT Station: Jurong East
The Ordinary Patrons | Real Dining Experience of Ordinary People
an independent Singapore food blog