Bangkok is known for its traffic jam, good street food and trendy visually stunning cafes. Recently, the casual Thai restaurant chain Bangkok Jam has been revamping their outlets. Moving away from decor that evokes Bangkok street scene to interiors designed to be more like the trendy cafes of the Thai capital city. Bangkok Jam Bugis+ is one of the new look outlets with modern colourful interiors that makes it a photogenic space for a Thai meal.
Bangkok Jam Bugis+ is located on the fourth level of Bugis+. It is a open airy space. The interior design seems all over the place but, like Bangkok, there is beauty in the chaos.
Bangkok Jam Menu
The menu of Bangkok Jam is extensive. There are delectable appetisers like Tod Mun Pla, classic bowl of Tom Yum Goong, signature duck breast in red curry and tempting desserts like Tap Tim Krob, or red rubies, and Khao Neaw Ma Muang (mango sticky rice). Non-traditional Thai dishes like Waffles, Fried Prata, Iberico Pork Belly and Squuid in Salted Egg Sauce are also on the menu. Below are pictures of segments of the menu at Bangkok Jam Bugis+.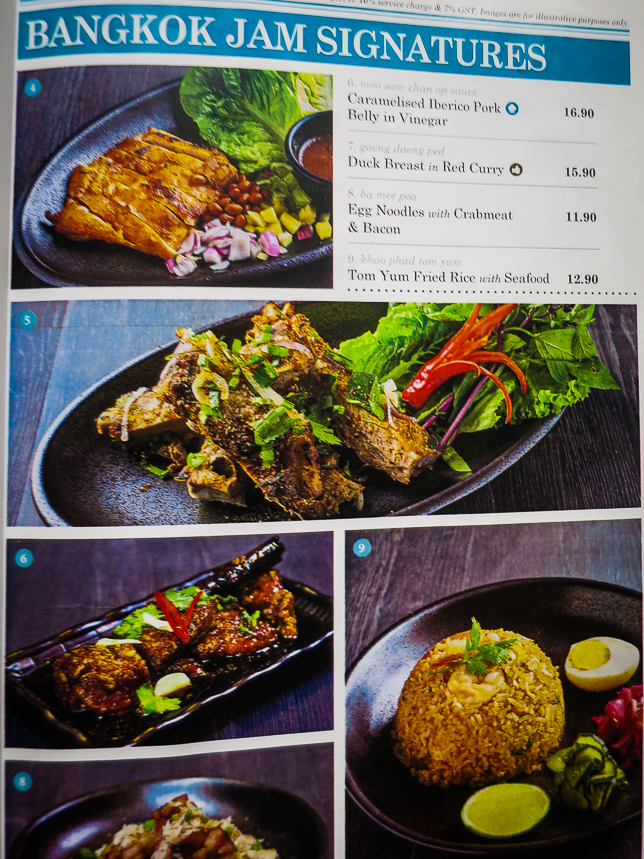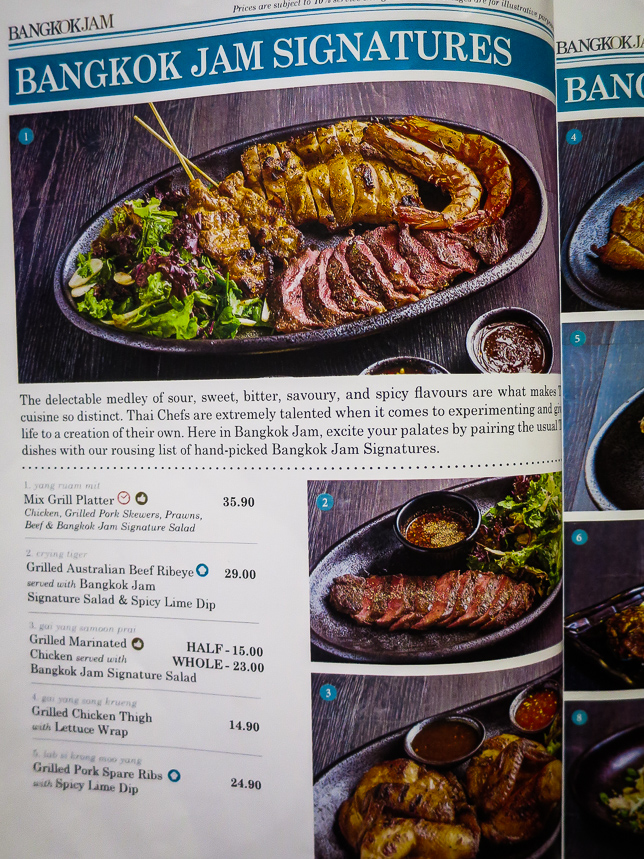 There are also tempting cakes and desserts in a display cabinet.
Lunch @ Bangkok Jam Bugis+
We visited Bangkok Jam Bugis+ for lunch and ordered a traditional Beef Noodle Soup ($13.90) and Phad Thai ($12.90).
Beef Noodle Soup
Thai beef noodle soup is a simple dish peddled by street vendors in Thailand. Bangkok Jam's version had rice noodles, beef slices, beef balls and greens in a rich broth with a sweetish aroma. The beef balls with tiny pieces of tendon in them had a nice smooth texture and was just slightly chewy. The beef slices were tender. The sweet savoury broth, made with a mix of spices and herbs, was a decent version of Thai beef noodle soup.
Phad Thai
The Phad Thai looked good and had all the right ingredients. One of the key aspects of the stir-fry dish made with rice noodles is the phad Thai sauce. The Bangkok Jam's version was not bad but lacked that something special to really excite the palate. With a squeeze of lime and chiili and sugar added in to taste, the phad Thai was still a good dish with intricate combination of flavours.
Dessert
We ended our meal at Bangkok Jam Bugis+ with a tapioca dessert which was clearly designed to be photographed. Like most Thai desserts, the tapioca cakes with coconut milk was simple but delicious.
At Bangkok Jam Bugis+, the Thai food is reasonably good though the prices are not really cheap. However, they do have promotions and set meal specials from time to time. So it is quite possible to have a good affordable Thai meal at Bangkok Jam. It may not quite the same thing as eating in the City of Angels but you can get a taste of Bangkok at Bangkok Jam Bugis+; without having to endure the infamous traffic jams.
Ratings:
Food: 3
Service: 3
Value: 3
Atmosphere: 3
Overall Rating: 3 TOPs

Bangkok Jam Bugis+
201 Victoria Street
#04-08 Bugis+
Singapore 188067
Tel: +65 6369 0897
Opening Hours: 11:30 am-9:30 pm
Nearby MRT Station: Bugis
The Ordinary Patrons | Real Dining Experience of Ordinary People
an independent Singapore food blog