In trying times, a good meal in a nice restaurant can lift the spirits. Our meal at the one Michelin star Restaurant JAG was certainly a cheerful and uplifting occasion. We had a lunch of quality food with white linen service at a reasonable price.
Restaurant JAG @ Duxton
Restaurant JAG occupies a shophouse along Duxton Road. It may be an understatement to say that its signage are discreet. You can easily walk past JAG's doors thinking that behind them is an office space or a art gallery.
When the wooden doors open you will see a small counter in front of full height blue curtains. You still can't be certain it is a restaurant until the curtains are drawn to reveal an elegant dining space.
The front portion of the ground floor is an intimate dining area and the rear is taken up by the open kitchen under a skylight. The atmosphere is chic but relaxed.
The 3 Expressions – $58++
Restaurant JAG does not have a regular a la carte menu. It adopts the omakase concept – leaving the chef to create a special dining expereince for you. For lunch, there is an Executive Set Lunch – The 3 Expressions – which is affordably priced at $58++. There is also a 6 course Degustation Measured Indulgence Menu at $175++, and a 8 course Degustation Opulent Indulgence Menu at $223++. No prize for guessing which menu the ordinary patrons without expense account decided to choose.
The items of the menu change from time to time and the chef will make adjustments if you have special dietary restrictions. We will not be giving much description of the dishes we had during our lunch, as it is unlikely that you will have the same things when you visit JAG. Suffice to say that we found almost very item, prepared with Savoie herbs and seasonal vegetables as the dominant ingredients, interesting and delightful. Although we had the 3 course lunch, as you can see from the photos, the lunch comprised much more than just 3 items. There were even 3 different types of butter for the bread served before the meal started.
Amuse Bouche
The amuse bouche was like an arty table decoration. Parsnip puree was served like a lollipop and there was a piece of light crispy cracker comprising buckwheat, polenta and corn.
The next item to amuse the palate was a very nice pumpkin soup with herbs.
First Course
The first course was a dish comprising four different types of mushrooms and drizzled with a mushroom sauce
Main Course
A refreshing palate cleanser was served and a wooden box containing the duck being smoked was brought to the table for a show and tell.
The sliced duck was served with artichoke and herbs. The crispy bits of deep fried herbs added a surprising new dimension to the dish. The duck was succulent and not gamey. It was one of the best duck dishes we had ever tried.
Starch came in the form of a small bowl of polenta.
Desserts
Dessert was apple presented in different ways including gassy apple juice in tubes.
Petit Fours & Coffee
There was a "after dessert" dessert. The coconut based concoction was very nice – even better than the main apple dessert.
The meal ended with a tray of petit fours, which went very well with the latte ($9) and long black ($7) which we ordered. The coffee was good, but you should not expect exquisite latte art in a Michelin star restaurant.
Delightful Lunch inspired by Herbs
The dishes of Chef Jeremy Gillon are inspired by indigenous herbs from the mountainsides in Savoie, France. 40 special herbs are exclusively flown to Singapore for the one Michelin star Restaurant JAG. Jars of the hebs used to prepared our lunch were brought out to be shown to us.
We can't remember the names of the herbs (we could not even pronouce some of them in the first place) and the description of the various ingredients of the dishes. However, what will be etched in our memory will be the delightful taste of the food and the very affable Chef Jeremy, who made it a point to stop by each table to have a chat and to bid farewell to diners as they were leaving the Michelin star Restaurant JAG.
Ratings:
Food: 5
Service: 3
Value: 5
Atmosphere: 4
Overall Rating: 4 TOPs
Restaurant JAG
76 Duxton Road
Singapore 089 535
Tel: +65 3138 8477
---
Now you can even ask Chef Jeremy to cook for you to takeaway.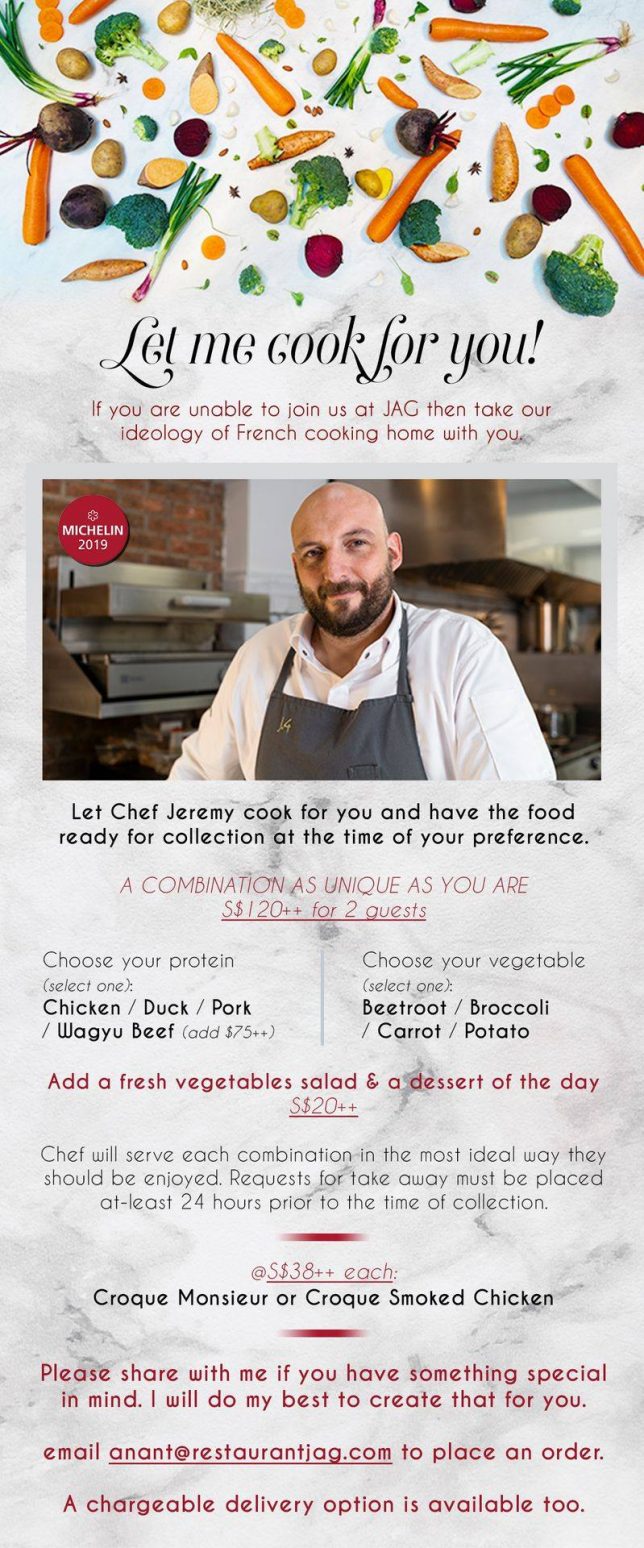 Nearby MRT Station: Tanjong Pagar
---
The Ordinary Patrons | Real Dining Experience of Ordinary People
an independent Singapore food blog