Joo Heng Restaurant is an old family restaurant now run by the son of its founder. The old school zhi char restaurant in Joo Chiat serves a good range of homey dishes. Residents in the neighborhood had been buying food from Joo Heng for takeaway for ages. It is thus not surprising that it is now one of the popular go to places for zhi char takeaway in Joo Chiat.
Joo Heng Menu
The Menu of Joo Heng Restaurant is not extensive but most of the categories of zhi char dishes are well represented. Longstanding signature Joo Heng dishes would include Sambal Sweet Potato Leaf, Beancurd with Prawns, Fried Chicken Wings with Prawn Paste and Steamed Pork with Salted Fish.
Below are pictures of a few pages of the regular menu of Joo Hneg Restaurant.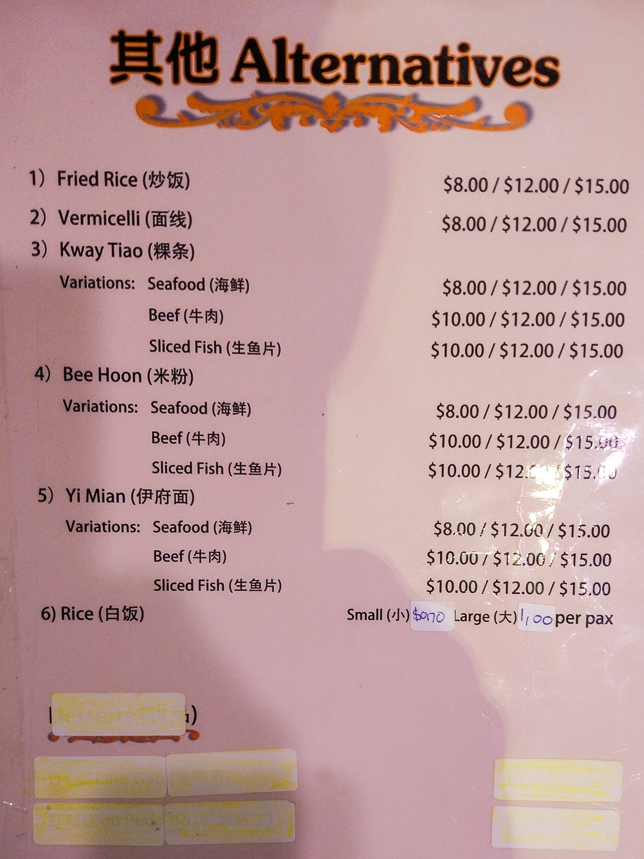 It also has a convenient one page menu for you to take home, or take a snapshot with your mobile phone, for times when you wish to order zhi char takeaway from the restaurant in Joo Chiat.
Zhi Char Takeaway in Joo Chiat
We decided to have a zhi char takeaway meal and called up Joo Heng Restaurant in Joo Chait to place our order. We were told that our food would be ready for pickup in about 15 minutes. When we arrived at the restaurant about 20 minutes later, our food was ready, all packed for us to take away.
We had ordered Seafood Beehoon ($8), Sliced Fish with Spring Onion & Ginger ($16), Prawn Roll ($12) and Baby Kai Lan with Garlic ($12).
The seafood beehoon looked messy and rather uninteresting. However, the saucy beehoon was delicious. The same could be said of the hae cho. The deep fried prawn roll had a nice thin crispy outside. The filling was well balanced and flavourful. We would definitely order Joo Heng's hae cho if we should have zhi char takeaway in Joo Chiat again.
The Sliced Fish with Spring Onion & Ginger and Baby Kai Lan with Garlic were also good. They were homey dishes that were more than palatable.
The portion size was all quite substantial. The small seafood beehoon was enough for 2. The rest of the dishes would be sufficient for 3 or 4 if eaten if rice or some other carbohydrates.
Homey Comfort Food
Those looking for zhi char takeaway in Joo Chiat should find Joo Heng Restaurant a good option. It offers convenience and homey comfort food at reasonably affordable prices. We could hardly ask for more at current times.
Joo Heng Restaurant
360 Joo Chiat Road
Singapore 427605
Tel: +65 6345 1503
---
The Ordinary Patrons | Real Dining Experience of Ordinary People
an independent Singapore food blog