Group Therapy Coffee started as an artisanal cafe in Duxton. It has expanded its F&B business, diversified and consolidated over the years. Currently, Group Therapy Coffee operates two cafes – in Cross Street Exchange & Katong V – has an in house bakery, provides customised cakes, retails its own ice cream under the brand Scoop Therapy and offers catering services. Delivery, pick-up and takeaway from Group Therapy Coffee are presently available daily from as early as 8 am.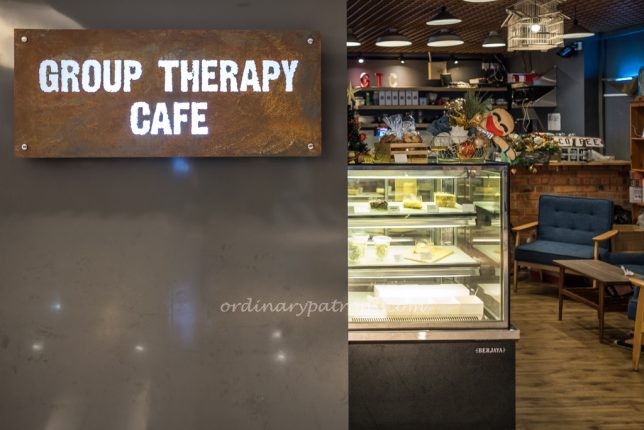 Menu of Group Therapy Coffee
Group Therapy's menu offers fairly standard cafe fare – eggs, pancakes, sandwiches, pastas and a few mains. There are special Meal Bundles for delivery.
We have visited Group Therapy Cafe at Katong V previously. You can read our post Group Therapy Cafe Katong to see pictures of the cafe menu and the food we tried.
The menu is available online on its Online Order Page (links below).
Takeaway from Group Therapy Coffee
We went to Group Therapy Katong V recently to order a Beef Cheese Burger ($19) and a Bolognese Pasta ($16) for takeaway. The wait for the food was fairly short – less than 15 minutes. The food was nicely packed in cardboard containers.
Cheese Burger & Bolognese Pasta
Group Therapy's Cheese Burger came with fried egg, greens and a fairly substantial serving of fries. A rather small soft bun was used. The beef patty had about twice the diameter of the bun. The burger was garnished with caramelised onion and mustard. The beef patty had a nice proportion of fat content. It was juicy and had a satisfyingly meaty texture. All the ingredients combined well. It was a good cheeses burger.
The Bolognese Pasta was a straightforward dish with minced beef, tomato puree and Parmesan cheese. The portion was fairly generous. The pasta was nicely cooked but the sauce was a tad bland. It is a matter of personal taste – we prefer our Bolognese pasta to have a bit more sauce and richer flavours.
Cafe Food at Home
With pancakes, desserts, coffee and a decent range of classic cafe dishes on the menu, Group Therapy Coffee is a good option when we miss cafe food or crave a good weekend brunch. Online ordering is made simple and delivery, pick-up or takeaway from Group Therapy Coffee is fairly convenient. Now we can have artisanal coffee to wash down brunch nosh and feel hip and trendy in our pajamas at home.
Group Therapy Katong
30 East Coast Road Katong V
Singapore 428751
Tel: +65 6440 0457
Group Therapy Cross Street
181 South Bridge Road #01-05 & #K1-04
Singapore 058743
TeL: +65 6222 2554
The Ordinary Patrons | Real Dining Experience of Ordinary People
an independent Singapore food blog
---