British Hainan is a quaint cosy restaurant in Joo Chiat. Located at the junction of Crane Road and Carpmael Road, British Hainan sells vintage collectibles and serves the rather unique blend of British and Peranakan dishes as prepared by Hainanese chefs.
Fusion Hainanese Cuisine
According to Singapore Infopedia, the Hainanese arrived in Singapore much later than the other Chinese dialect groups such as the Hokkien, Teochew and Cantonese. Kept out of jobs in which the other dialect groups were well entrenched, the Hainanese found employment mainly in the service sector, working in hotels, restaurants, bakeries and bars or as cooks in wealthy European and Peranakan households as well as in British military bases and on board British ships.
Many Hainanese later set up their own restaurants and coffeeshops and started serving their special variety of British and Peranakan food. One of the fusion Hainanese dishes that is still very popular today is Hainanese Curry Rice – a combination of Chinese stewed pork, British pork chop, Peranakan curry and chap chye.
British Hainan Menu
The menu of British Hainan is an eclectic one. There are dishes like ngoh hiang and beef noodles as well as grilled rosemary lamb shank and bangers & mash. Below are photos of a few pages of British Hainan Menu. A copy of the the full menu is available online (link below).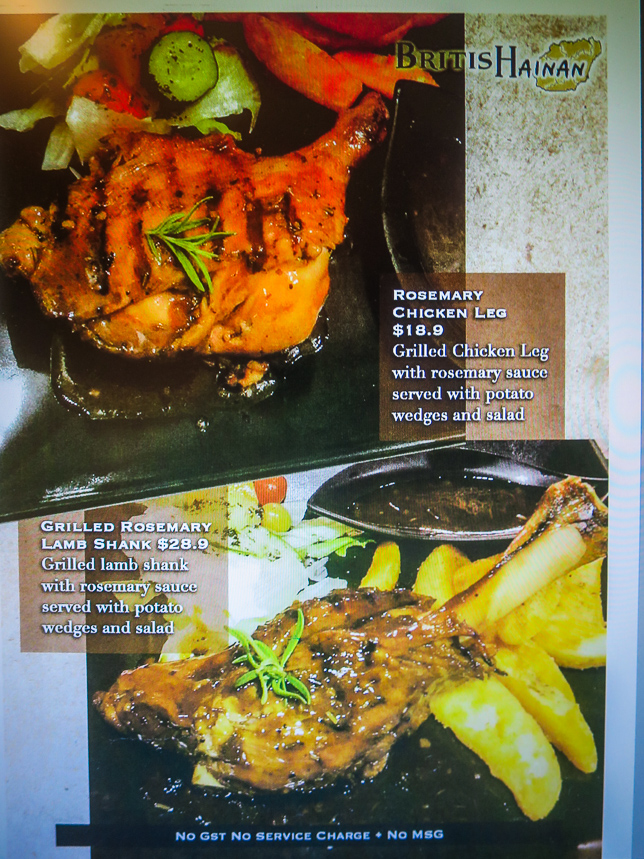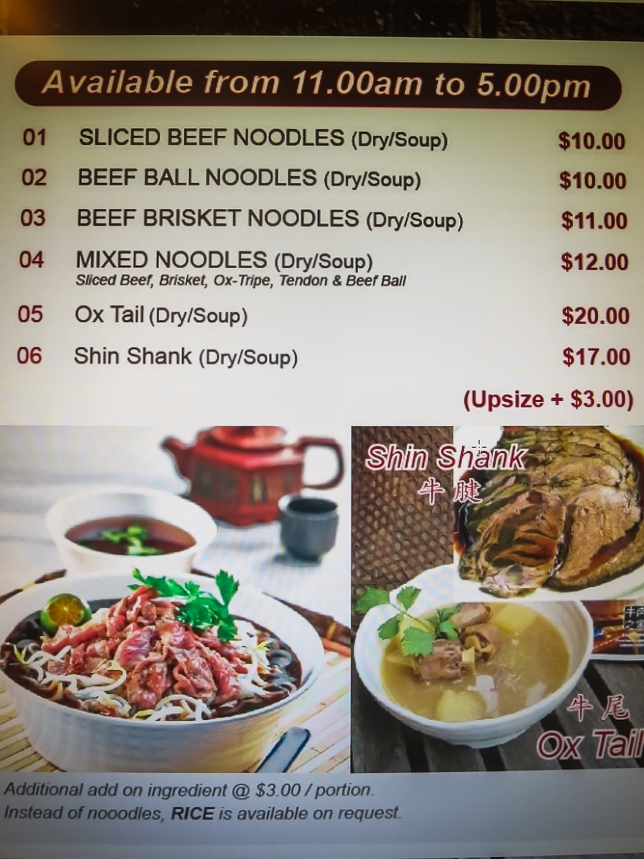 Currently there also have Set Meals for 2-3 pax for delivery and takeaway – see their Facebook Post.
Takeaway from British Hainan
We went to British Hainan for takeaway recently – ordering British Hainanese Pork Chop ($15.20), Beef Stew ($19.20), Tofu ($6.30), Ngoh Hiang ($10.30) and Chap Chye ($10.30). There was 15% discount for self-collection.
The British Hainanese Pork Chop came with 2 large pieces of pork chop, sauce in a separate container and a bag of potato chips. The pork coated with flour batter was very nice. It was not greasy and the crust was crispy while the meat inside was tender. The tomato sauce was well balanced – neither too sweet nor too sour.
The Beef Stew was the star dish. It came with a bag of baguette. The portion was rather generous. There were many pieces of chunky beef together with carrots, celery and potatoes in the stew. The beef was tender and the rich stew was tasty.
The tofu was ordinary except that it came with sambal chilli which had a real spicy kick
The chap chye was a bit unusual because there was no broth. It was like a dry version of the traditional nyonya chap chye but otherwise it tasted like the usual chap chye – nice comfort food with the benefit of fibre.
The ngoh hiang was fairly similar to the typical nyonya ngoh hiang we had tried. Filling of minced pork, water chestnuts and other ingredients rolled in thin bean curd skins and deep fried produced delectable ngoh hiang with a nice mix of textures.
Affordable Comfort Food
Whether you want traditional Hainanese beef noodles, Peranakan dishes or a Hainanese style Western meal, we would say give British Hainan a try. The food is generally good and they don't use any MSG. Their prices are reasonable. Unpretentious affordable comfort food is what makes British Hainan popular in Joo Chiat for many years. They now have s a second outlet in Kallang Way.
British Hainan
75 Carpmael Road
Singapore 429812
Tel: +65 96338122 / 90226233
Kallang outlet
158 Kallang Way 01-06
Singapore 349245
---
The Ordinary Patrons | Real Dining Experience of Ordinary People
an independent Singapore food blog