Singapore restaurants with driveway collection for takeaway food order are easy and safe places to collect dabao food without leaving your car. Here are a list of the restaurants that have driveway pickup services that we have tried. Do note that with the start of Phase 2 on 19 June 2020, restaurants will get busier and these arrangements may change. It is best to check on the latest situation at the time of placing the order.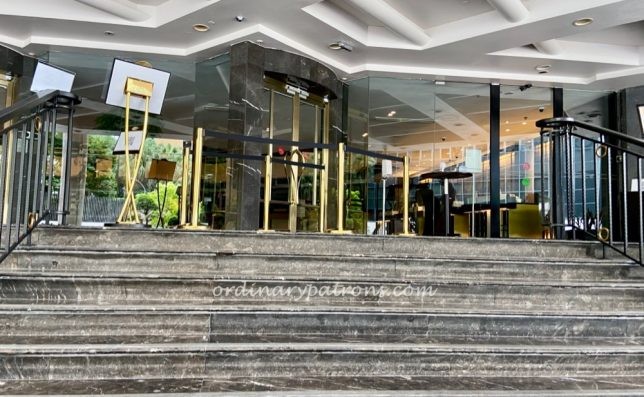 Restaurants with Driveway Collection for Takeaways
Goldleaf Taiwan Porridge Restaurant (Katong Square)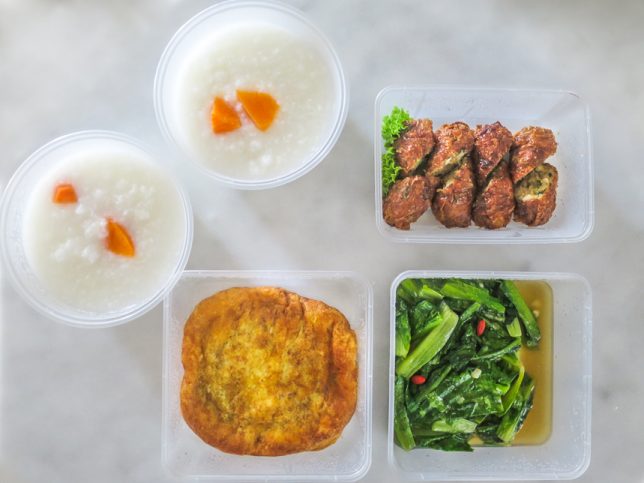 Goldleaf Restaurant was closed for a while for relocation. They sort of moved next door – from the heritage block in Katong Square facing East Coast Road to a space in the atrium of the retail podium of Katong Square. The new location is more accessible and also allows easy food pickup from the driveway. Read more at our post Goldleaf Restaurant – Taiwanese Porridge Takeaway.
Goldleaf Taiwan Porridge Restaurant
88 East Coast Road
Katong Square, #01-05/06/07
Singapore 423371
Tel: +65 63461088
Hua Ting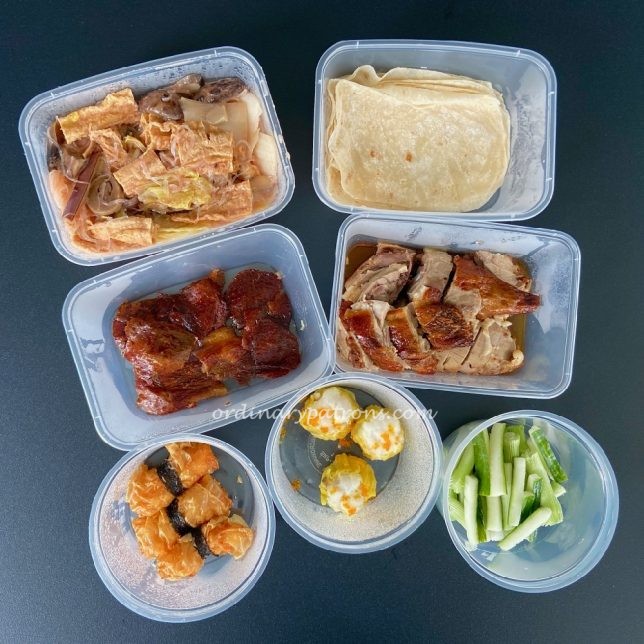 This famous Chinese restaurant at the Singapore Orchard Hotel is a stalwart on the dining scene. It was one of the best restaurants with driveway collection arrangements. Our food pickup from the hotel driveway was completed in less than a minute. Read more at our post Hua Ting Restaurant Takeaway – Dim Sum & Peking Duck.
Hua Ting Restaurant
442 Orchard Road, Level 2 Singapore 238879
Wan Hao Chinese restaurant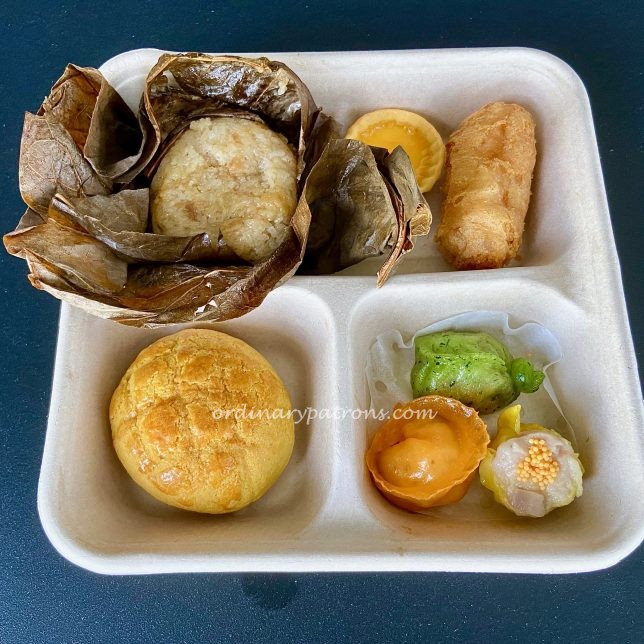 Together with the other restaurants at the Singapore Marriott Tang Plaza , Wan Hao Chinese restaurant offers a driveway pickup service for takeaway orders. There was a hiccup with our collection but we believe it was an isolated issue. Read about Wan Hao bento takeaway at our post Wan Hao Bento Box Takeaway – $15 Dim Sum Lunch.
Grand Hyatt Hotel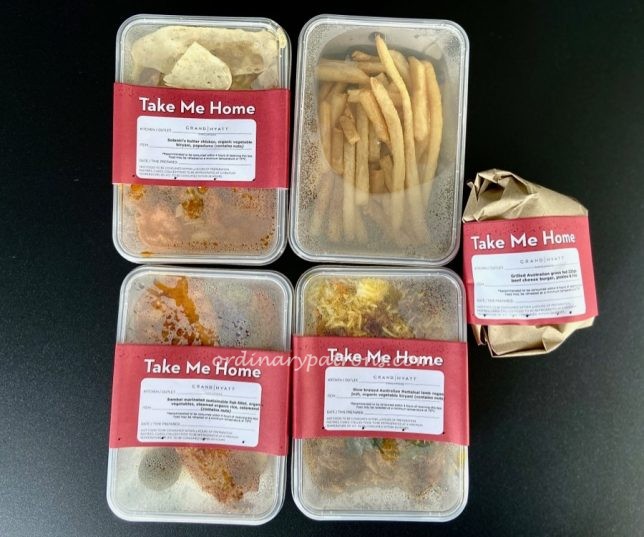 The Grand Hyatt has an efficient driveway pick-up service. Various take home food options are available. The "meal in a box" sets are value for money. Read our post Grand Hyatt $10 Bento Takeaway.
Grand Hyatt Takeaway Order Website
Grand Hyatt Singapore
10 Scotts Road,
Singapore 228211
Wee Nam Kee Chicken Rice Restaurant (United Square)
Wee Nam Kee at United Square is located on the ground floor and has its entrance along the driveway of the mall. This gives them the option of operating a drive-through pick up service. We placed an advance order in advance and called them when we arrived at the driveway. Read more.
Wee Nam Kee United Square(Main Branch)
101 Thomson Road #01-08
Singapore 307591
Tel: +65 62556396
Opening Hours: 10:30am to 10:30pm
Facebook
NUSS Guild House Takeaway (Kent Ridge)
Members of NUSS can now put their subscriptions to good use by ordering food from the various outlets. Picking up food from Kent Ridge Guild House and Mandalay Guild House are done directly from their respective driveways. For Suntec, it is from the taxi stand at Towers 1 & 2. We ordered some food from Kent Ridge and the food collection process was one of the smoothest we have experienced so far. Read more.
NUSS Guild House Takeaway Online Order
Kent Ridge Guild House
9 Kent Ridge Drive
Singapore 119241
Curry Wok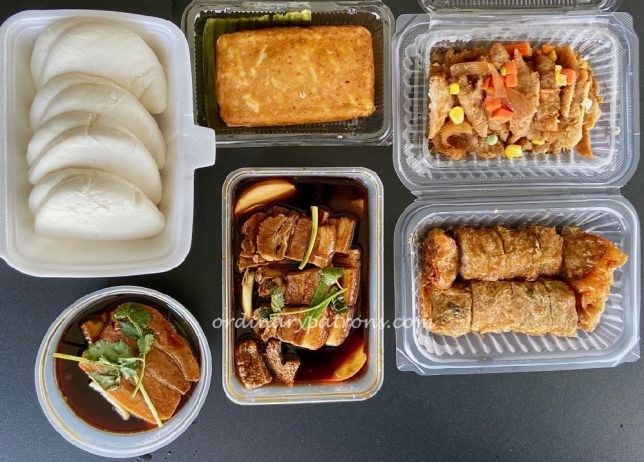 Curry Wok is a family eatery well known for its home-cooked traditional Teochew Nyonya food. Curry Wok is located in Coronation Arcade along Coronation Road in Bukit Timah. Order in advance, call them when you have arrived and a member of the staff will send the food to the you. Read more.
The Curry Wok
5 Coronation Road,
Coronation Arcade #01-04,
Singapore 269406
Operating hours: 11am – 9pm
Closed on Tuesdays
Tel: +65 6464 8878

Website
Wah Lok
Carlton Hotel offers a selection of takeaway favourites from Wah Lok,
​Café Mosaic and Tuxedo. In normal circumstances, it is difficult to get a table at Wah Lok Cantonese Restaurant, especially on weekends. With the dabao service now available, we can enjoy the legendary dim sum from the comfort of home. Ordering and pick up from the Cartlton Hotel driveway were simple and convenient. Our dim sum were packed and waiting for us at the appointed time for collection. Read more.
Wah Lok Cantonese Restaurant
Carlton Hotel Singapore
76 Bras Basah Road, Singapore 189558
Tel: +65 6311 8188
---
The Ordinary Patrons | Real Dining Experience of Ordinary People
an independent Singapore food blog