Hoshino Coffee has launched its own in-house delivery service, with free delivery on all orders over $15 (currently). It also has a service for delivery to a MRT station close to you. You can also pre-order Hoshino Takeaway for collection at your nearest Hoshino Coffee outlet.
Hoshino Coffee is one of those cafes we think of when we want a casual meal. One of the reasons for that is simply that the we have a soft spot for the Japanese café's delectable soufflés. We are thus happy to learn that it has started its delivery & takeaway service and that we can even order pancake souffle to be enjoyed at home.
Hoshino Takeaway Menu
The menu for delivery and takeaway is an abridged version of the regular Hoshino menu. Nevertheless, it still offers sufficient variety. The items available include pasta, omu rice, toasts and meat dishes like teriyaki chicken and steak.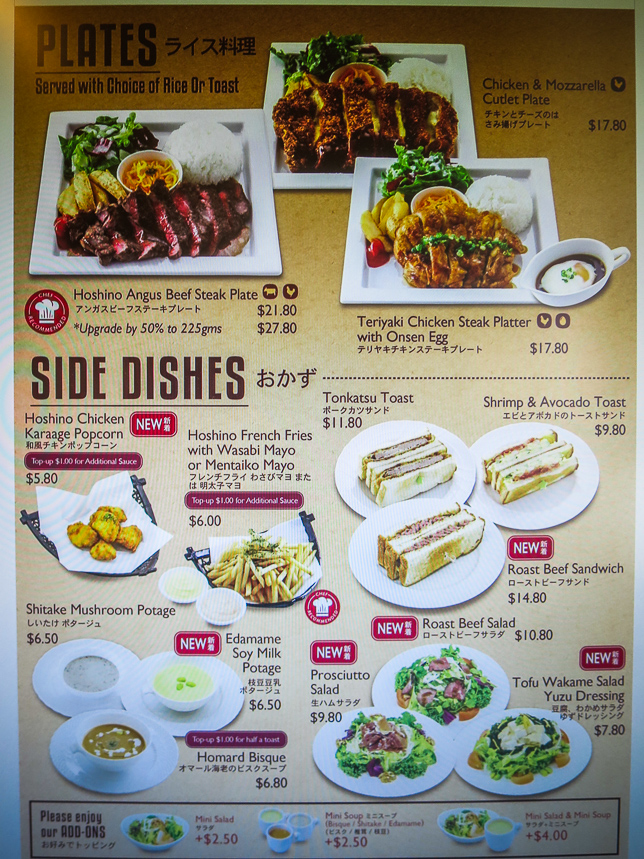 We ordered Hoshino Spaghetti ($14.50), Tomato Cream Omu Rice With Shrimp & Mozzarella ($16.80), Beef Stew Omu Rice ($16.80) and a Pancake Soufflé Style ($9.80) for takeaway recently. There was a 15% discount for self-collection.
Omu Rice
The look of the food is one big difference between eating in a restaurant and eating at home. As you can see from the photos below, even after accounting for our poor photography skills, the omu rice dishes we had looked nothing like the items shown in the menu.
Fortunately, the omelette rice with shrimp tomato cream sauce was still delectable notwithstanding its untidy appearance. The eggs had a fluffy, melty texture. The taste of tangy tomatoes was dominant but there was a nice blend of flavours in the dish.
The Beef Stew Omu Rice came in a 2 compartment box, with the stew in one and rice covered with omelette in the other. The Western-style Japanese dish was fairly ordinary. The rich brown sauce was quite tasty but the beef was not as tender as we would expect.
Hoshino Spaghetti
Hoshino Spaghetti had ingredients which included eggplant, mushroom, bacon and sausage. A soft boiled egg was given separately to be cracked over the pasta. The pasta was nicely cooked and was slightly firm when bitten. The light sauce was well balanced. Overall, Hoshino Spaghetti was an enjoyable dish and quite good value for money.
Pancake Soufflé Style
The Soufflé Style Pancake came with small tubs of cream and maple syrup. The Hoshino specialty, sort of a cross between the classic soufflé and traditional pancake, was definitely the best part of our Hoshino takeaway meal. The soft light pancake was nice – but somehow not as good as when it was eaten in a restaurant where it would be attractively plated and served piping hot.
Hoshino Eat at Home Experience
It may be cheaper and more convenient to eat at home. Arguably, eating at home may even be better for our planet – especially when takeaway containers, like the ones used by Hoshino, are eco-friendly. However, our Hoshino eat at home experience actually reminded us of the joy of dining out. Eating involves all the human senses; and good music, stylish plating and friendly service all contribute to the enjoyment of a meal. While we enjoyed our Hoshino takeaway meal at home, somehow eating their signature Soufflé Style Pancake out of a plain plant-based compostable box just did not feel quite right.
Order Online
Webpage | Hoshino Coffee Facebook Page
---
The Ordinary Patrons | Real Dining Experience of Ordinary People
an independent Singapore food blog