Marina Bay Sands houses several restaurants by acclaimed celebrity chefs and a few of the most expensive restaurants in Singapore. Chinoiserie by Justin Quek is one of the celebrity chef restaurants in MBS which offer relatively affordable lunch.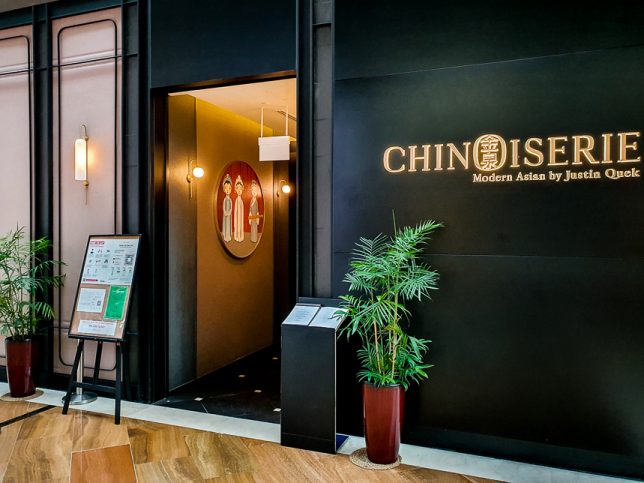 Chinoiserie and JustIN by Justin Quek
Singaporean Chef Justin Quek was among the initial group of award-winning celebrity chefs to set up restaurants in Marina Bay Sands (MBS). The elite group included Mario Batali, Daniel Boulud, Wolfgang Puck, Santi Santamaria, Guy Savoy and Tetsuya Wakuda. Sky on 57 helmed by Chef Justin Quek closed in June 2017. About a year later, he introduced two new concepts at The Shoppes at MBS – Chinoiserie and JustIN.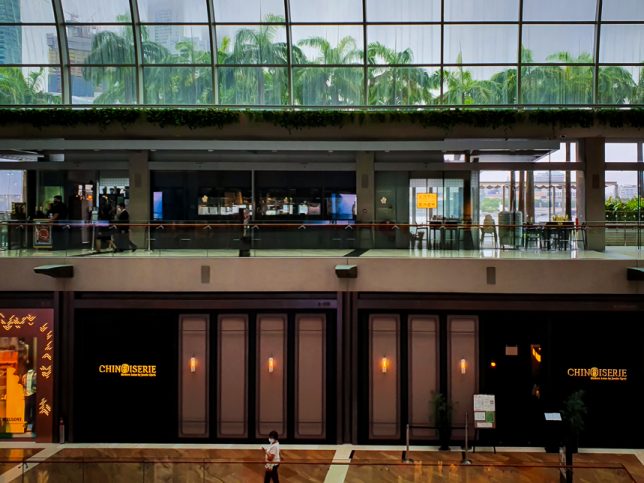 JustIN Flavours of Asia is on the ground level of MBS, with an al fresco dining area facing Marina Bay. JustIN offers local food at reasonably affordable prices.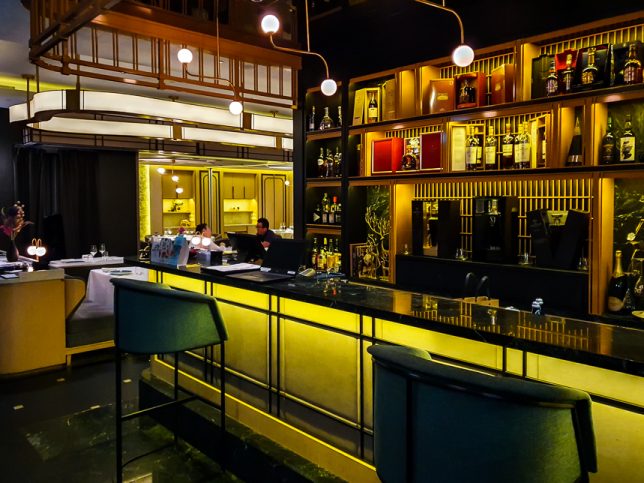 Chinoiserie on the Galleria Level of MBS (or Basement 1) is more upscale. The full name of the restaurant is Chinoiserie Modern Asian Restaurant by Justin Quek. It does look like a elegant modern Chinese restaurant. Contemporary art pieces adorned its walls and the decor is a combination of traditional Chinese opulence and understated European chic.
Chinoiserie Menu
Chinoiserie styles itself as a French-Asian fine dining restaurant offering modern Asian dishes prepared with classic French and Asian cooking techniques. Dishes in Chinoiserie Menu include Duck Foie Gras Xaio Long Bao, Wok Fried Live Maine Lobster Hokkien Noodle and Chicken with Shao Xing Cream.
The menu changes from time to time. The current menu can be viewed on the restaurant's website (link below).
When we went for lunch, we were presented with only the set menus with prices starting from $60 person.
Chinoiserie Expereince Menu
The Experience Menu was a 4 course affair allowing a choice of the main dish. We opted for the Petite Tender and the Catch of the Day for our mains.
Warm bread was served soon after our orders were taken. The small cheese buns were really nice.
Appetisers & Soup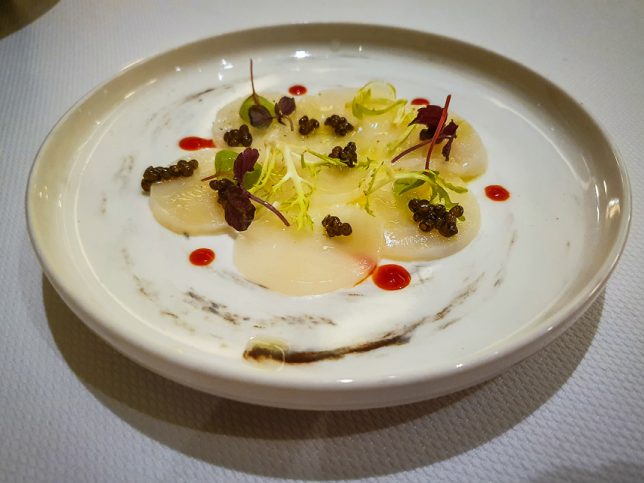 The first course was thinly sliced sous vide Hokkaido Scallops. The scallops were precisely cooked to the perfect doneness. They had a slightly sweet yet briny taste.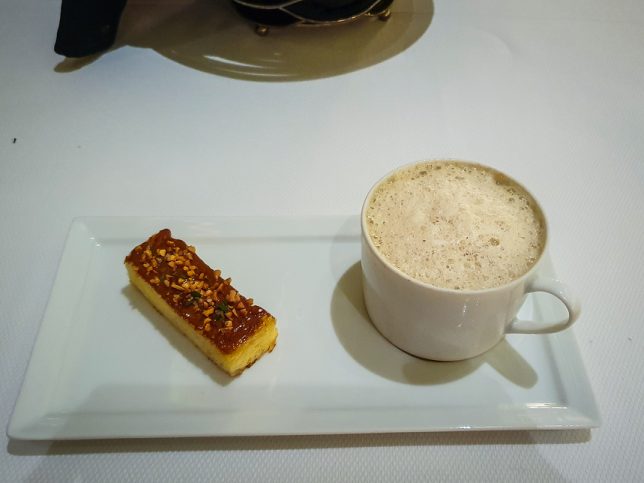 The next dish was Mushroom Cappuccino with a slice of Hazelnut Toast. The earthy mushroom soup served in a coffee cup looked like a cup of cappuccino. The smooth creamy soup was very palatable.
The Mains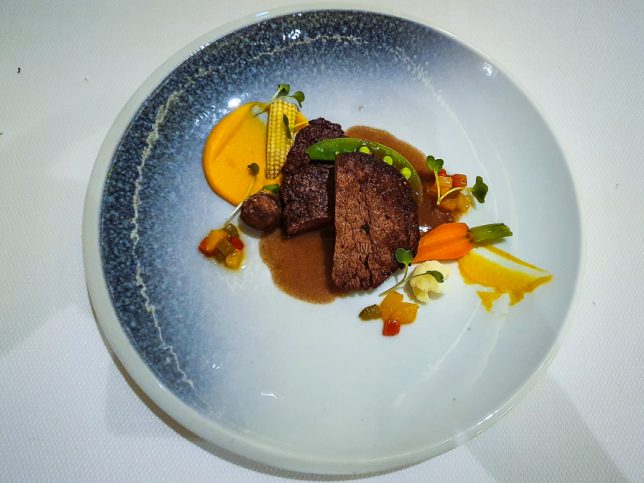 The main dish of Petite Tender was a very nicely plated oven roasted beef with black pepper sauce. It was a fairly straightforward dish that was tasty and satisfying.
The catch of the day was lobster. The dish looked beautiful. The small plumb lobster had meat with luxurious texture. The natural sweetness of the lobster and the citrus flavour of the yuzu emulsion combined well to produce a delicious and enjoyable dish.
Dessert
Dessert was a slice of rich chocolate cake with ice cream. The complimentary petit four included the very enjoyable pandan macaron. The lunch ended with very strong coffee.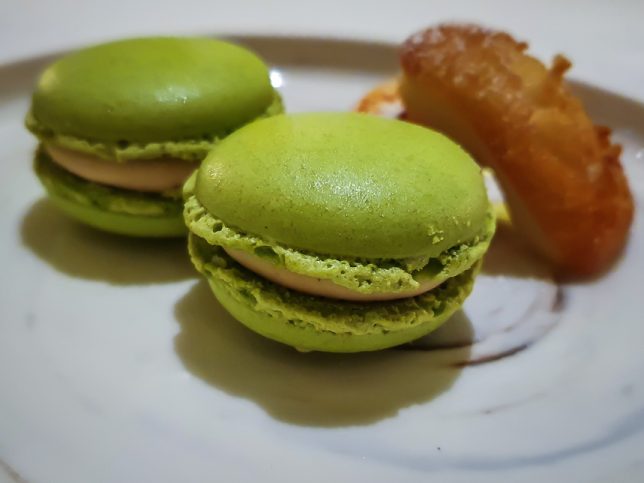 Affordable Fine Dining
Moving from from Sky on 57 to Chinoiserie in B1 of Marina Bay Sands is coming down to earth in more than one way. It is good for ordinary patrons like us as Chinoiserie by Justin Quek has made Asian fine dining more accessible. The local celebrity chef has been known to do $1,000 per head menus. So $60 is a very reasonable sum to pay to enjoy his dishes prepared with premium ingredients in a plush restaurant with fine linen and tableware. The lunch at Chinoiserie Modern Asian Restaurant by Justin Quek in Marina Bay Sands was a treat for us.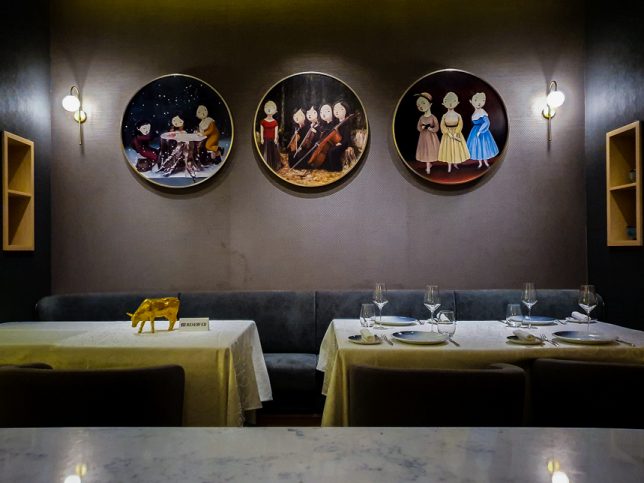 Ratings:
Food: 4
Service: 4
Value: 4
Atmosphere: 5
Overall Rating: 4 TOPs
Chinoiserie Modern Asian Restaurant by Justin Quek
2 Bayfront Ave #B1-15, Galleria Level,
The Shoppes at Marina Bay Sands
Singapore 018972
Tel: +65 6688 7782
Lunch: 12:00 pm – 2:30 pm
Dinner: 6:00 pm – 10:30 pm
Nearby MRT Station: Bayfront
---
The Ordinary Patrons | Real Dining Experience of Ordinary People
an independent Singapore food blog