COLLIN'S is known for their good Western fare at inexpensive prices. With their current promotions for takeaway orders, it is one of the best places to head to for cheap Western food takeaway.
COLLIN'S was established in Singapore in 2012 by Chef Collin Ho. It now has many outlets serving affordable Western dishes like pizzas, pastas, duck confit, bratwurst, chicken chop and grills. See our post Collin's Gastro Dining – new affordable restaurant at PLQ Mall to read about one of our visits to COLLIN'S.
COLLIN'S Takeaway Promotions
The typical items on the menu of COLLIN'S have wallet friendly prices. For example, Chicken Baked Rice/Pasta is $12, the Signature Grilled Chicken Chop is $15 and French Duck Leg Confit is $16. They also have combos and promotions which make the prices even more attractive. Currently, there is a Takeaway Combos Promotion which offers great value.
In addition, there is a Takeaway Promotion where a 20% Discount is given for all a la carte takeaway orders.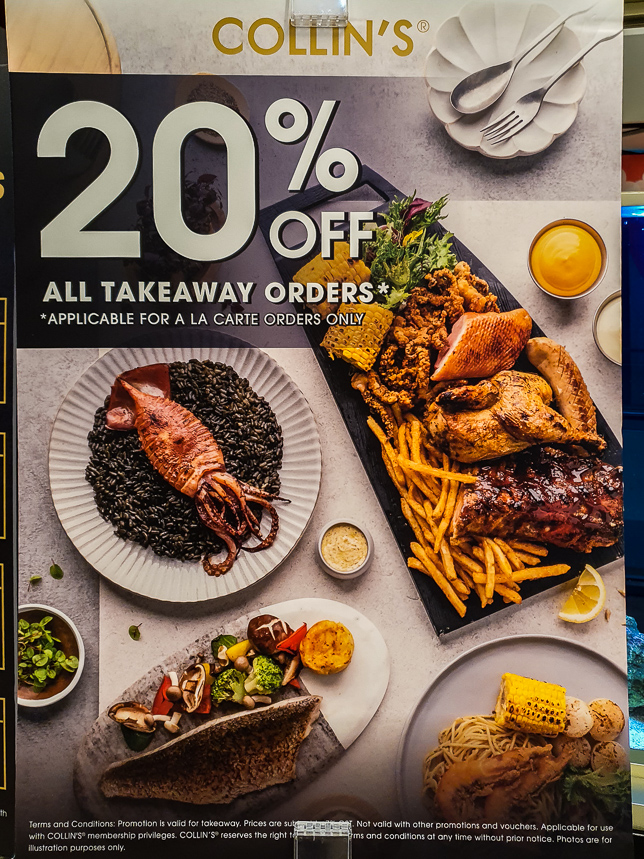 Cheap Western food takeaway
Our cheap Western food takeaway from COLLIN'S turned out to be cheaper than what we thought it would be. When we tried to order online, there were a few special items available. We ordered the Bolognese Pasta with Pork Bratwurst Set ($9.90) and the Mixed Grill Set ($10.70). We also got a 15% discount for self-collection. So the total amount we paid was $17.51.
Bolognese Pasta with Pork Bratwurst
The Bolognese Spaghetti with Pork Bratwurst came in a functional paper box. There was no issue with product description. We got exactly what the name of the dish implied, nothing less and nothing more, although the sausage was bigger than we had expected. The spaghetti was nicely cooked and the tomato meat sauce was more than decent. The bratwurst was tasty.
COLLIN'S Mixed Grill
The COLLIN'S Mixed Grill was a substantial meal comprising chicken chop, pork chop, pork bratwurst, corn cob, salad and spaghetti aglio olio. The spaghetti had nice flavours and good texture. The chicken chop was tender and tasty. The pork chop had some nice crunchy bits and was quite palatable.
COLLIN'S Takeaway – Great Deal
We think that COLLIN'S takeaway deals are great. The Western food are of restaurant quality. You won't be disappointed if you are not expecting above average gourmet food. The prices for their special deals and promotions make their takeaway meals a great value proposition. Even if we have to pay the normal menu prices, a COLLIN'S takeaway meal is still very affordable.
COLLIN'S have outlets all over Singapore including at these locations: Changi Airport Terminal 3
Cineleisure Orchard
Funan
Great World
Jubilee Square
Marina Square
NEX
Northpoint City
Paya Lebar Quarter
Westgate
---
The Ordinary Patrons | Real Dining Experience of Ordinary People
an independent Singapore food blog