Links to recipes recently shared or published by chefs, home cooks, food bloggers and media.
Prawn carbonara with bacon and egg yolk from Preludio's chef
Posted on June 17, 2020 by CNA Lifestyle
Chill out with this chilli crab dip
Posted on June 16, 2020 by Strait Times
Jean Yip's lobster seafood bouillabaisse
Posted on June 16, 2020 by Prestige
How To Make Soft-Boiled Eggs Like The Ones In Singapore Coffee Shops
Posted on June 13, 2020 by Women's Weekly
Ondeh ondeh, muah chee and 8 Singapore desserts that are really easy to make
Posted on June 5, 2020 by Her World
31 easy salad recipes that you can make every day of the month
Posted on June 5, 2020 by Avenue One
WFH: Whip Up Meals In 20 Minutes With These Healthy And Quick Recipes
Posted on June 4, 2020 by CLEO
Mee Hoon Kueh Soup 面粉粿汤
Posted on May 30, 2020 by Eat what tonight?
Singapore Chefs Share Simple Chinese Recipes You Can Make At Home
Posted on May 22, 2020 by Singapore Tatler
How to make coleslaw
Posted on by Eat what tonight?
Easy Homemade Chicken Biryani Recipe
Posted on May 7, 2020 by Share Food
Baking An Addictive BANANA BREAD Under $10?! • Recipe Revealed!
Posted on April 24, 2020 by by Sproud
How To Cook Sambal Lady Fingers In 6 Easy Steps
Posted on by Eat and Travel With Us
Ikea's Recipe card meatballs with cream sauce
Posted on by Ikea
MasterChef Singapore Runner-up Genevieve Lee revealing an easy to follow Sardine Pasta recipe (YouTube Video)
Posted on by Sproud
Fried Tofu Pillows
Posted on by My Time in The Kitchen
10 Easy Asian Steamed Recipes For Effortlessly Healthy Meals
Posted on by Elizabeth Liew at Women's Weekly
MasterChef Singapore Runner-up Genevieve Lee revealing an easy to follow FISH PIE recipe (YouTube Video)
Posted on by Sproud
Here's How To Make Burnt Cheesecake At Home Using An Air Fryer
Posted on by Thexeilia Yeap at Singaporefoodie
Easy Chicken Curry 简易咖喱鸡 [Pressure Cook Recipe 高压锅食谱]
Posted on by Miki's Food Archives
Lo Mai Kai (Glutinous Chicken Rice)
Posted on by Warm Delights
How To Easily Make The Traditional Kuih Ketayap
Posted on by Singaporefoodie
Recipe = Nonya Chap Chye
Posted on by chefquak
Low Carb Chocolate Brownie
Posted on by Miss Crumbs A Lot
Super Ngon – Home Cooked Pho
Posted on by Chubby Botak Koala
Recipe = Oven Baked Pork Ribs
Posted on by chefquak
How to Crisp Soggy Roast Pork Crackling
Posted on April 14, 2020 by Noob Cook
Kid-friendly Air Fried Begedil (Potato Patties)
Posted on April 13, 2020 by Budget Pantry
Quick & Easy Handmade Bread Rolls (简易小餐包)
Posted on April 13, 2020 by My Wok Life
How To Cook Lotus Root Soup 莲藕汤 using Rice Cooker
Posted on by Hazel
'Lobster' Roll (No Cook)
Posted on by Delishar
Fried Rice using the electric lunch box
Posted on March 27, 2020 by alicesg
---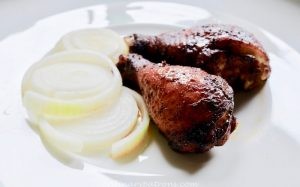 The Ordinary Patrons | Real Dining Experience of Ordinary People
an independent Singapore food blog