Le Caneton Osaka is a small French restaurant in Osaka. It has a Bib Gourmand rating in the Kyoto Osaka Michelin Guide 2019. The Bib Gourmand award is given to restaurants which exhibit "Good quality, Good value cooking". We think that Le Caneton Osaka fits that description perfectly.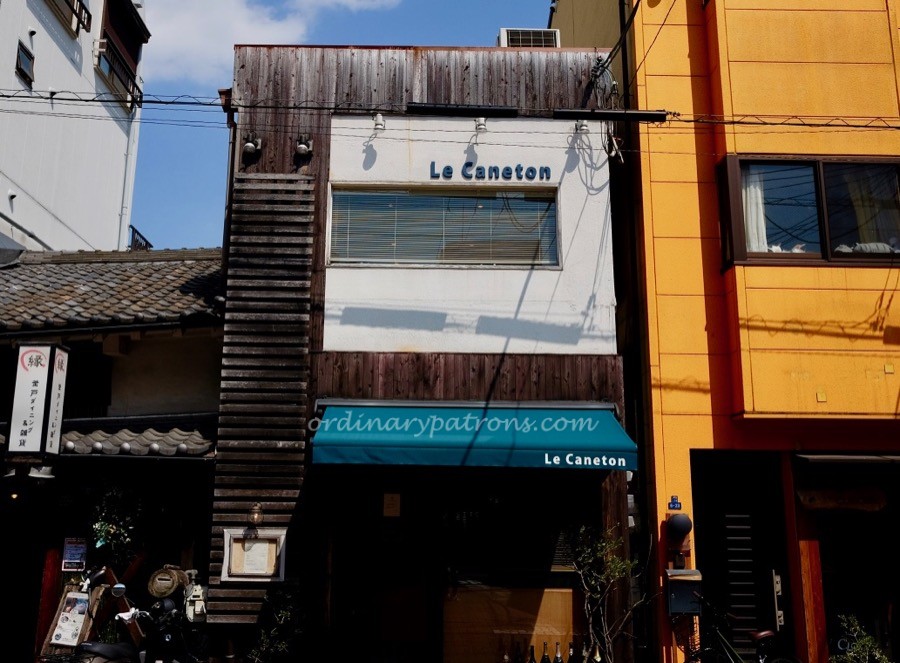 Le Caneton Osaka occupies a small house in a residential neighbourhood. Which is good because it is quiet and not touristy at all. It is a short walk from the Tanimachi Rokuchome Subway Station (Exit 3).
The Le Caneton restaurant is furnished in a minimalist Japanese style. We found it calming and zen. The restaurant takes up both levels of the little house. We were ushered up to the upper level. The large window provided a landscape view of the old houses nearby.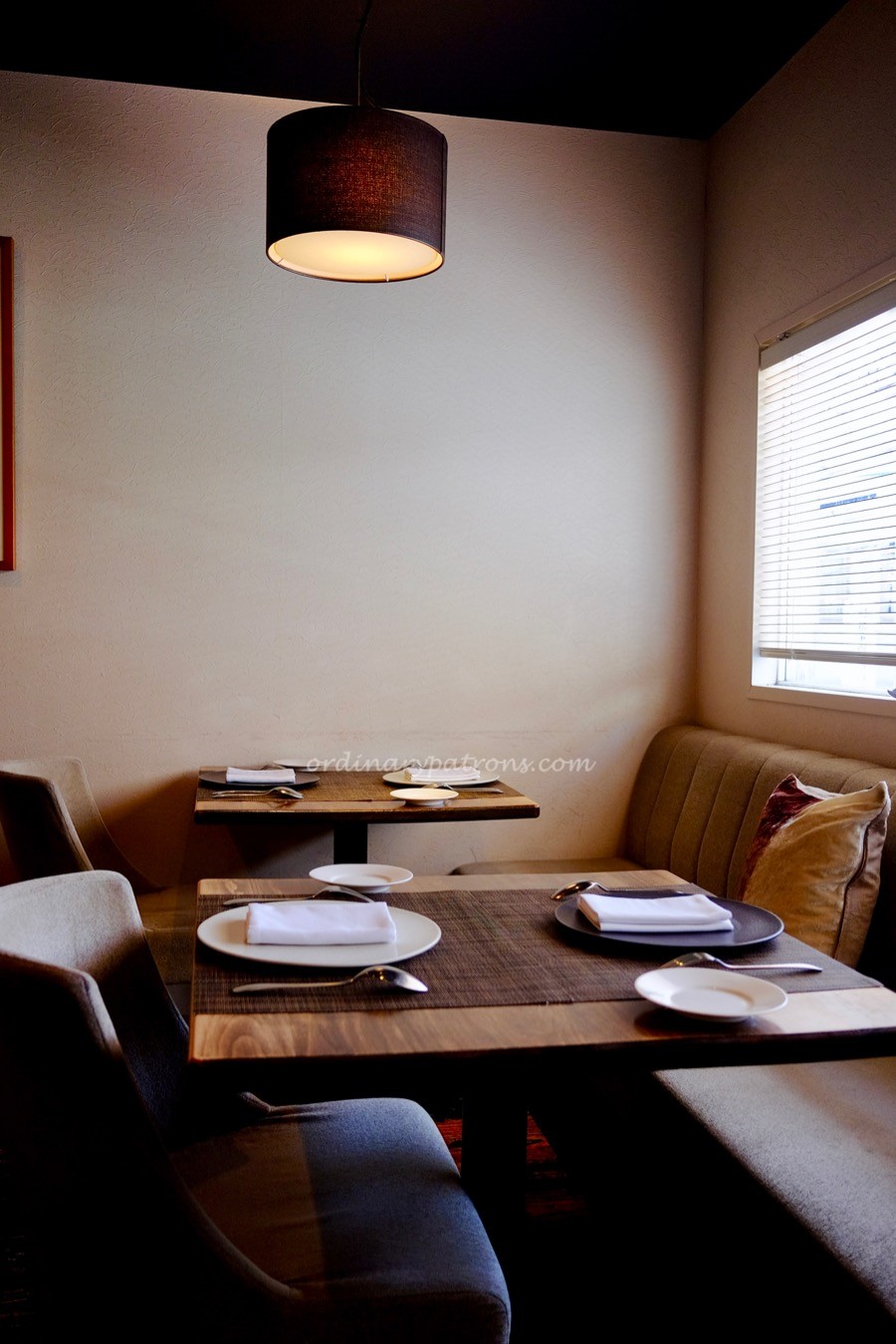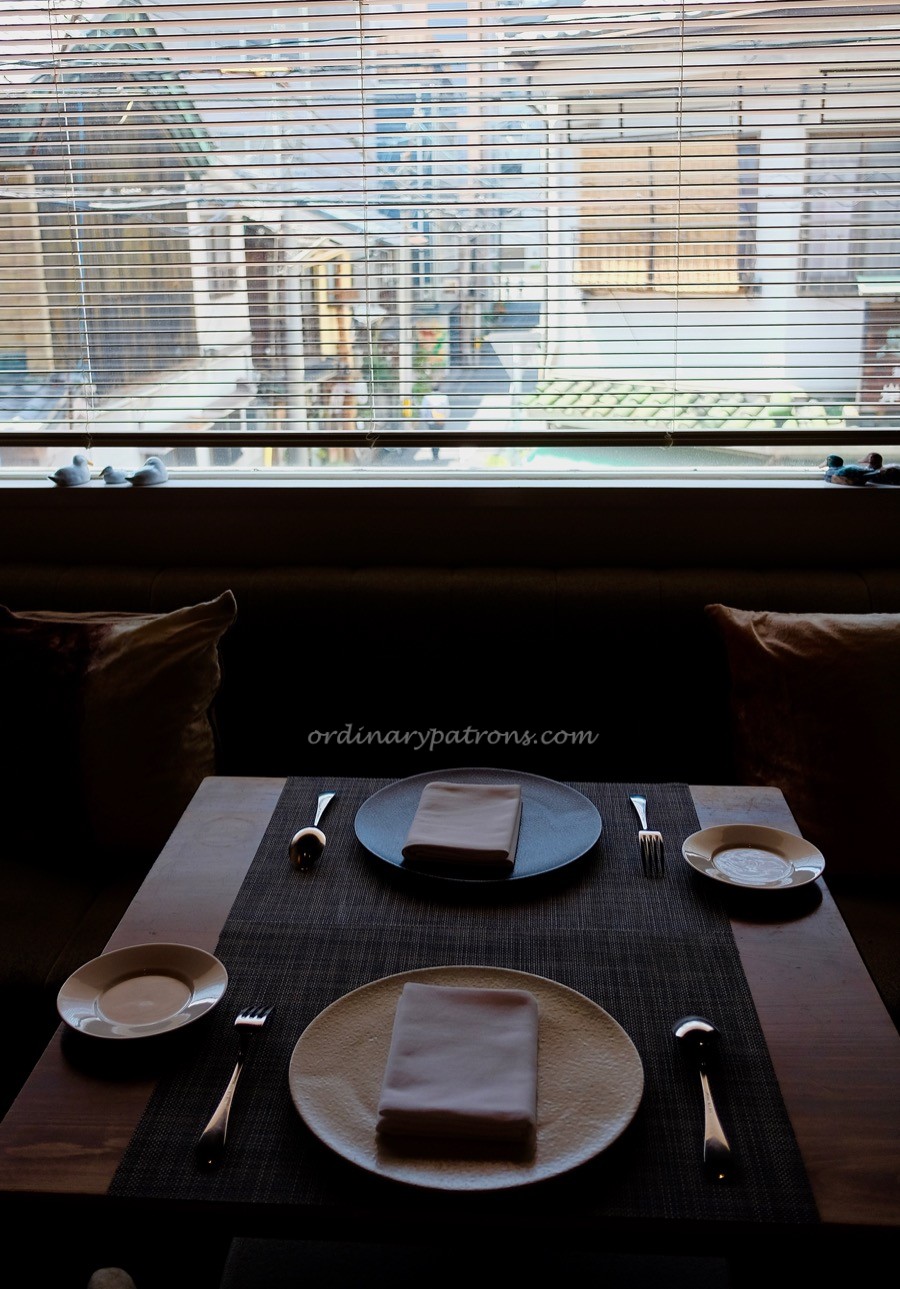 La Caneton Osaka Menu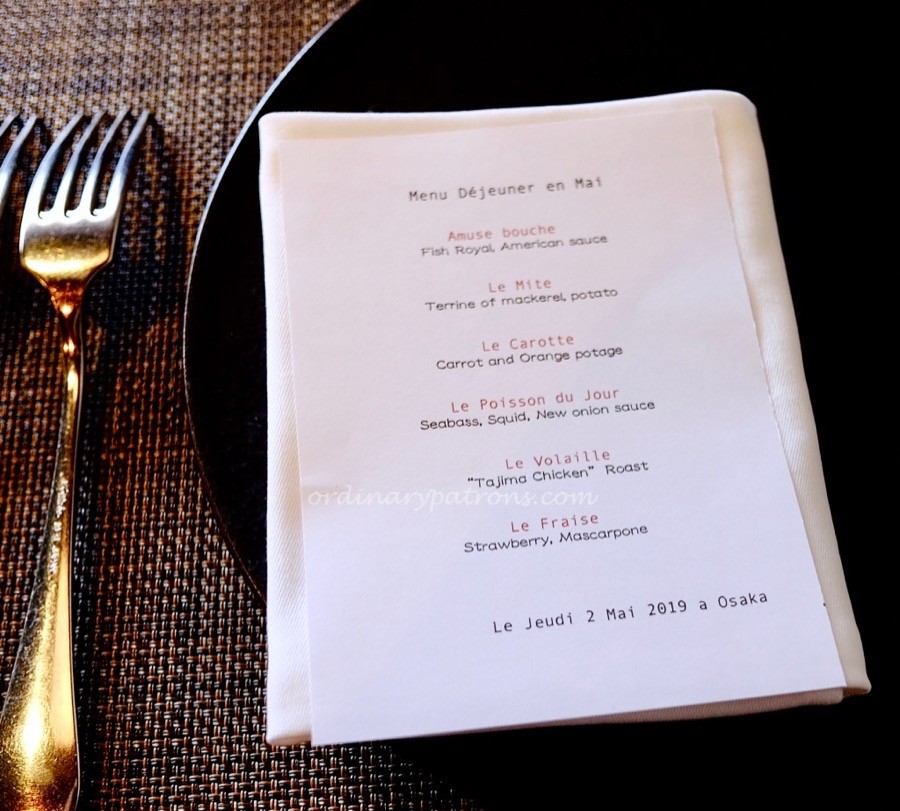 The La Caneton lunch menu is a simple affair – two types of lunch courses priced at 3,500 and 5,500 Yen. We opted for the Sora three course lunch, the more economical of the two. There were two choices for the starter and the main courses. As there were two of us, we had a chance to sample everything.
The Wines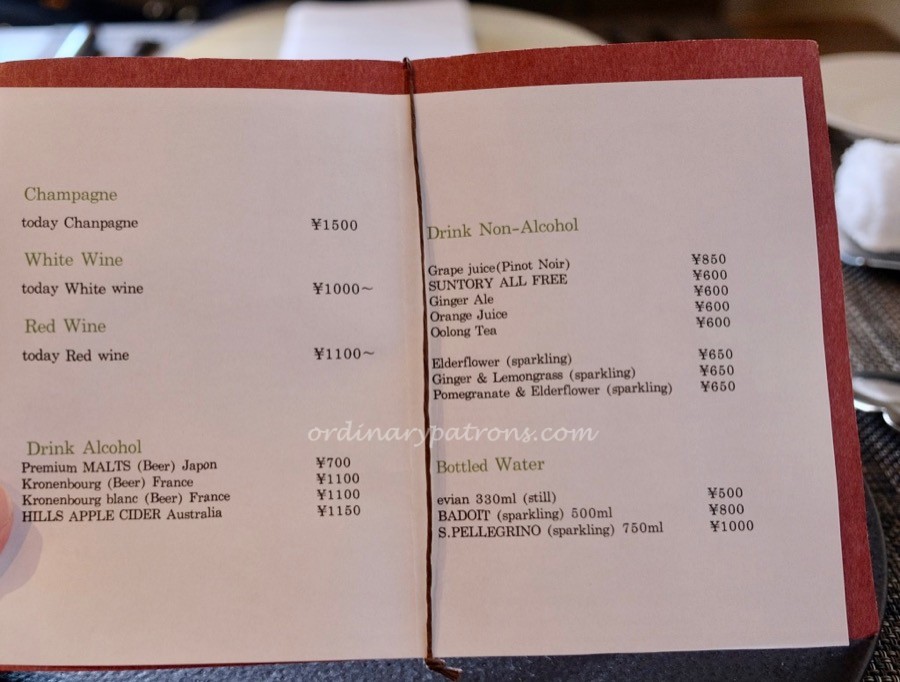 The drinks list is also straight forward. A short list of three white and three red wines were available at 1,000 Yen each. We enquired about the whites and the three bottles were presented to us – three types of white from different regions and with different personalities. We tried all three. The Japanese wine was the lightest. The Chablis had the most complex flavours.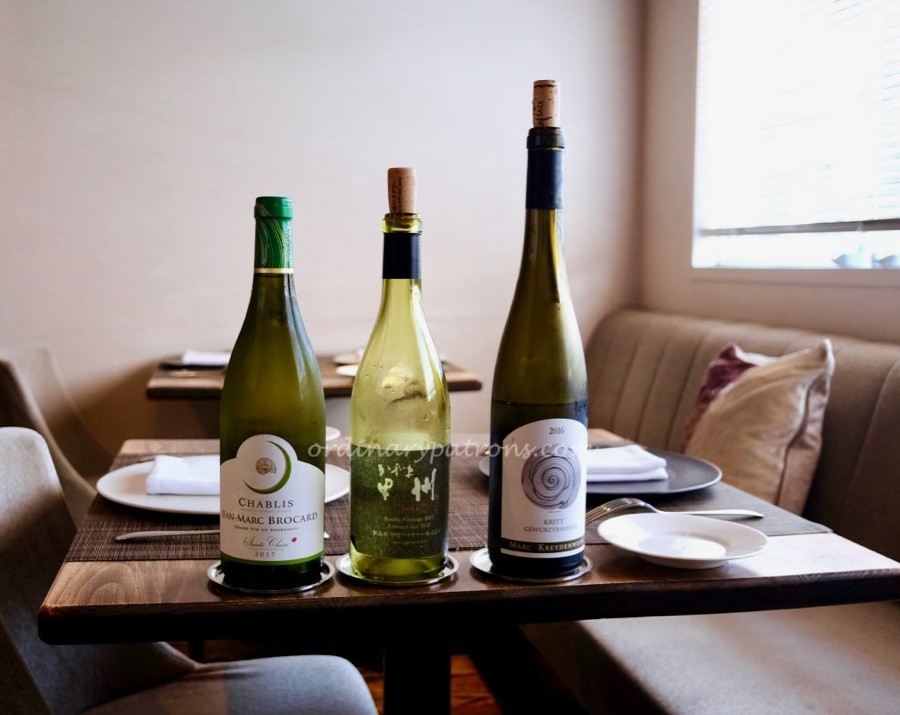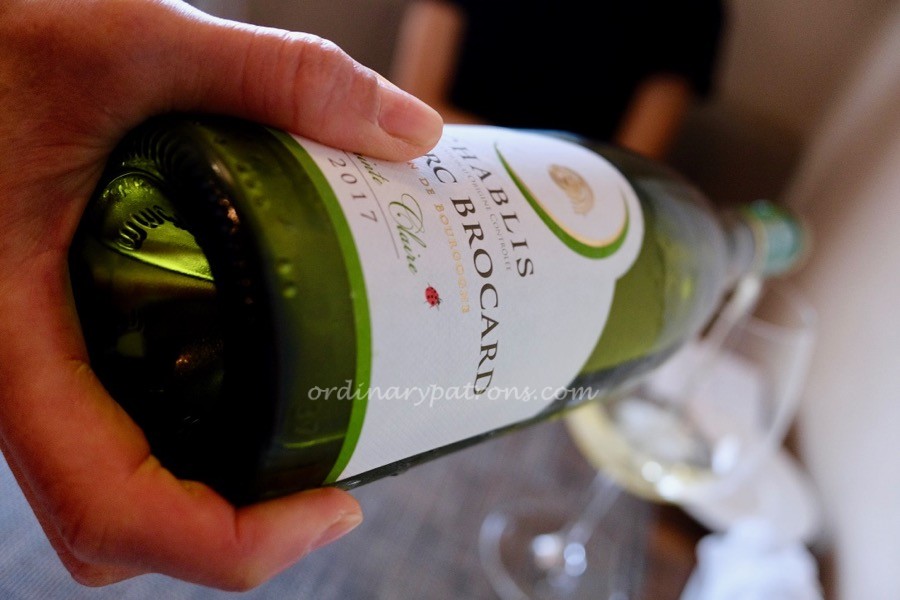 Amuse Bouche and Starters
The amuse bouche was a tiny cup of soup and bits of various things which I cannot remember. It was described as fish, royal, American sauce. What I do remember is that it was a rich seafood soup with a wonderful flavours – like a concentrated lobster bisque.
Our starters were carrot and orange potage (above picture) and terrine of mackerel, potato (picture below). The ingredients were humble but they managed to make beautiful and tasty dishes out of them.
Main Courses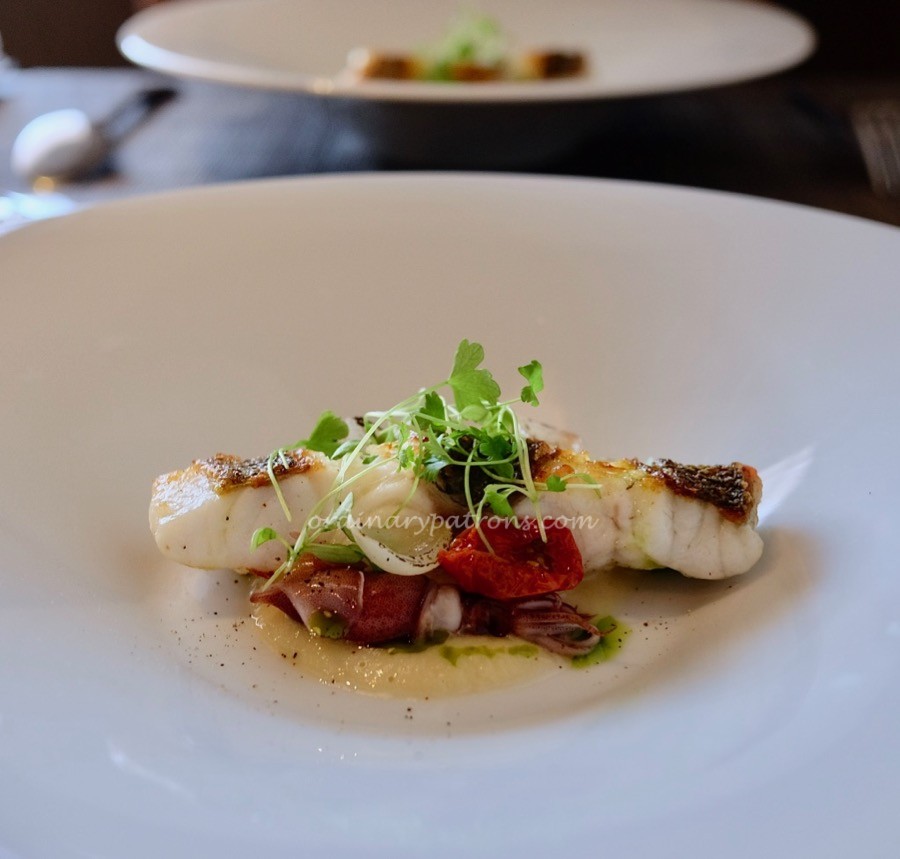 Our main courses were Seabass, Squid, New Onion Sauce (above) and "Tajima Chicken" Roast. The fish was a more delicate and interesting item. The chicken has a more usual taste but was perfect cooked leaving it tender and juicy.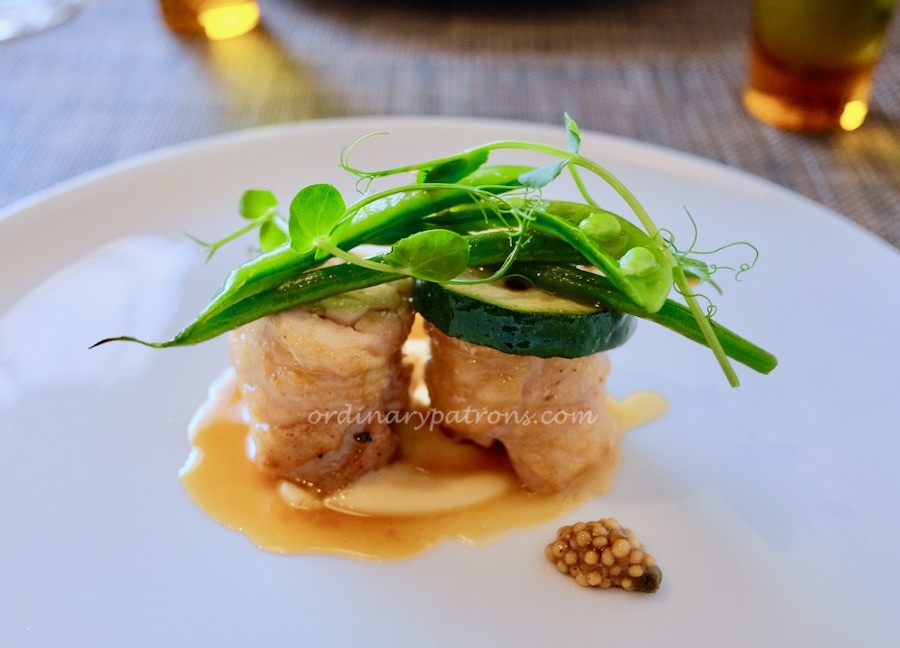 Dessert
Our lunch at Le Caneton Osaka restaurant ended with dessert – Strawberry, Mascarpone. The Italian cream cheese dessert was another example of a simple dish but expertly crafted. Coffee was included in the meal. Some petit fours were brought out to ensure that we left on a sweet note.
Overall, we were impressed with our lunch. It fits in with our impression of what a Bib Gourmand restaurant should be – good food at a reasonable price. Service was impeccable. The glass dishes were served with white gloves to ensure no marks were made. We don't see much of this attention to detail these days.
Ratings:
Food: 4
Service: 5
Value: 5
Atmosphere: 4
Overall Rating: 5 TOPs

La Caneton
Uehoncho Nishi 2-6-23 Chuo-ku, Osaka City
Tel : 06-6761-1717
Opening Hour:
Lunch time 11:30 to 13:30 
Dinner time 18:00 to 20:30
Closed Monday and public holidays
The Ordinary Patrons | Real Dining Experience of Ordinary People
an independent Singapore food blog
---