Oktoberfest is now celebrated in many parts of the world, including Singapore. This year we were at the right time and place to be able to experience Munich Oktoberfest 2018. It was a chance for us to get into the spirit of the celebrations and to get a feel of the passion that the Bavarians have for this event. This is short summary of what we saw and what we ate.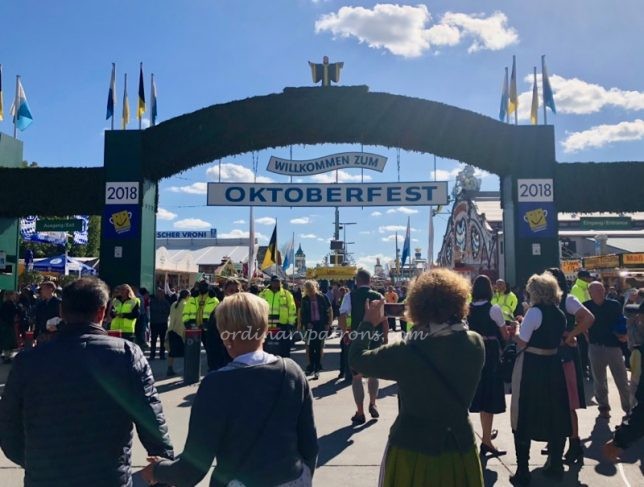 When is Munich Oktoberfest 2018?
This year, the Munich Oktoberfest 2018 is held from 22 September until 7 October 2018. The event is said to draw several million visitors each year. Which works out to several hundred thousand a day, with a higher concentration on weekends and from 4 pm on weekdays. It opens from 10 am to 10.30 pm on weekdays and from 9 am on weekends. We were there from 2 pm to 5 pm on a weekday. Initially, we could get entry into most tents that looked interesting to us. But from 4 pm onwards some of the more popular tents were turning away new visitors who did not have a reservation.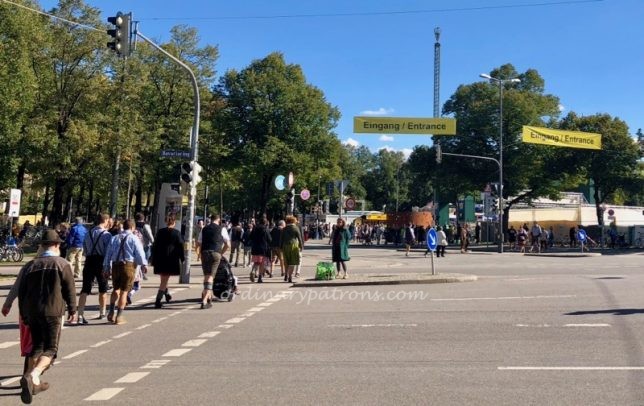 Where is the Munich Oktoberfest?
The Munich Oktoberfest is held in a huge open field at Theresienwiese, which is to the south of the Munich main train stain (Hautbahnhof). It is several times the size of our Padang. There were sufficient police presence and road traffic restrictions to make us feel safe at this massive event. It is an easily accessible location and can be reached by public transport – buses, trams, subway (U-bahn) and also by 15 minute walk from the main station. It was easy for us to locate it by following the stream of people headed for Oktoberfest 2018. Many of the locals were dressed for the occasion in traditional Bavarian attire – dirndl dresses worn by the ladies and lederhosen by the men.
We felt that Oktoberfest spirit is celebrated all over the city and not just at the Oktoberfest grounds. The traditional costumes are worn all over town during this period. Lufthansa is even dressing up their cabin crews on selected Munich flights in traditional Bavarian garb and serving beer from kegs. One of these rare flights was from Munich to Singapore (see Lufthansa's traditional dirndl crew flights celebrate Oktoberfest with onboard "beer on tap" ).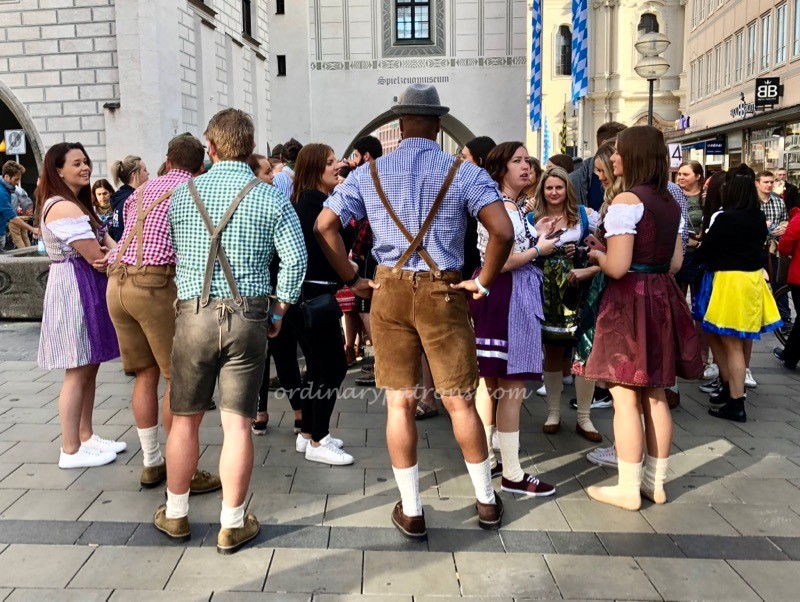 What to do at Oktoberfest?
There are three main activities at the Munich Oktoberfest – eating, drinking and playing. Eating and drinking take place in tents. These "tents" are more substantial than the term suggests. They look like permanent buildings. There are big tents which seat thousands of people and small tents which are more cozy. There are different operators with different themes. The biggest tents are run by the big beer producers and have the usual beer hall theme – expect lots of sausages, pork knuckles and lots of beer – served in one litre mugs.
The Paulaner big tent was packed. At around 4 pm they have stopped accepting new patrons. The tables were being set up for those with reservations, which we were made to understand were booked months in advance. These platters of appetisers await the guests.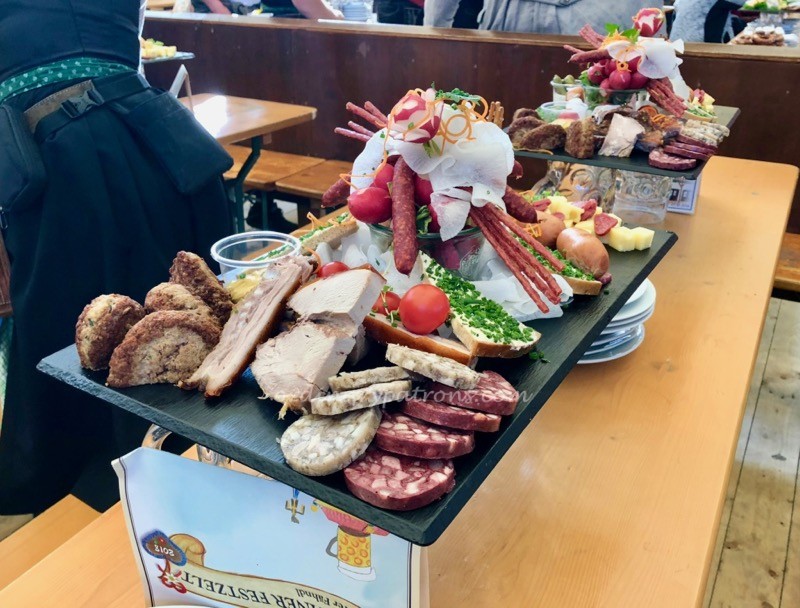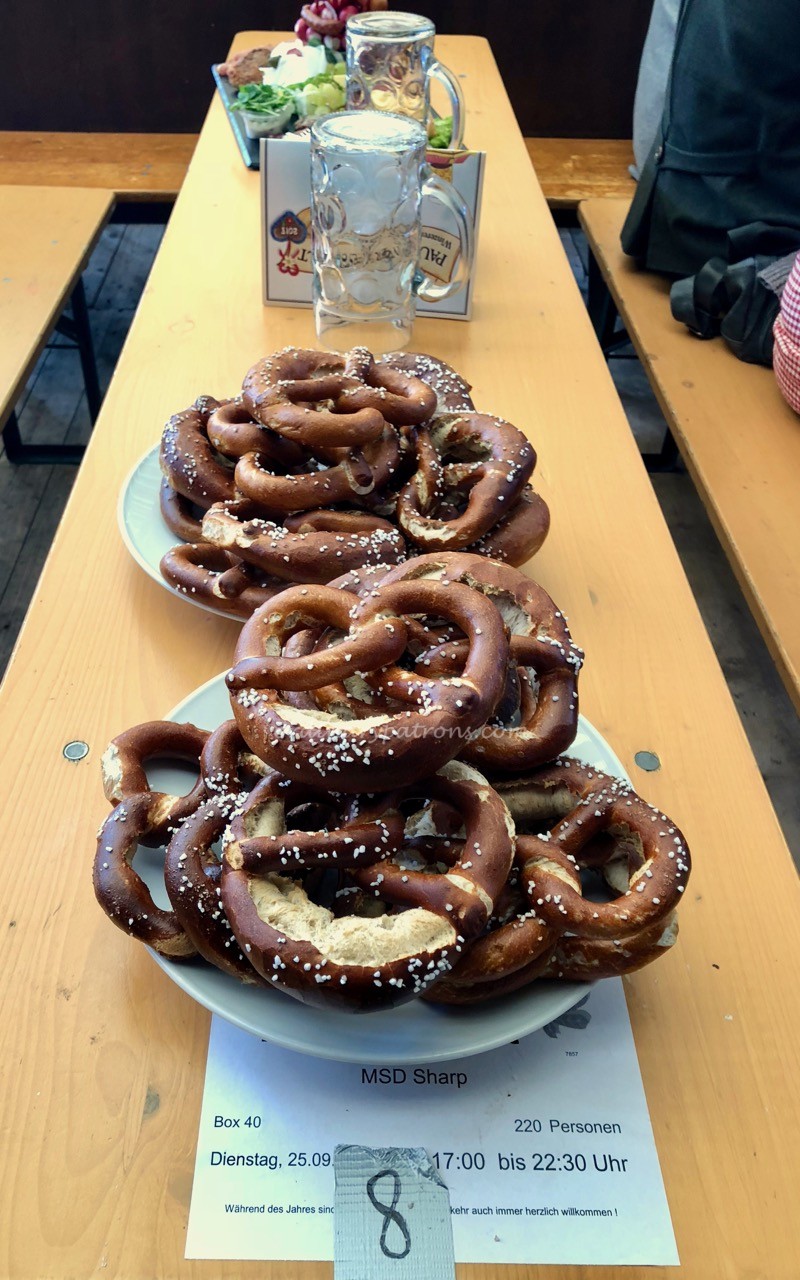 Having had enough of sausages and meat during our visit to Munich and surrounding areas, we decided to settle down in a tent by Fisher Vroni which specialised in seafood. It was full but it was not hard for one, two or three people to find spaces at a table. We shared a table with a German couple and two Austrian ladies.  It was easy to make friends in a Oktoberfest tent on a weekday afternoon. The tents are visitor-friendly and the servers speak English. We were provided with English menus.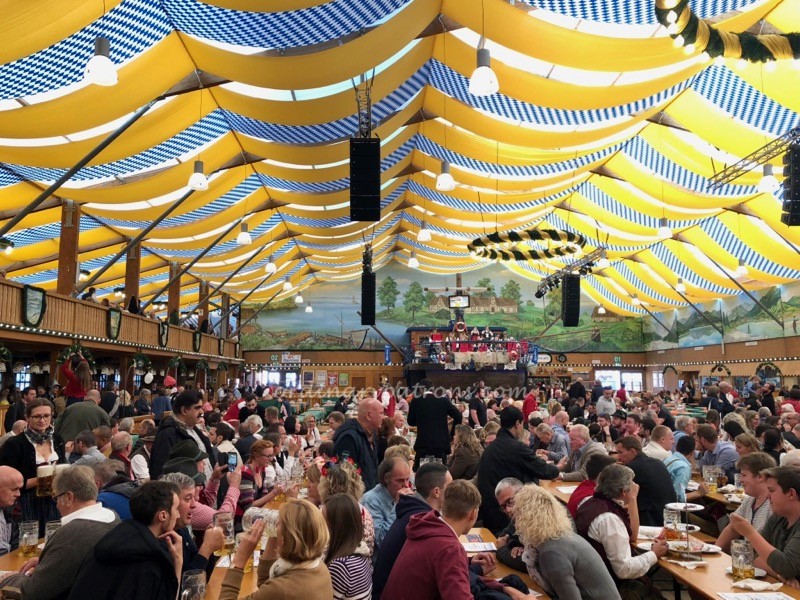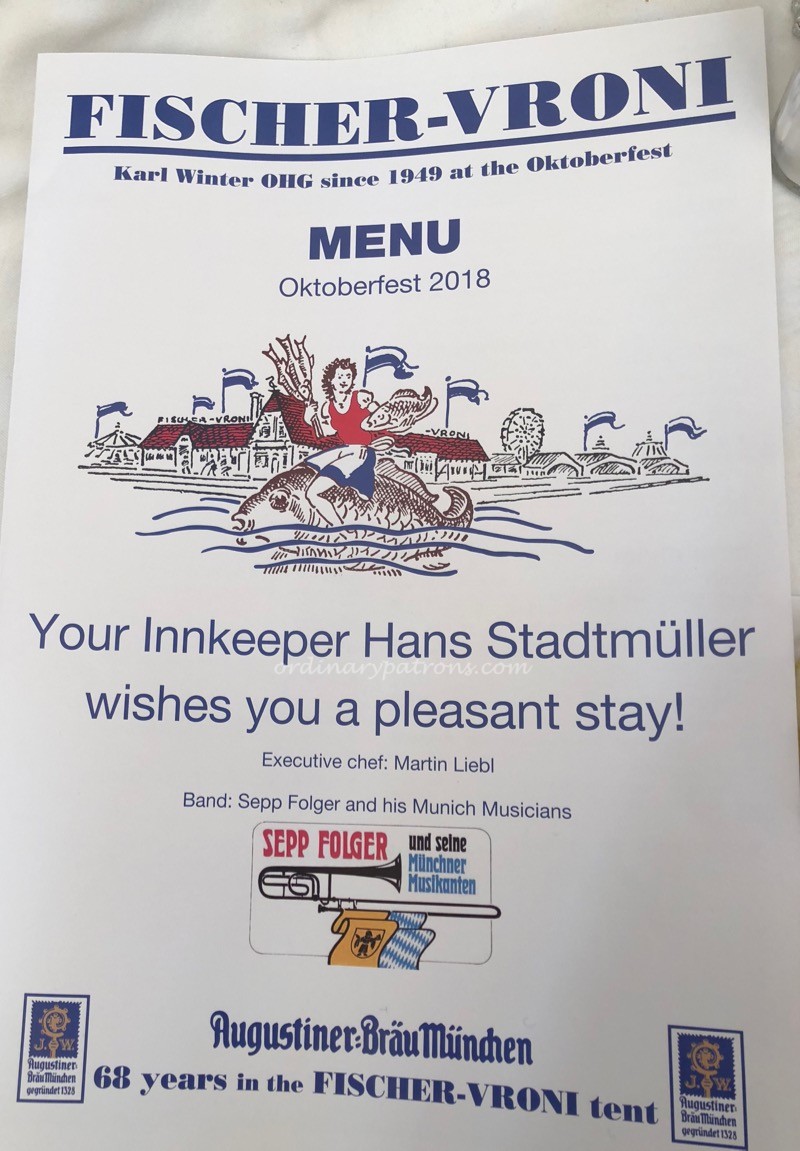 How much does it cost?
Entry to the grounds and the tents are free. You pay for the food, drinks and the rides. Our grilled mackerel costs 21.99 Euros. A giant pretzel costs a few euros. The Augustiner beers (one litre) cost 11.35 euros each. This is more expensive than the beers in the regular beer halls in the city.  We can understand why people will flock to these tents for more expensive beers than in the normal parts of town. The crowd, the tents, the brass bands all added up to a festive atmosphere unlike any beer hall we had experienced. The fish was pretty good and a good change from the usual sausage and meat dishes.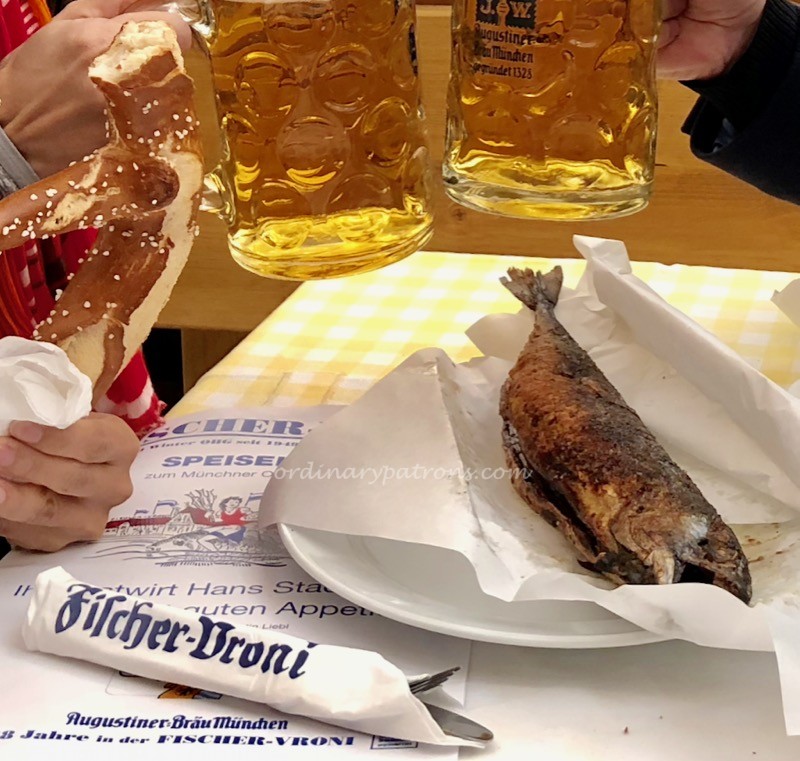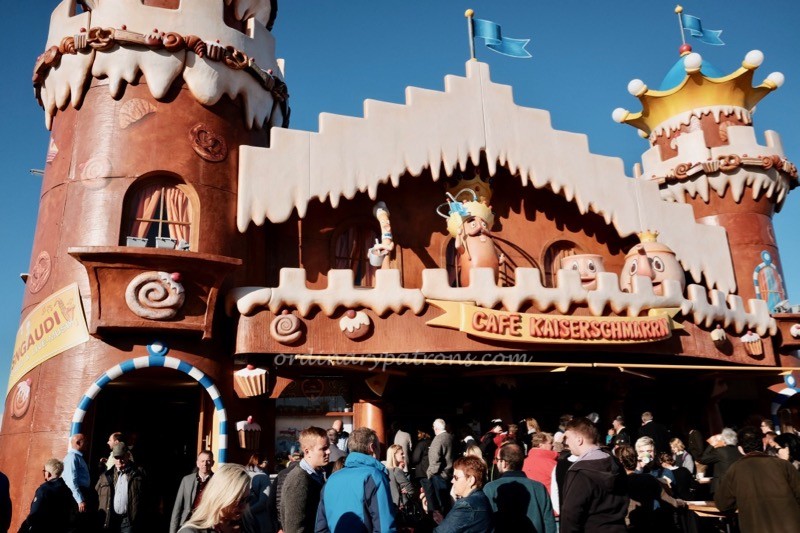 Here are pictures of two small tents that are not as boisterous. Cafe Kaiserschmarrn (above) and Sum Mohrenkopf (below). The former is operated by one of the largest bakeries in Munich.  The latter does not even have a band and so had a very peaceful environment. These were more like cafes than beer halls. Coffee with cakes and pastries are served here.
The Munich Oktoberfest is more than just food and drinks. It is also a place for play.  A large part of the grounds is taken up by game stalls and carnival rides. The eating and drinking is probably the main highlight of the festival but Oktoberfest is also a family and social event. It was nice to see families and friends out and about enjoying Oktoberfest, especially when they are dressed up in traditional attire. It is a great experience. The only downside is that hotel rooms are hard to come by and when they are available, expect to pay high rates.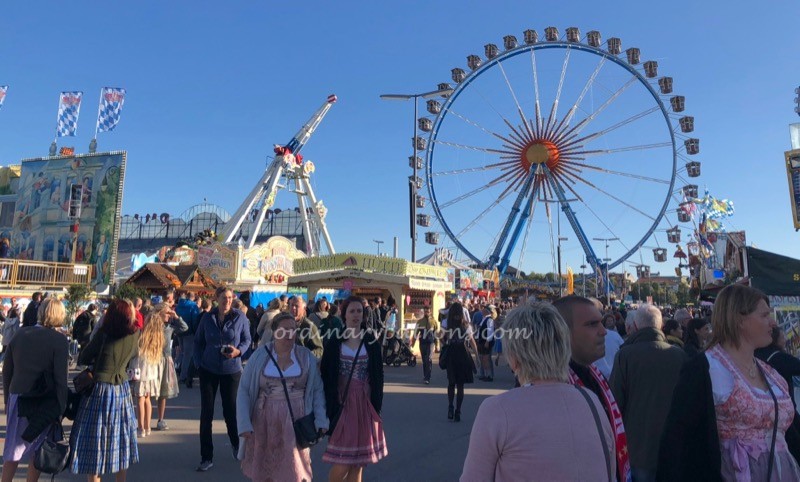 For more information and details about Munich Oktoberfest 2018 and the individual beer tents, see the Oktoberfest website.
---
The Ordinary Patrons | Real Dining Experience of Ordinary People
an independent Singapore food blog