St. Peter Stiftskulinarium in Salzburg, Austria is said to be the oldest restaurant in Europe.  There are apparently documentary records first mentioning the restaurant in AD 803.  It is located within the St. Peter's Abbey complex in the old town centre of Salzburg. The complex includes the Abbey, supporting buildings, the cemetery and catacombs. The church itself is rather plain on the exterior but is intricately decorated inside. Apart from church services, some concerts are also held in the church.  We had lunch at the St Peter restaurant after exploring the surroundings.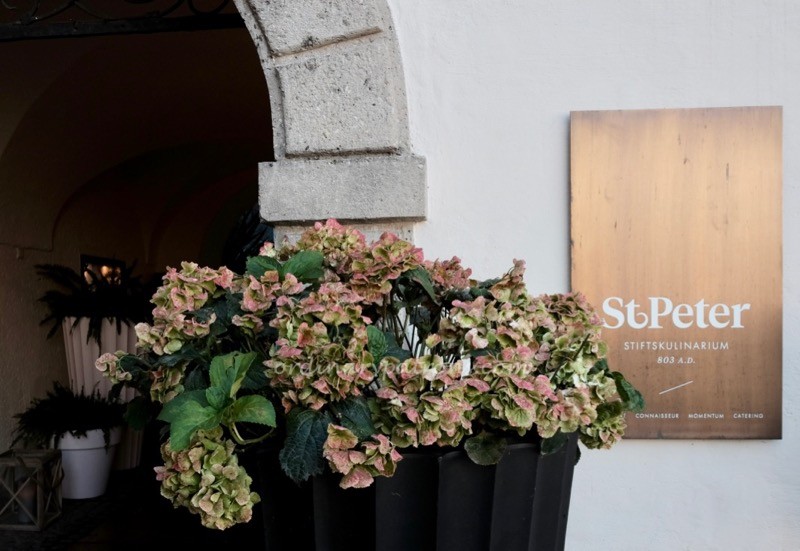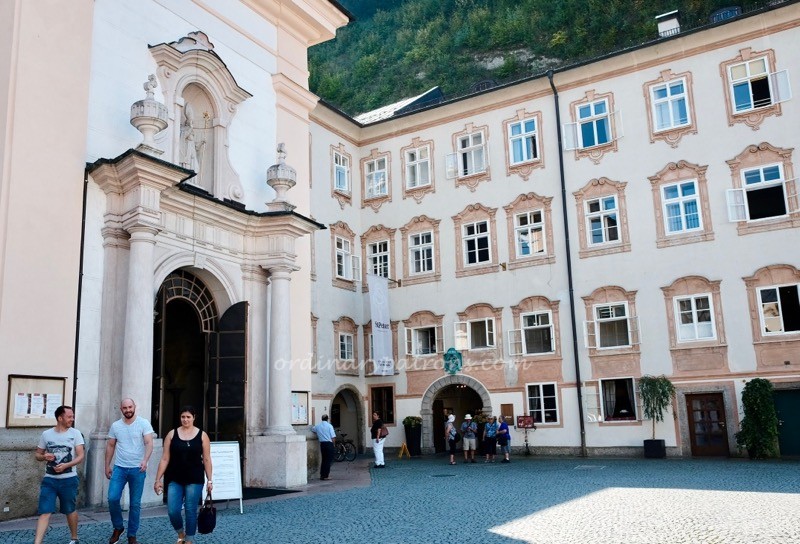 The narrow entrance to St. Peter Stiftskulinarium opens up to an alfresco dining area. Beyond that are a series of different dining areas with different personalities – dark and cosy, traditional and formal etc.  Some areas are built into the adjoining rock wall.  We understand that  there are eleven uniquely furnished and distinct dining rooms but we did not see them all.  On a bright cool day, the nicest place was the  open-air area in the inner courtyard. That was where we had lunch.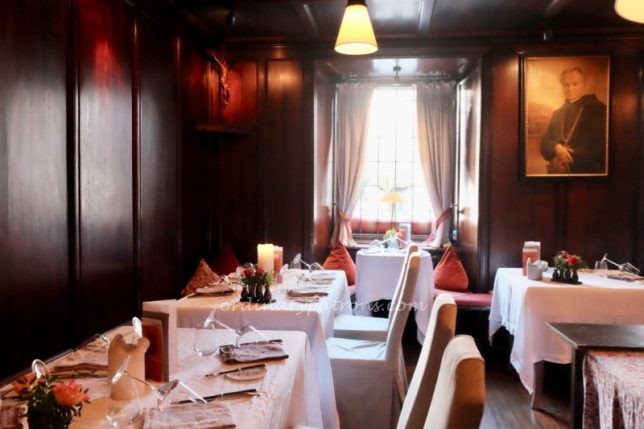 St. Peter Stiftskulinarium Menu
Here are pictures of some segments from the St. Peter Stiftskulinarium menu. The menu changes regularly and can be viewed at their website.
We selected a starter portion of tagliolini with black summer truffles (22.90 euros) and two of the highlighted main courses in the menu – turbot in carrot butter broth (37.90 euros) and saddle of fawn (38.90 euros).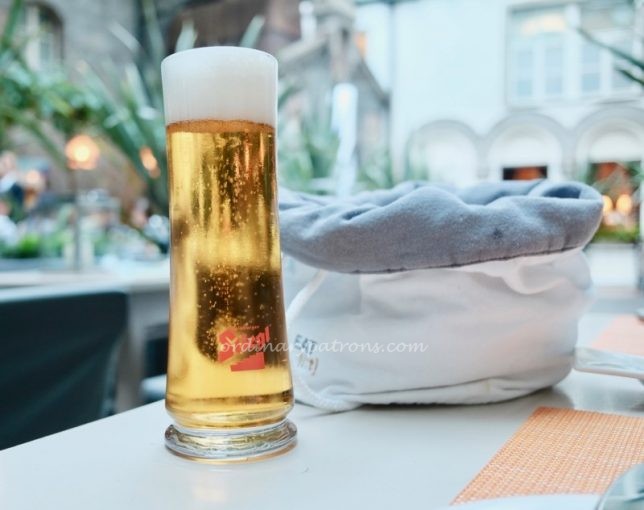 How many men does it take to serve a pasta dish?  Three. At St. Peter Stiftskulinarium, they take their pasta very seriously.  The bunch of hot pasta was carefully massaged inside the wheel of cheese, soaking up the molten cheese and picking up bits that were scrapped off.   The tagliolini was then plated and topped with shaved black truffles.  The smell and taste were wonderful. It was the best dish of the day and a dish we keep thinking about till this day.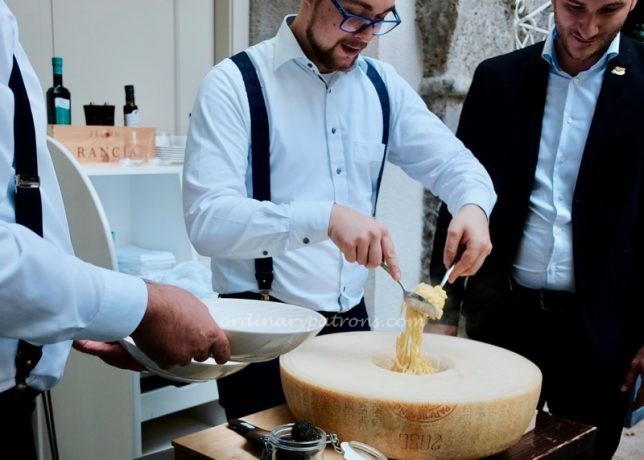 After the pasta appetizer,  our expectations were high for the remaining dishes, but they were not quite as memorable.
The turbot in carrot butter sauce was a beautifully presented dish. The taste was good as well but we did not think it was exceptional.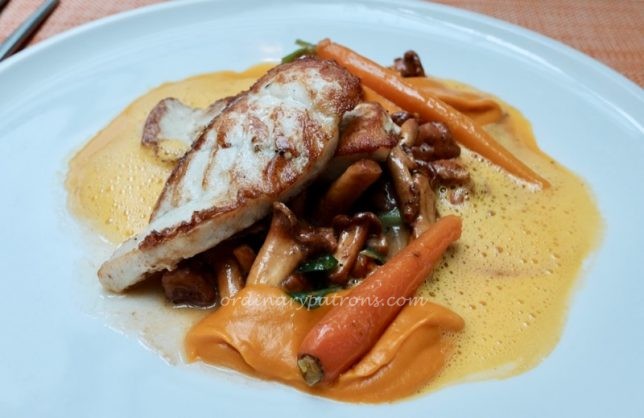 We selected the saddle of fawn as it was exquisitely described in the menu – the deer as the king of the woods and venison being the highest quality from the hunting grounds in the province of Salzburg.  Again, it was a good piece of meat but did not have the depth of flavours as, say, a good cut of beef.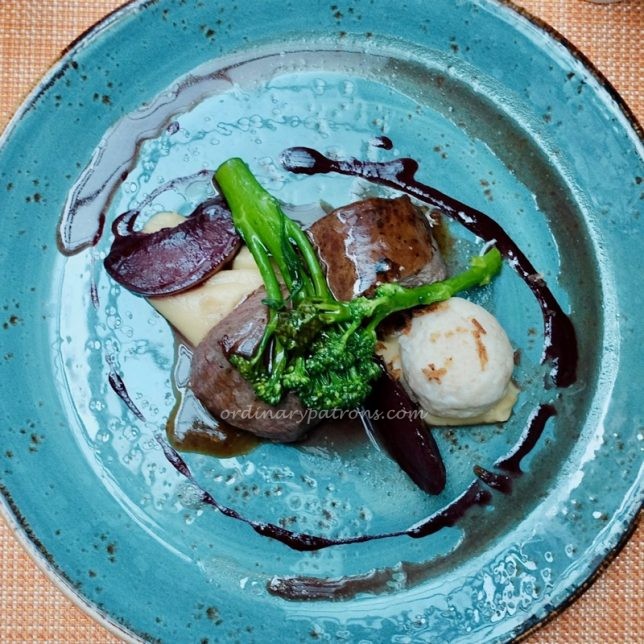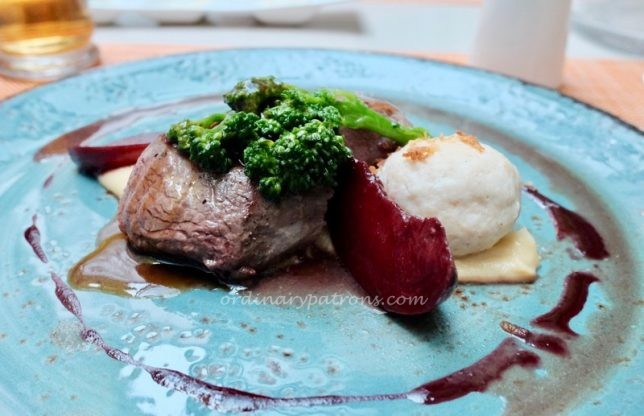 Ratings:
Food: 3
Service: 4
Value: 2
Atmosphere: 4
Overall Rating: 3 TOPs

St. Peter Stiftskulinarium
St. Peter Bezirk 1/4
5020 Salzburg, Österreich
Opening hours
Monday to Sunday
from 11:30 a.m. to 11:00 p.m.,
kitchen from 12:00 a.m. to 10:00 p.m.
Afternoon card from 02:30 p.m. to 05:30 p.m.