Fat Cow restaurant is a pricey restaurant with a funny name. The entrance to the restaurant was very plain-looking. The only hint that this was not just any restaurant is the lack of a signboard (or maybe there was one so inconspicuous we did not see it).  When you are famous, people will hunt you down.  Fat Cow refers to themselves as "a Japanese inspired steakhouse".
After the entrance, we were led down this long, curved passageway. They managed to make basic glass blocks look artistic.  We walked past a small bar and lounge area and a couple of private dining rooms before emerging into the main dining area.
Diners sit at the U-shaped counter seating. The menu of the Fat Cow restaurant revolves around beef – cooked either grilled or hot-pot style. Which means that most of the items are prepared in full view of the diners, either at the counter or the grill just behind. The place was designed to look like a culinary amphitheatre, but the chefs did not seem to be on 'performance mode' that day.
The steaks take centre-stage on the menu. The prices range from $288 for a top rate Iwate Japanese beef to a more affordable $58 Rangers Valley beef from Australia. True to its Japanese influence the beef can be prepared in a few ways -Sumbiyaki (grilled), shabu shabu or sukiyaki. Apart from beef, there was a small selection of sushi, sashimi and other cooked food items.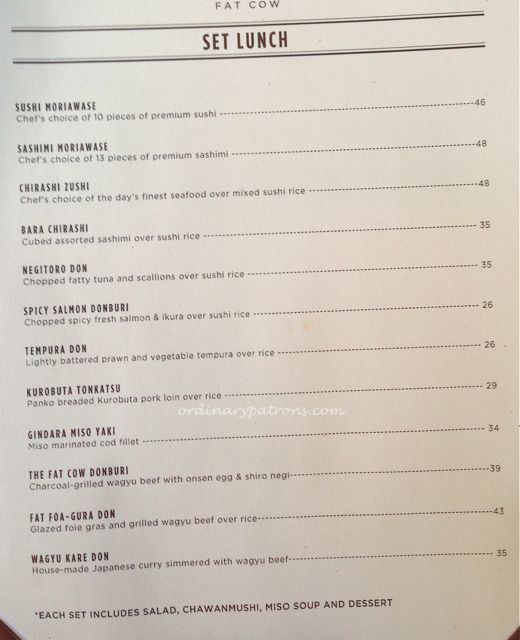 Fortunately for ordinary patrons like us without expense accounts, there is a more affordable lunch menu. They are mostly donburi-type dishes.  We elected to try the Sashimi Moriawase ($48) and the Fat Foa-Gura Don ($43). Japanese tea costs $5 per person.
The meal starts off with some salad, miso soup and chawanmushi. The latter was very good – smooth and flavourful. The miso and the salad were average. The vegetables in the salad were uncut, thick leafed. Eating them with chopsticks was not very elegant. 'Cow-like' comes to mind.
The platter of mixed sashimi was attractively presented. The sashimi was not bad, but was below what we had expected. Perhaps it lacked the extra bit of taste-of-the-sea purity that we expect from top restaurants.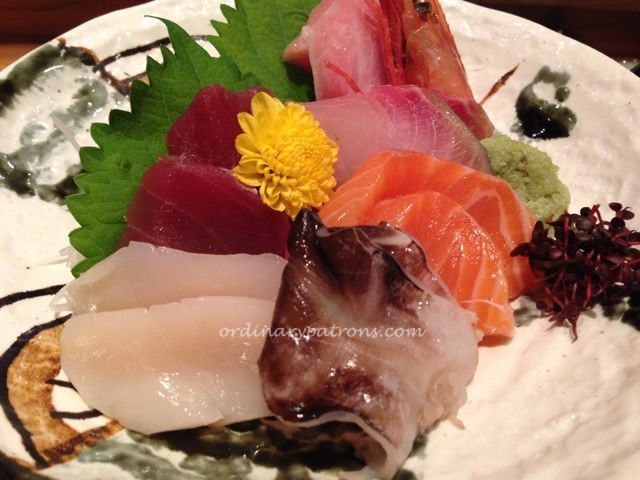 The cheekily named Fat Foa-Gura Don was a much better dish. The bowl of rice was topped with chunks of beef and pieces of foie gras. The taste of the foie gras was complex and fragrant.  This dish lived up to our high expectations of Fat Cow. Yes, we should have selected only the beef based items since we were at a steakhouse. But we figured since they were "Japanese-inspired", their sashimi should also be good.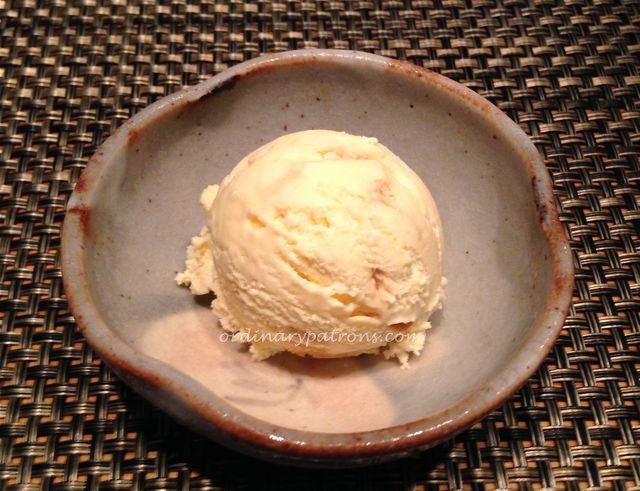 The meal ended with an ice-cream dessert. We were told it was a honeycomb flavour. But you must have acute senses to taste it. It was a decent scoop of vanilla ice-cream if you don't.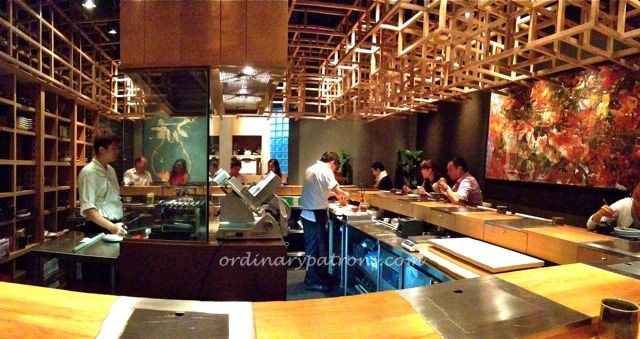 Overall, we had heard of the Fat Cow restaurant's good reputation before stepping foot into the restaurant. It is very popular and reservations are advised for lunch when they have two rounds of seating – noon or 1.45pm. We selected the former and were told to give back the table by 1.30pm.  The food was not bad, but because of all these expectations, there were areas that we felt did not live up to these expectations.
Ratings:
Food: 3
Service: 3
Value: 2
Atmosphere: 3
Overall Rating: 3 TOPs


Fat Cow
1 Orchard Boulevard #01-01/02
Camden Medical Centre
Singapore 248649
Tel. +65 6735 0308