Even before the Singapore Botanic Gardens was awarded the UNESCO World Heritage Site status, we had considered it to be the best public space in Singapore. Since the award, the SBG has become even better. To help our readers plan a day out at the park, here is our list of Botanic Gardens Restaurants as well as some ideas on what to see and do there.
TOP list of Botanic Gardens Restaurants
Corner House
The Corner House is the grand dame of restaurants at the Botanic Gardens. It is located in a converted black and white colonial bungalow built in 1910. The interior is as beautiful as its exterior. It was awarded one star in the MICHELIN Guide Singapore 2016, 2017 and 2018.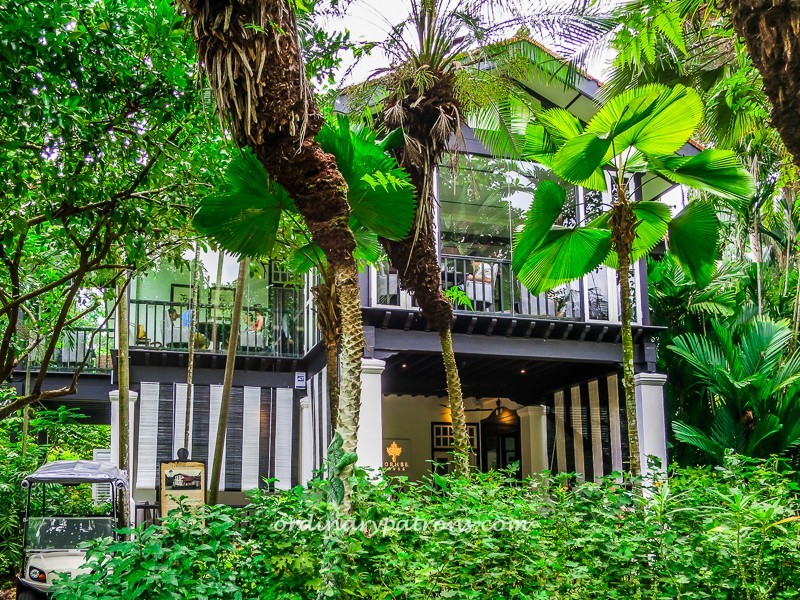 It is quite appropriate that botanical elements are given an emphasis in this restaurant. Corner House describes their food as "Gastro-Botanica", which is defined in their website as "the contemporary cuisine created by Chef Jason Tan that emphasizes refinement and quality, and gives equivalent weight on the plate to protein and botanical elements." You can read about our visit to Corner House here.
Our suggestion for a beautiful Sunday: make a reservation at Corner House for 12 noon. Go to church or sleep late. Have a wonderful 2.5 hour brunch at Corner House. Then walk off the calories around the park, breathe in the fresh air and smell the roses and orchids.
1 Cluny Road, E J H Corner House
Singapore Botanic Gardens
(Nassim Gate Entrance)
Singapore 259569
Opening Hours:
Tuesday-Saturday
Lunch: 12 pm – 3 pm
(last order 2.30 pm)
Dinner: 6.30 pm – 11 pm
(last order 10 pm)
Sunday
Brunch: 11.30 am – 3 pm
(last order 2.30 pm)
Dinner: 6.30 pm – 11 pm
(last order 10 pm).
Di Wei Teochew Restaurant (帝威)
Di Wei Botanic Gardens Teochew Restaurant (帝威) is a relatively new restaurant at Botanic Gardens. It opened in August 2018. Many people may not know of its existence as it is located at a remote part of the Botanic Gardens. It is in the Cluny Food Hall (formerly known as Canopy Food Court) next to the Raffles Building near the Nassim Gate of the Gardens. Read more.
Di Wei Teochew Restaurant
1J Cluny Road, Singapore Botanic Gardens, Singapore 259569
Telephone: 6763 6578
Opening Hours:
Monday: Closed
Tuesday to Sunday: 10.30am to 9pm
Botanico at the Garage
The building known as The Garage used to be a garage of the former University of Singapore campus. It was converted into a place for two more Botanic Garden restaurants in 2017. A casual cafe, Bee's Knees, takes up the ground floor. More serious dining takes place in the Botanico restaurant upstairs. The entrance to Botanico is at the top of a narrow flight of steps at the left end of the building.
The atmosphere at Botanico is less formal than Corner House. They serve a modern Spanish style of cuisine. You can read about our visit to Botanico here.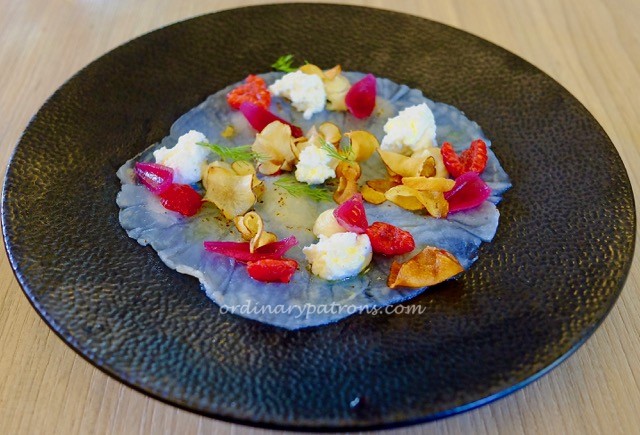 50 Cluny Park Road, Singapore 257488
Tel: +65 9831 1106
Opening Hours:
Wed-Fri: 6-11:30pm
Sat-Sun: 11am-3pm, 6-11:30pm
Closed Monday & Tuesday
Bees Knees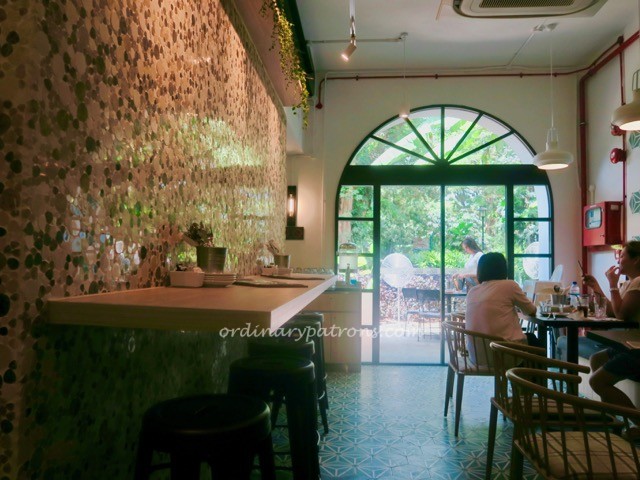 Bee's Knees is located on the ground floor of The Garage. Most of its tables are out in the open, under the big umbrellas that try to provide some shade. There is a small air-conditioned space. Bee's Knees is an all day dining place, most suitable as a refreshment stop or a place for a simple casual meal. You can read about our visit to Bee's Knees here.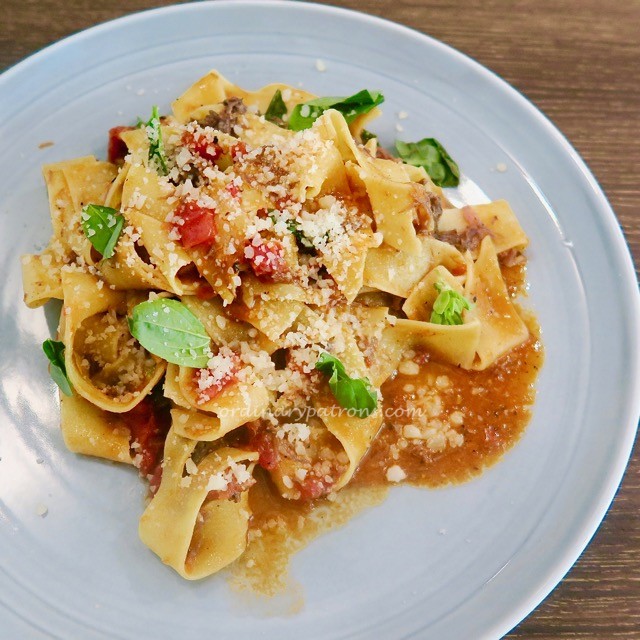 50 Cluny Park Road
Singapore (257488)

Opening Hours: 8am-10pm
Casa Verde
"Casa Verde" means green house in Italian. Although its menu has a big section listing Italian favourites like pizza and pasta dishes, the menu is quite diverse. What was of interest to us was their local food items. Their laksa, Hokkien mee, ngoh hiang were all good. We were surprised to learn that Casa Verde is part of same group that also run the two Michelin Star Les Amis restaurant. They are quite a versatile bunch! You can read about our visits here and here.
Casa Verde is probably the most popular of the Botanic Gardens Restaurants. It is relaxed and dog-friendly, do expect a crowded space of humans and dogs during peak hours on weekends.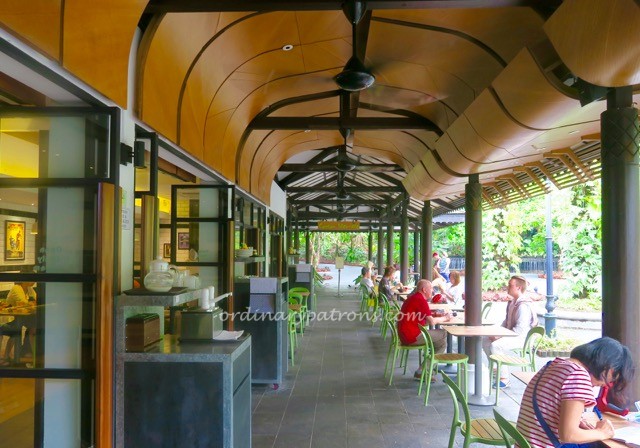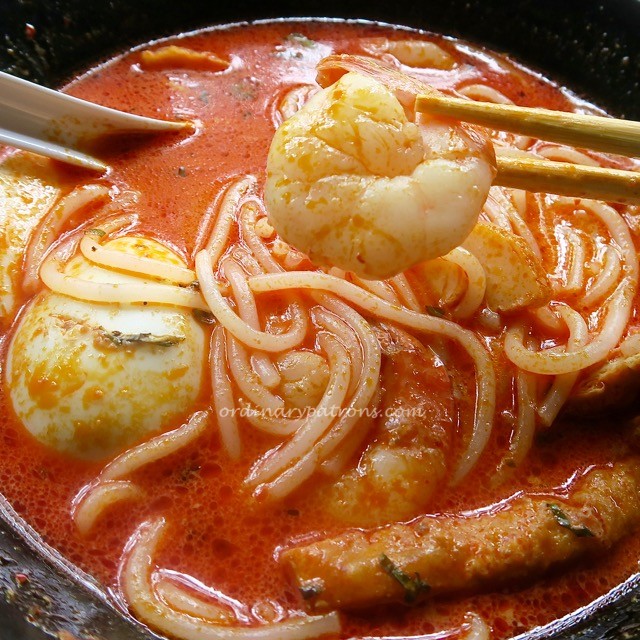 1 Cluny Road, Singapore 259569
Tel : +65 64677326
Opening Hours: 7.30am to 11 pm (last order 9.30 pm).
Fusion Spoon
Fusion Spoon is a casual cafe at the building near the main entrance. It is the largest of the Botanic Gardens restaurants. There is a large air-conditioned space as well as a spacious al fresco area. If you are looking for a restaurant in the Singapore Botanic Gardens that can accomodate handle a big group, this is the place for you.
They have a Korean Bingsu section and also offer a wide range of cuisine. Here are some pictures of the place and portions of the extensive menu.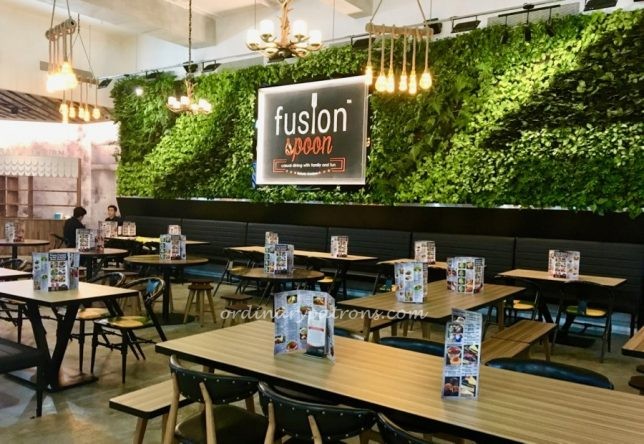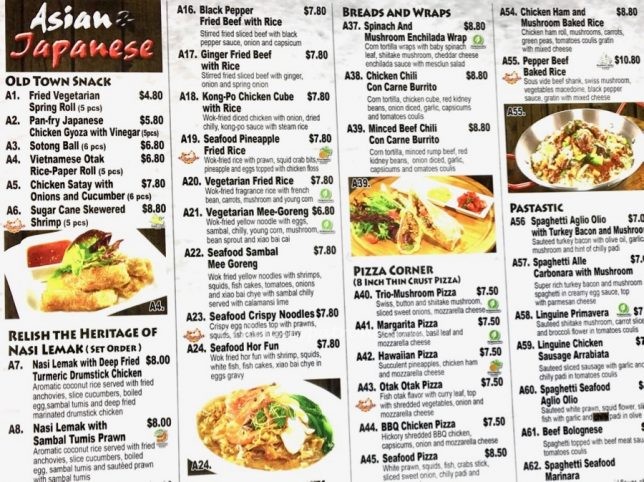 1 Cluny Road,
Tanglin Gate, #B1-00, Singapore 259569
Tel: +65 6338 4848
Opening Hours: 7.00am – 10.00pm
Food for Tots
Food for Tots is a new restaurant that opened at the Jacob Ballas Children's Garden iin November 2017. The Jacob Ballas Children's Garden is the first garden in Asia dedicated to children. It is located at the Bukit Timah end of the Botanic Gardens. Do note the
entry requirements
for the Children's Garden but they do not apply to entry into Food for Tots which is just before the entrance.
This cafe is not just for kids. They have a menu for adults as well.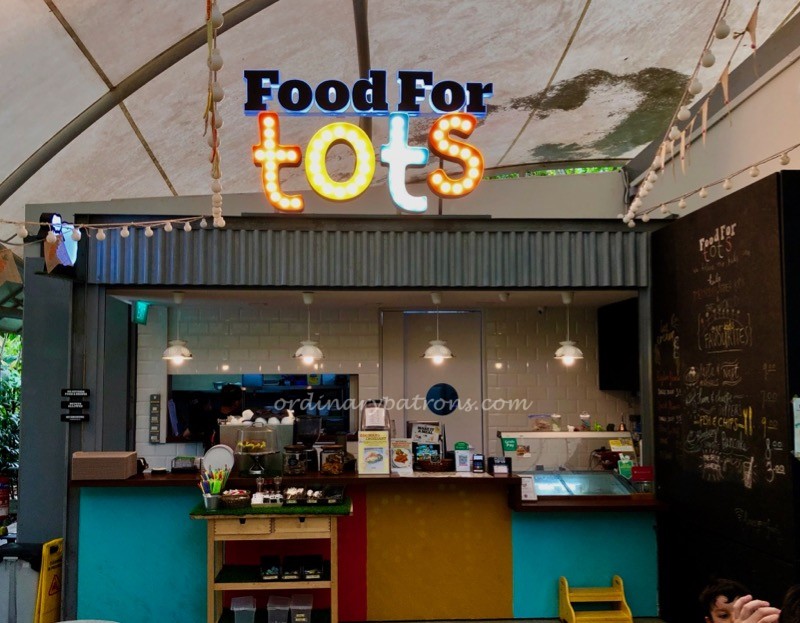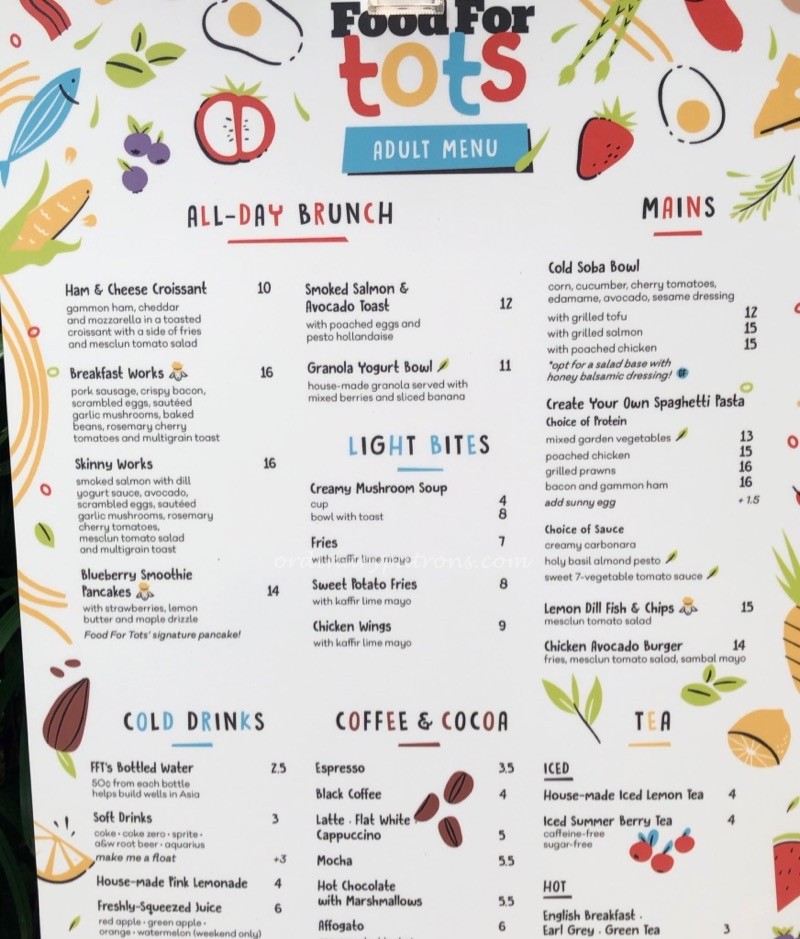 Opening Hours:
Tuesday to Sunday 9am – 7pm
Closed every Monday unless it falls on a designated Public Holiday
Tel: 6338 4848
Juju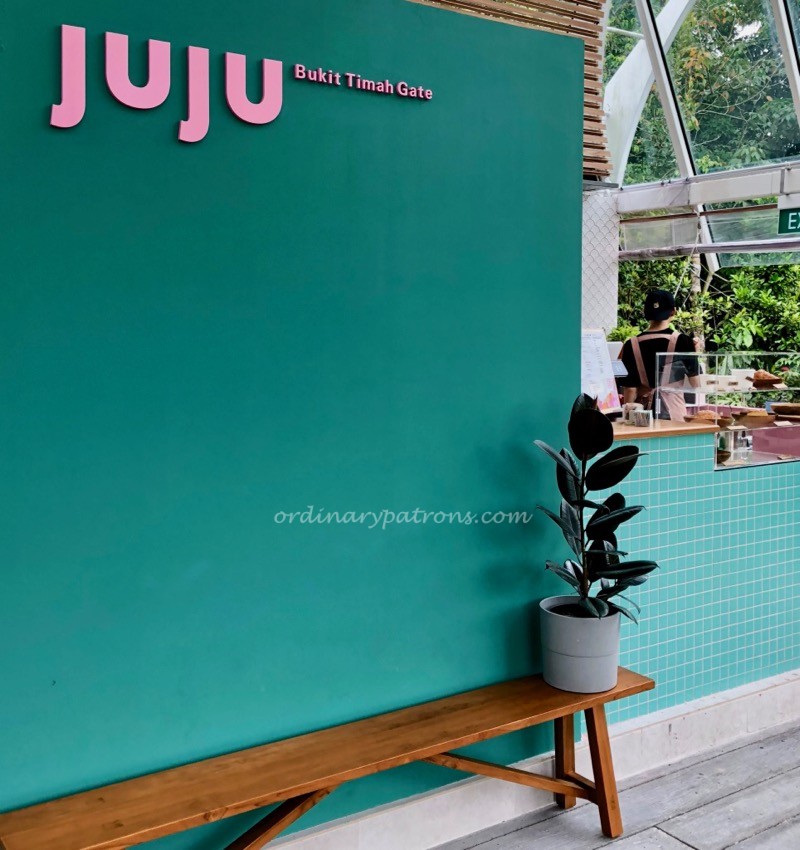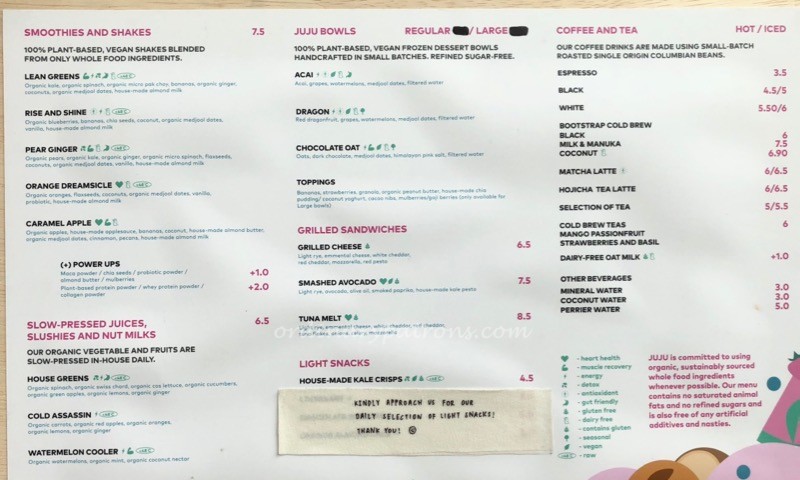 Juju is a newcomer that shares the kiosk with the Parks Information Desk near the Bukit Timah Gate entrance to the Gardens. They serve drinks and light food. There are nice benches just in front.
Opening Hours:
Monday to Friday 11am – 8pm
Saturday & Sunday 9am – 8pm
The Halia Restaurant and The Villa
The Halia is a rustic restaurant located next to the Ginger Garden in the Singapore Botanic Gardens. The Halia serves Western cuisine with a local touch. Some of their dishes are a mix of East and West, for example Halia's Singapore-style chilli crab spaghettini ($26). We have yet to visit the Halia outlet at SBG (although we have pictures of a couple of pages of the menu for you), but you can read about our visit to their Raffles Hotel outlet
here
.
The Villa is an events venue across the pathway from the restaurant. It is popular for holding business events and weddings.
1 Cluny Road
Ginger Garden, Botanic Gardens
Singapore 259569
Opening Hours:
Mon-Thu: 9am-9:30pm
Fri & Eve of PH: 9am-10pm
Sat: 10am-10pm
Sun & PH: 10am-9:30pm
The Provisions
​Located in the Ginger Garden of the Singapore Botanic Gardens, The Provisions Store is a kiosk that sells "grab & go" food and beverage. It is a useful place to pick up a drink or a sandwich. They also sell gifts and souvenirs for visitors to the Singapore Botanic Gardens
Opening Hours
Daily: 9.00am – 7.00pm
Contact
+65 6475 6711
Restaurants at Dempsey Road
This is the end of our TOP list of restaurants in Botanic Gardens. In case you would like even more variety. There is always the wide selection of restaurants at nearly Dempsey Hill. You can read our List of Dempsey Restaurants 2019 to preview the options available.
Dempsey Hill is a five-minute drive away. Alternatively, you can use the shuttle bus service provided to take hungry visitors from SBG to Dempsey. Here is a picture of the shuttle time table. This was taken in January 2019. Please check the latest time table.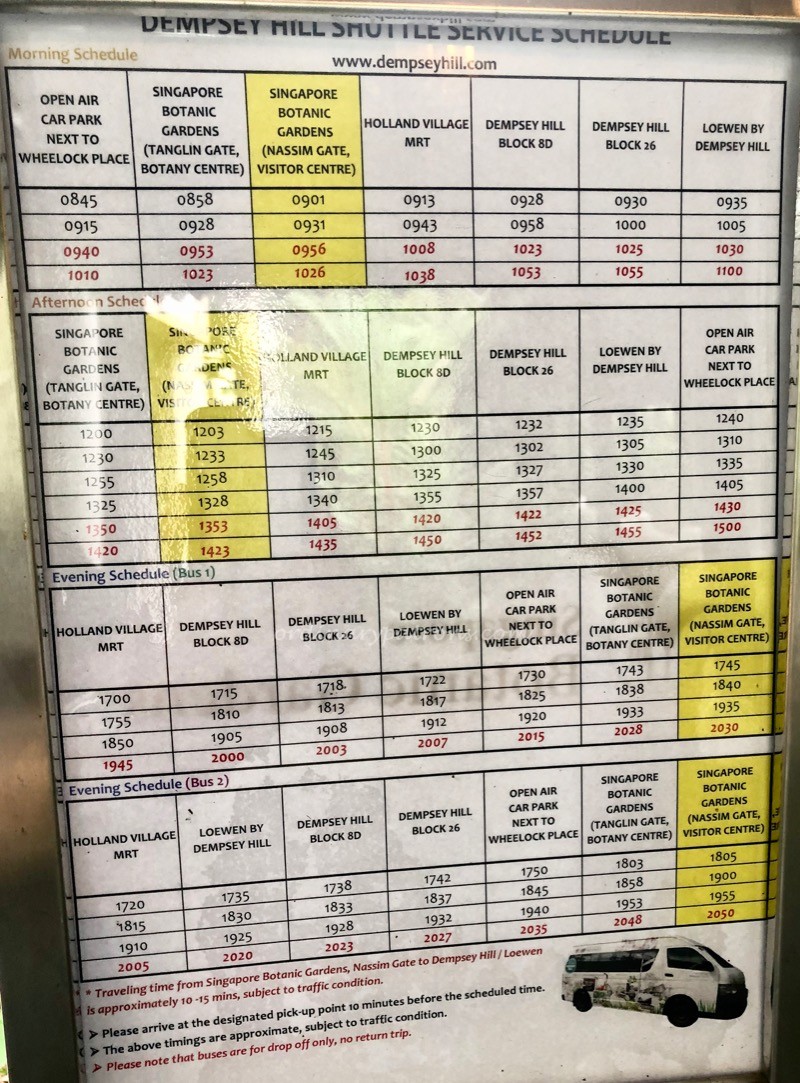 What to See and Do at the Singapore Botanic Gardens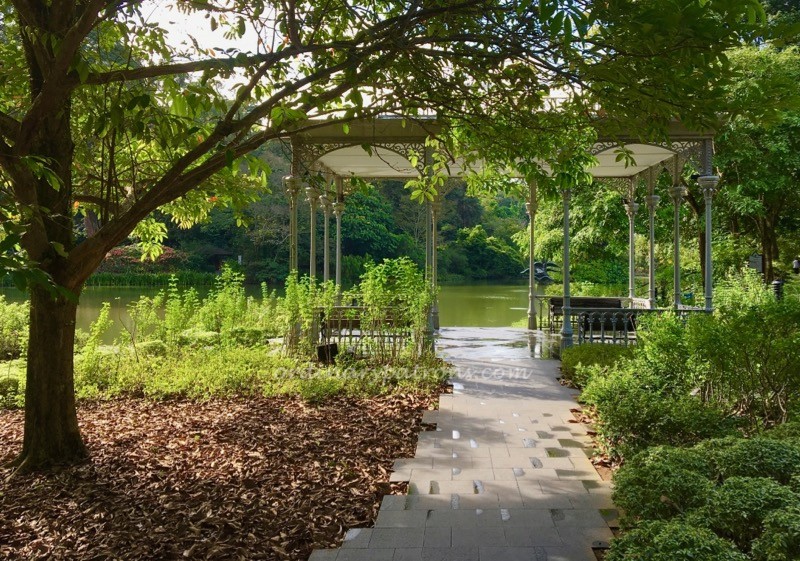 The main attractions at the SBG must be the diverse plants and the magnificent scenery. The Orchid Garden for example, is a must see part of the Gardens. Many hybrids of orchids have been propagated and named after famous people who visited the Gardens, including one for President & Mrs Obama.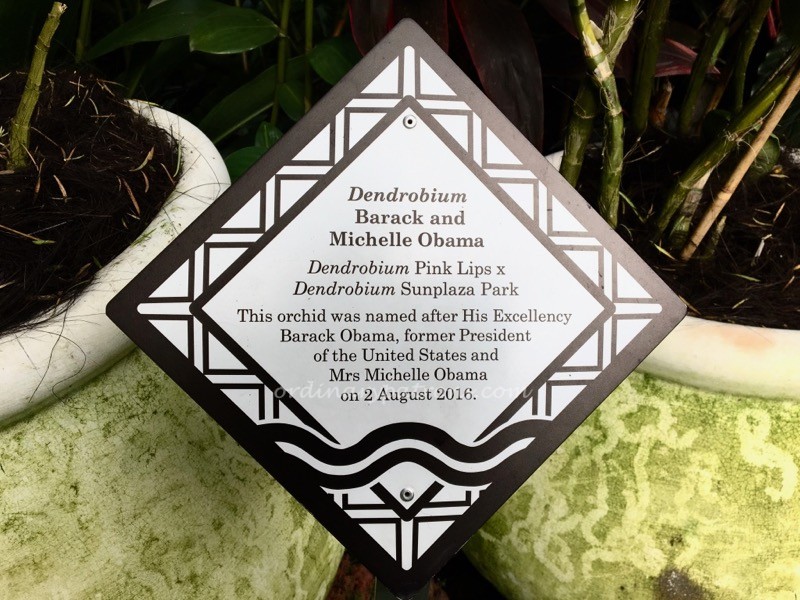 There are lots of interesting activities going on at the SBG and here are some of the things we recommend in particular.
The Concerts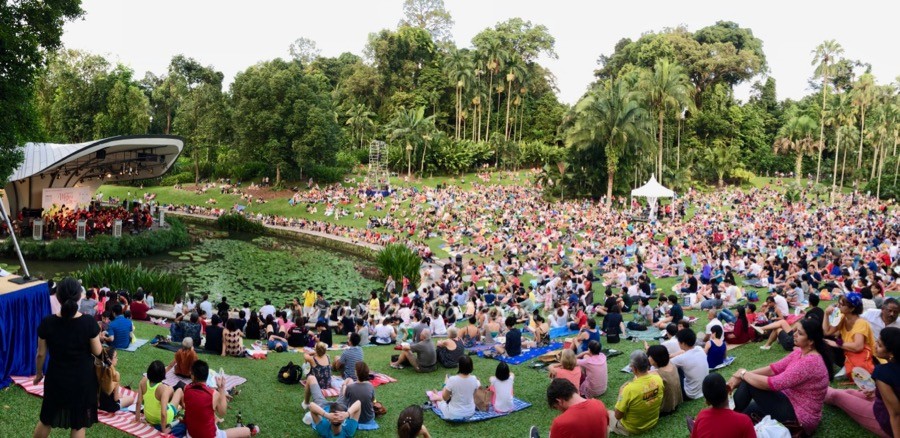 Concerts are regularly held at the Shaw Foundation Symphony Stage. Some of them are very popular, with the crowds filling up the entire amphitheatre shaped lawn. The atmosphere is friendly and carnival-like.
The Special Events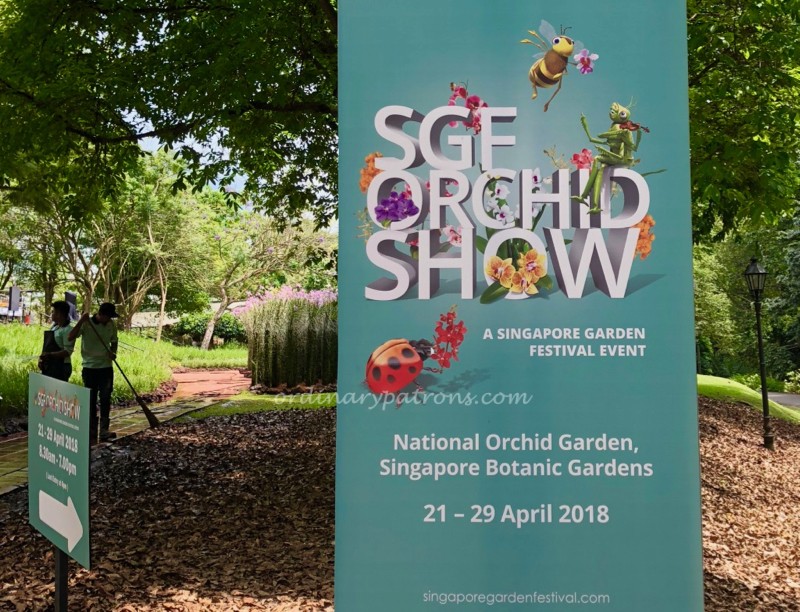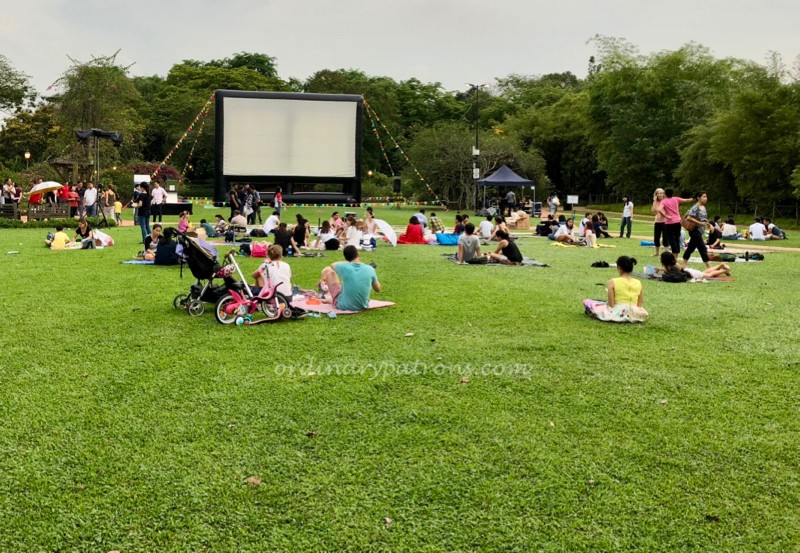 Special events are held from time to time at the SBG. They include floral exhibitions, sale of gardening related items and movie screenings.
For a list of scheduled concerts and events at the Botanic Gardens – you can check out the Singapore Botanic Gardens Calendar of Events.
The Wildlife
Look out for the wildlife in the Singapore Botanic Gardens. They can be found on land, in the water and in the air.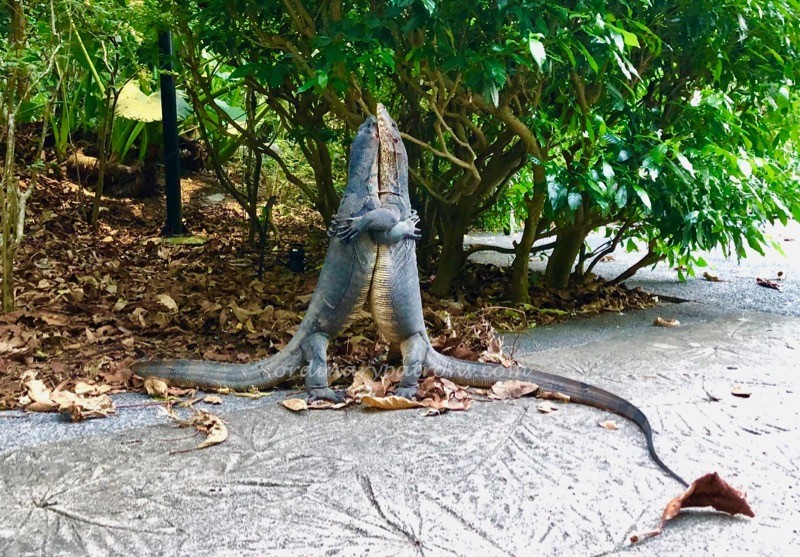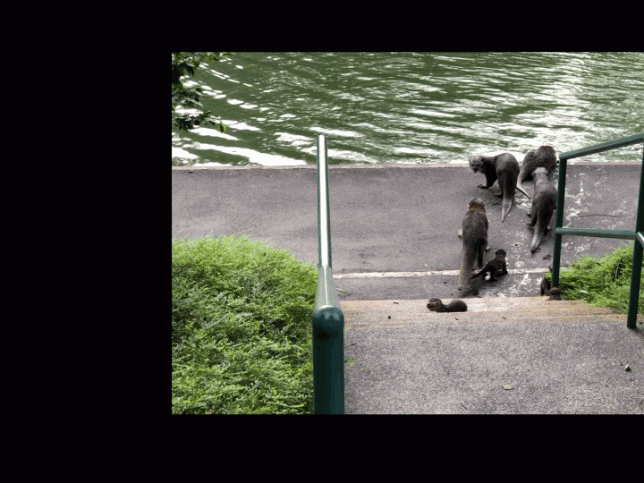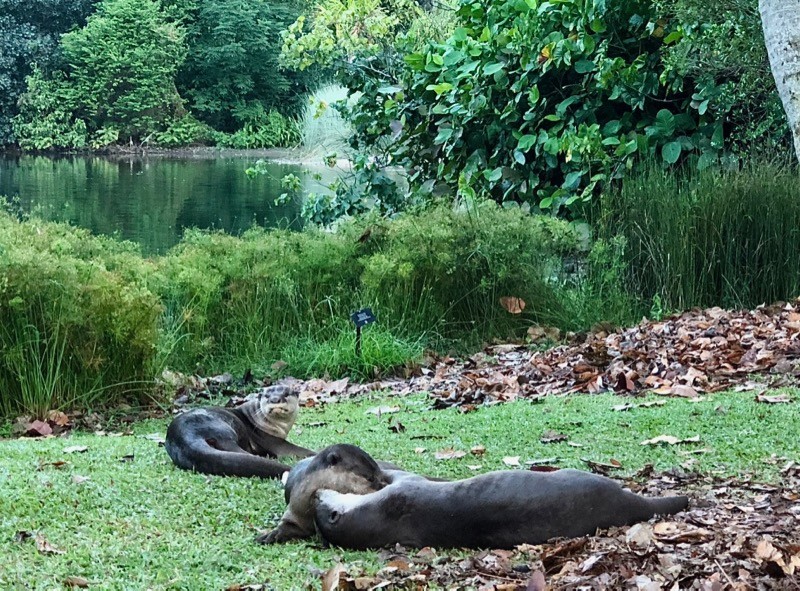 Spot the intruder
A Flock of Hornbills
Communal Activities
A number of activities take place in the morning at SBG. Tai chi, yoga, folk dance groups are there. Some are spontaneous and some organised.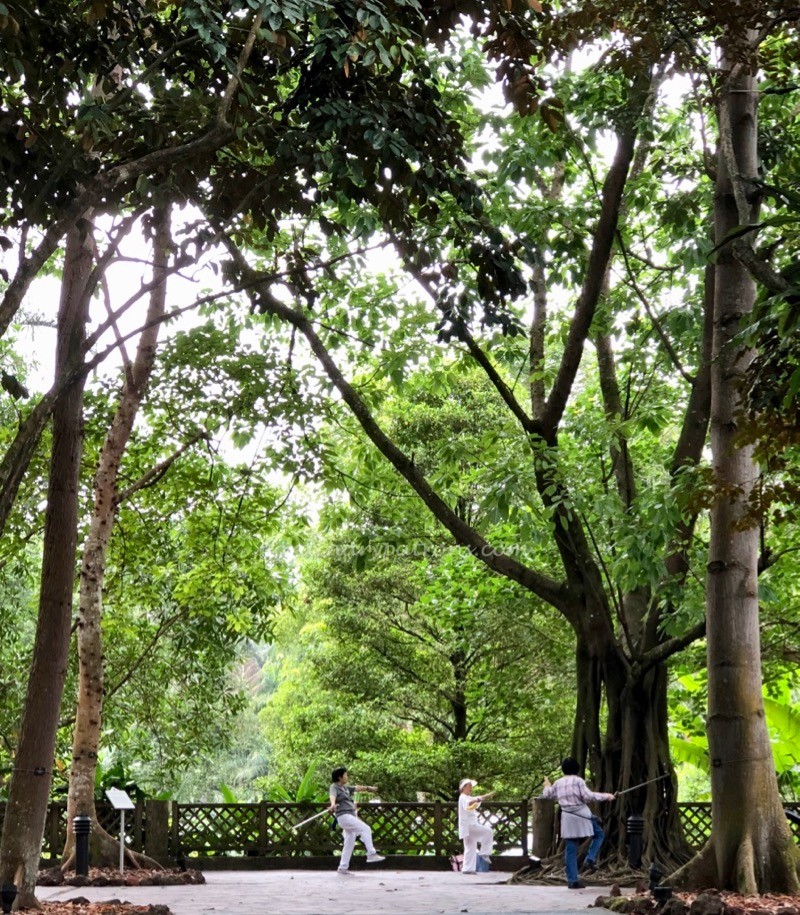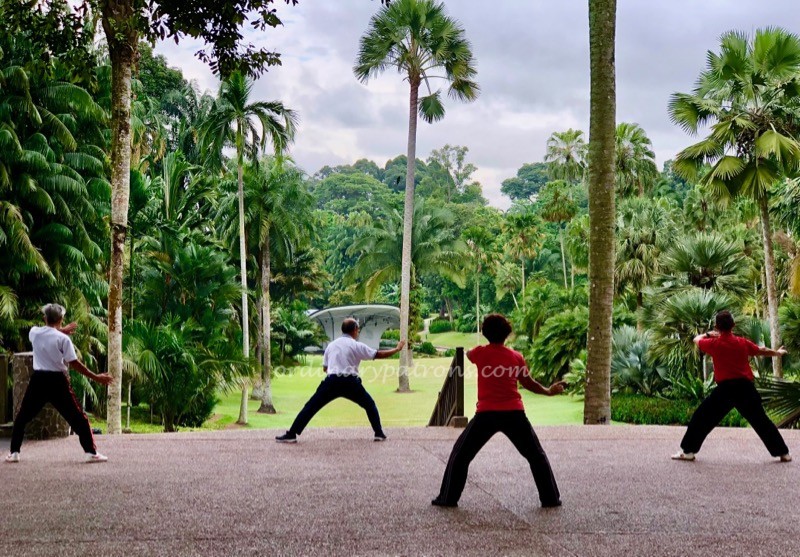 Get Married
The Botanic Gardens is popular as a place to take wedding photos.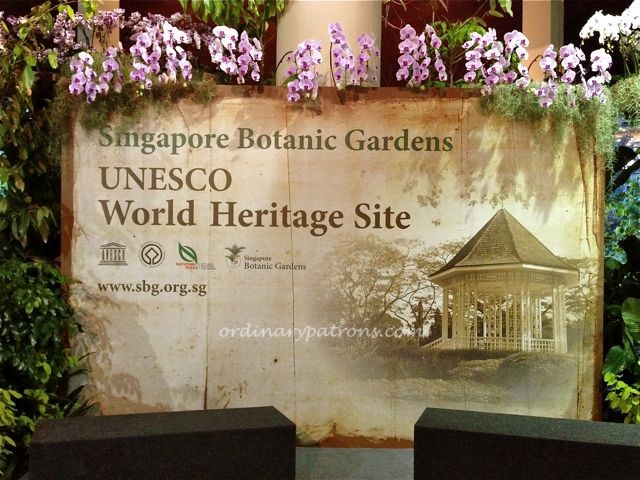 Location and Carparks
Finally, a quick summary of the restaurant locations and carpark locations if you are driving to the Botanic Gardens. Fusion Spoon is near the main entrance (Tanglin Gate) opposite the Gleneagles Hospital. It has direct access to the underground car park right next to it. Halia is in the middle of the Gardens. The nearest access point is Tyersall Gate on Tyersall Road, a small quiet road that has some open surface parking. Casa Verde and Corner House are near the Visitor Centre. The best access is from Cluny Road via the Nassim Gate. There are some sheltered carpark lots and a large open carpark nearby. Botanico and Bees Knee's are quite far from everyone else. They are near the Bukit Timah Road end of the Gardens. Access from the Bukit Timah Gate off Cluny Road near Serene Centre. There are some surface carpark lots.
As menus and operating hours often change, do check with the restaurants for the updated information. For more information on the Singapore Botanic Gardens please check their website.
The Ordinary Patrons | Real Dining Experience of Ordinary People
an independent Singapore food blog
---