We tried a chicken rice takeaway lunch from the Wee Nam Kee United Square. WNK had launched an island-wide delivery service recently. This makes it easy for anyone to enjoy their famous chicken rice without leaving home. There is also an option of a pick up from the United Square outlet, which was what we did.
We had eaten at famous chicken rice restaurant Wee Nam Kee before on several occasions. You can read more about the restaurant and see photos of it in our previous posts (click here and here). In addition to their chicken rice, we do like their dumplings and char siew and so we knew exactly what we wanted. The only decision to make was whether to order food delivery or order in advance and pick it up ourselves. We decided to try the latter.
Chicken Rice Takeaway or Delivery
Wee Name Kee at United Square is one of those fortunate restaurants that are located on the ground floor and has its entrance on street level. This gives them the option of operating a drive-through pick up service. We called the restaurant by phone in advance and placed our orders with an estimated time for pickup. On arrival at the driveaway (use the main entrance of the United Square mall facing Thomson Road – not the one from Newton Road), we phoned the restaurant and a lady brought our food to the car. It is a minimum human interaction system – good for the restaurant staff and patrons alike. Here is a picture of our order that day.
The advantages of pick up is that the timing of delivery is within our control and there is no minimum order or delivery charge. For those who prefer home delivery by Wee Nam Kee we understand that they are currently providing free delivery with minimum orders above $30.
As things do change these days, I suggest you consult their Facebook for the latest situation. As at the time of this post, you can view the menu at www.wnk.com.sg and place you order via WhatsApp at 9655 1411. For takeaways, you can call the respective outlet to make the arrangements. In the case of United Square, the number is 6255 6396.
The Food
We had two chicken rice and vegetable sets ($8). I like the package with separate compartments of the rice and vegetables. Each one is a complete meal and is good value for money.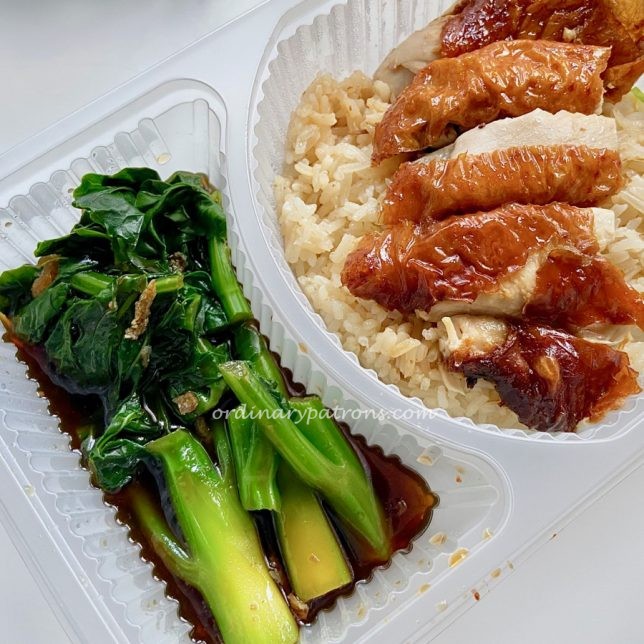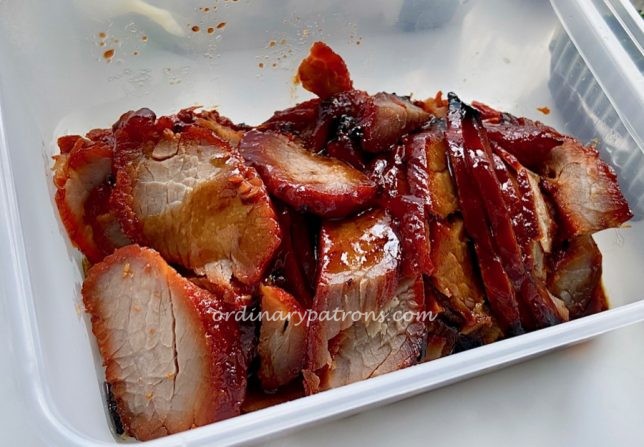 In addition to chicken rice, the two must try items at WNK are the char siew and the dumplings. The char siew ($12.80 for a medium portion, picture above) did not have many fatty bits and tasted very good. The dumplings with soup that was packed separately ($6.40 for a small portion with 6 dumplings) was as good as always. I think this could be our default choice of chicken rice takeaway or delivery if we can't think of anything else better.
Wee Nam Kee United Square(Main Branch)
101 Thomson Road #01-08
Singapore 307591
Tel: +65 62556396

Opening Hours: 10:30am to 10:30pm
---
The Ordinary Patrons | Real Dining Experience of Ordinary People
an independent Singapore food blog